ASUS Eee Keyboard delayed until August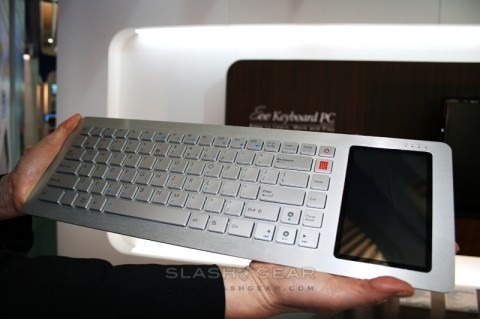 After telling us – and then telling us again – that the Eee Keyboard would arrive this month, ASUS are now promising their nettop-in-a-keyboard will actually drop in August 2009.  Rather than blaming manufacturing delays or last-minute firmware tweaks, ASUS claim the Eee Keyboard – which squeezes in an HD capable nettop and 5-inch touchscreen – was in fact held back while they attempted to define a niche for it to sit in.
That's surprising, given that back at CES in January the company seemed to have  a pretty good idea of what the point of the Eee Keyboard was.  Fitted with Wireless HDMI, it can stream HD content either stored on its 32GB SSD or from the internet to a nearby display, with controls and other apps shown on the compact touchscreen.
Still no final word on pricing, but the last we heard ASUS were planning for a $400 starting price – though that doesn't get you Wireless HDMI, only wired – and two different models.  Each will have a 1.6GHz Intel Atom processor, 1GB of RAM and both WiFi b/g/n and Bluetooth 2.0.  Earlier this month ASUS demonstrated the Eee Keyboard running Moblin, rather than Windows XP as it has been seen using in the past.