ASUS Eee PC Keyboard landing June from $400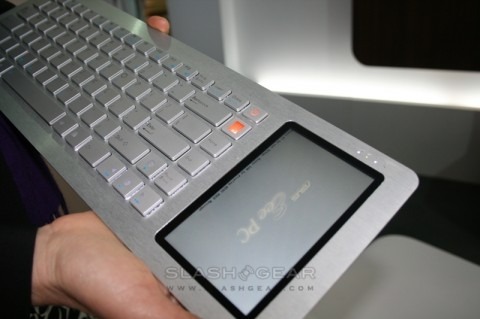 ASUS are planning two versions of the ASUS Eee PC Keyboard, one using wired HDMI and the other featuring Wireless HDMI, according to company chairman Jonney Shih.  The ASUS Eee PC Keyboard – which builds an Intel-powered nettop into a QWERTY keyboard, along with a 5-inch touchscreen, and is intended for multimedia use – is on target for a Q2 2009 launch, with Shih suggesting June was most likely.
As for pricing, Shih was reluctant to put exact figures onto the Eee PC Keyboard, citing the economic uncertainty.  However he suggested a figure of around $400 for the wired model and between $400 and $600 for the wireless model. 
The Eee PC Keyboard was first announced at CES 2009 back in January; ASUS have now brought it to CeBIT 2009, as well as being more forthcoming with the hardware specifications.  The 'board uses a 1.6GHz Intel Atom processor paired with 1GB of RAM and either 16GB or 32GB of SSD storage.
[via Register Hardware]