This update to the racing game series that's captivated the mobile gaming audience on Apple products for over a year now delivers an enhanced version of episode 6 with Retina-quality graphics and tweaks that'll give you giggles galore. This game now brings on the same fabulous big-name collection of racing car manufacturers in addition to several new vehicle models like the classic DMC Delorian (the same model you might recognize from the Back to the Future series of films.) There's nothing quite like pretending you're the Doc pummeling down your opponents in a full-on drift through Tokyo's streets on the 2012 iPad, nothing like it in the world.
In this game, for those of you unfamiliar with the series, you'll be working with one of several sets of controls for steering, brakes, and nitro boost speed. To scream around the tightest corners you'll need to hit the brakes and crank on the wheel at the same time – hear the squeal of the wheels as you begin having to turn your world upside down pushing the back wheels instead of the front to burn your opponents as you slide through the streets. You'll be not only attempting to out-race your opponents, but knock them out of the race as well.
Your goal in one of the several different modes of race includes you pushing the other cars into the walls, nitro-speeding into them from behind, and railing them into oncoming traffic. You'll be hard pressed to find a racing fan that doesn't like the feeling you get when you see that you've successfully trashed the player that until then had been the first place racer. Then there's the lady commentator to keep you company as well : "I'm glad I'm not in that car" she'll say as you bash your 12th vehicle for the race. You might find yourself wanting to switch her off after your first few races.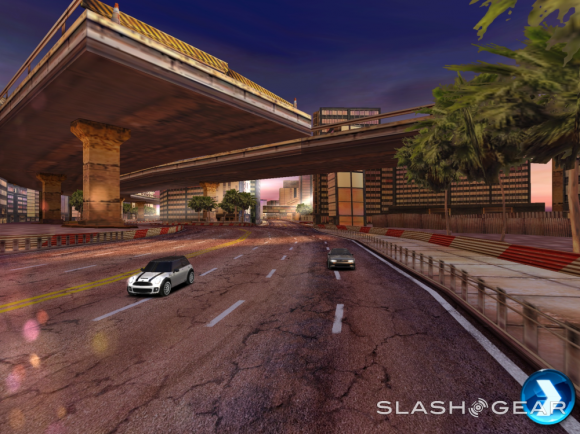 This game is available right now on the [iTunes App Store for $0.99] and works fantastic on the iPad, the iPhone, and the iPod Touch. This episode of Asphalt looks best on the new iPad and the iPhone 4S, of course, but is versatile enough to work with some lesser systems. You'll also be able to play this game on the MacBook Pro, just so you know – that's a separate purchase of course, but again it's worth the cash all day long.