Archos Phone Tablet axed over poor carrier support?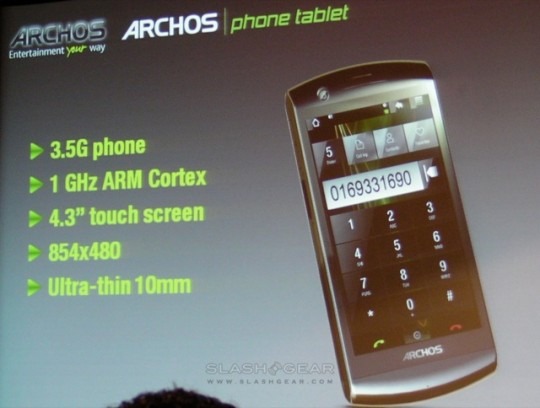 Archos' Android-based Phone Tablet was meant to make an appearance at CES 2010 a few months back, and after it failed to show up there we assumed it would be spotted at either MWC 2010 or CeBIT 2010 this week.  That doesn't look to be the case, however – Archos have outed their new Home Tablets and a range of PMPs, but no smartphone – and according to French financial paper Les Echoes (quoted by LesMobiles) the device may in fact never launch.
According to the paper, the issue concerns carrier support for the smartphone.  Back in January, Archos CEO Henri Crohas insisted that the Phone Tablet wouldn't launch without at least "two senior operators" onboard; it's looking increasingly like that support has failed to materialise.
It's strange, as we'd have thought the Archos Phone Tablet would be just what some forward-facing carriers would be looking for, given the state of play in the rest of the industry.  Specs were to have included a 4.3-inch touchscreen running at 854 x 480 resolution, together with a 1GHz ARM Cortex processor and 3.5G connectivity, all in something just 10mm thick.
[via IntoMobile]