Archos Vision Series PMPs: 1.4 To 4.3-Inches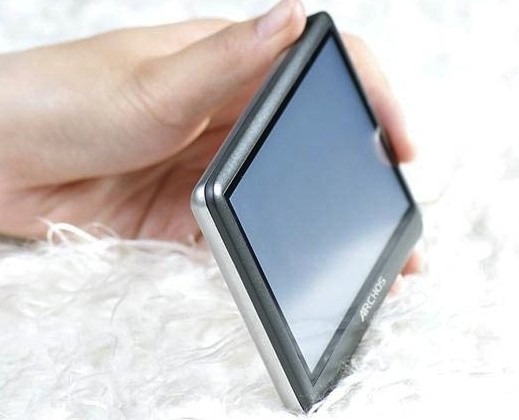 Not, perhaps, as interesting as the company's new Home Tablets, but Archos also have a line of new and updated PMPs to show at CeBIT 2010.  The Archos Vision Series ranges from the tiny 24g Vision A14VG, with a video-capable 1.4-inch LCD display, FM radio and 4GB of storage, to the 4.3-inch touchscreen Vision A43VB, with 8GB of storage, a microSD card slot, 30hr battery and a video-output for playing content on a bigger display.
Video demos after the cut
In-between there's the Vision A15VS, Vision A18VB and Vision A24VB, with 1.5-, 1.8- and 2.4-inch displays and 4GB, 8GB and 8GB of storage respectively.  Larger display lovers are catered for with the Archos Vision A30VC, with a 3-inch touchscreen, integrated camera and FM transmitter and 8GB of storage.
The A14VG will be €34.99 ($48), the AV15VS €39.99 ($54), the A18VB €49.99 ($68), the AV24VB €69.99 ($95), the A30VC €89.99 ($123) and the A43VB €99.99 ($136).  They should all go on sale this spring.  The irrepressible Charbax has been hanging out with the new PMPs at the show; check out his hands-on videos with the main Vision range and the 4.3-inch A43VB below.
Press Release:
ARCHOS presents the new "Vision Series"

ARCHOS presents the new multimedia player in the 'Vision Range', consisting of MP3 and MP4 players.

More than 1 million players of the "Vision Series" ARCHOS sold worldwide in 2009. The new product line will continue to deliver high quality at an affordable price while offering many features and applications – so every device in the series features video support and the ability to create custom subfolder. Here the user can his photos, videos and music simply drag and drop 'play – without Artwork Specifications Software – from his PC to the Archos player. The new ARCHOS "Vision Series" is designed for music fans and film lovers. In spring 2010, the new MP3 and MP4 players come with different memory sizes and in different price ranges on the market.

ARCHOS Vision A14VG

With its small size and weighing only 24 grams, the "ARCHOS A14VG" versatile and is suitable as a companion while exercising. The "ARCHOS A14VG" was developed for play music and podcasts, and secure with the 4 gigabytes of memory up to 2000 songs.

Videos and photos will be displayed on the 1.4-inch color display. FM radio and voice recording with built in microphone are also possible.

The "ARCHOS Vision A14VG" will have a suggested retail price of 34.99 euros.

ARCHOS Vision A15VS

The "ARCHOS A15VS Vision" offers a sleek design. His touch field allows a simple and intuitive navigation of the arrow keys to control the menu. With 4 gigabytes of memory "A15VS" up to 2000 songs (MP3, WAV, FALC, APE and WMA), can store video clips or photos. It offers a 1.5 inch color display. Its audio recorder can record music directly from the built-in FM radio or via the built-in microphone.

The suggested retail price "ARCHOS A15VS Vision" is located at 39,99 Euro.

ARCHOS Vision A18VB

With its 1.8-inch color display and sleek rubber case housing is the "ARCHOS A18VB" a robust "all-in-one player in the credit card format. The "A18VB" provides 12 hours of music and offers photo and video playback. 8 gigabytes of internal memory can store up to 4000 songs.

The "ARCHOS Vision A18VB" costs $ 49.99 (U.S. MSRP).

ARCHOS Vision A24VB

The "ARCHOS A24VB" is a great music player with a high-quality 2.4-inch color display that is suitable because of its bright colors and good sharpness for playback of his pictures. Available is the player with 8 gigabytes of memory and thus can accommodate up to 4,000 songs in MP3, WAV, FLAC, APE and WMA. The "Vision A24VB" has an FM radio and voice recorder.

The MSRP of the "Vision ARCHOS A24VB" is located at 69,99 Euro.

ARCHOS Vision A30VC

The "ARCHOS A30VC Vision" is a full featured Media Player reproduces videos and music and also has an integrated camera. In a 3-inch LCD screen, it gives photos and videos back in high quality. The touch screen provides a quick and easy navigation.

The "ARCHOS A30VC Vision" has a battery life of 14 hours, 8 gigabytes of storage space. He also has an FM transmitter for broadcasting of music on a radio, for example, in the car. The audio recorder enables recording on the built-in microphone. In addition, there is a stop-clock and a calendar.

The "ARCHOS Vision A30VC" costs 89.99 euros (MSRP).

ARCHOS Vision A43VB

The "ARCHOS A43VB Vision" is a slim, low-cost multimedia player that supports a number of different video codecs. Videos and photos can be played on the sharp 4.3-inch touch screen, or with an AV-out cable on a television set.

The "A43VB" offers 8 gigabytes of memory and ensures that up to 4000 songs. A memory expansion is possible via the micro SD card slot. The battery life is 30 hours.

The "ARCHOS A43VB Vision" is at a MSRP of 99.99 euros.