Archos 7 and Archos 8 Home Tablets official: €149 but sluggish CPUs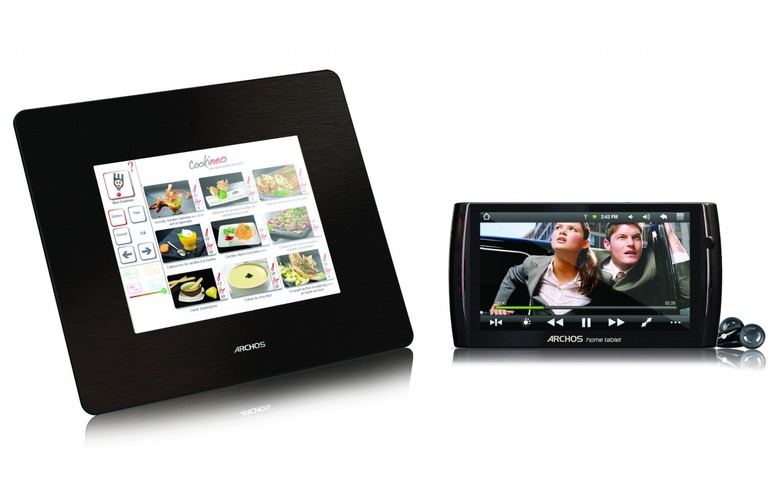 Archos have officially announced their so-called Home Tablets at CeBIT 2010 this week, and there's good news and bad.  The Archos 7 Home Tablet and the Archos 8 digital photo frame each run Android, just like the Archos 5, but they have sluggish ARM9 processors rather than any of the more speedy SoC's we've seen on other tablets lately.  Archos' trick, though, is in pricing: the two devices are €149 ($203), making them reasonably budget friendly.
The Archos 7 Home Tablet has a 7-inch touchscreen and WiFi, along with 2GB or 8GB of onboard storage.  Weight is 350g and the whole thing measures just 12mm thick; the standard battery is good for up to 7hrs of video playback or 44hrs of audio playback.  There's also a USB port for hooking up a PC or digital camera.  It will go on sale in April 2010, priced at €149 ($203) for the 2GB model and €179 ($244) for the 8GB.
As for the Archos 8 Home Tablet, it has a larger, 8-inch touchscreen and is also 12mm thick; however the weight shifts up slightly, to under 400g.  It, too, is positioned for internet access and media playback.  It will go on sale from May 2010, with 4GB of storage for €149 ($203).
More excitingly, however, Archos are promising a range of 1GHz ARM Cortex powered tablets this coming Summer, with screens ranging in size between 3-inches and 10-inches.
[via UMPC Portal]