Archos Phone Tablet Tipped: 1GHz Android 4.3-Inch Smartphone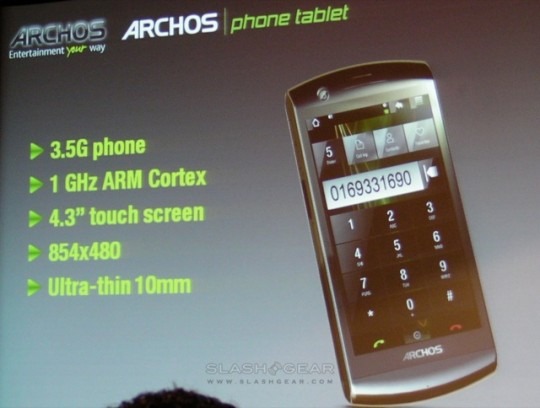 While Archos' event this week was predominantly about their Archos 5 Android-based Internet Tablet, they couldn't help but tease with another upcoming device building on Google's open-source platform.  The Archos Phone Tablet is, as the name suggests, a 3.5G-enabled version of the Archos 5, adding HSDPA/HSUPA connectivity to the PMP's existing WiFi b/g/n and Bluetooth.
Full specifications of the smartphone are unclear, but Archos did confirm that it would have a 4.3-inch 854 x 480 touchscreen (slightly smaller, but slightly higher resolution, than the Archos 5) together with using a faster, 1GHz ARM Cortex processor.  It also keeps its PMP-sibling's slender build, measuring just 10mm thick, and a brief rear glimpse showed a camera lens.
No word on what sort of internal memory we can expect – though we'd like to think that Archos will offer the same 16GB, 32GB and 64GB flash versions as the Archos 5 – nor when the Archos Phone Tablet will drop.  Still, it certainly has potential as a MID/smartphone crossover device.