Archos 5 Android Internet Tablet hands-on [Video]
SlashGear stopped by the Archos launch event last night for the company's new Android-powered Internet Tablet, the Archos 5.  The idea is straightforward: all of Archos' usual media-centric abilities are there, including broad codec support and the ability to play local and network-based content, but rather than their home-grown Linux-based OS the French company has turned to Android and a custom UI shell.Hands-on video and gallery after the cut
Stand-out specifications include WiFi b/g/n, Bluetooth (with straightforward pairing to your cellphone, for mobile internet access), a 4.8-inch 800 x 480 touchscreen (using a resistive, not capacitive, panel) and an 800MHz OPAP3440 processor.  In use, the touchscreen lacks a little of the feather-touch precision we're used to from capacitive displays, but is still very sensitive for a resistive panel.  The sort of sweeping gestures used to flip between the Archos 5's three homescreen panes are easily made, and the CPU keeps up with the widgets.
Unfortunately, while the Archos 5 packs the usual webkit-based browser seen on other Android devices, the press event lacked the WiFi coverage to test it.  Entering URLs with the on-screen keyboard (alternatively you can pair up a Bluetooth keyboard and use that) is reasonably painless, though while the Archos 5 automatically flips from landscape to portrait orientation, in the latter you're left with a 'board squeezed down to the very bottom of the display.  As you can see from our hands-on images, the QWERTY is well-spaced (especially when you compare it to what's on offer from the HTC Hero) though we wouldn't want to do document creation on the PMP; incidentally, while at release the Archos 5 will only support viewing Office documents and PDFs, editing is expected to be added before the end of the year.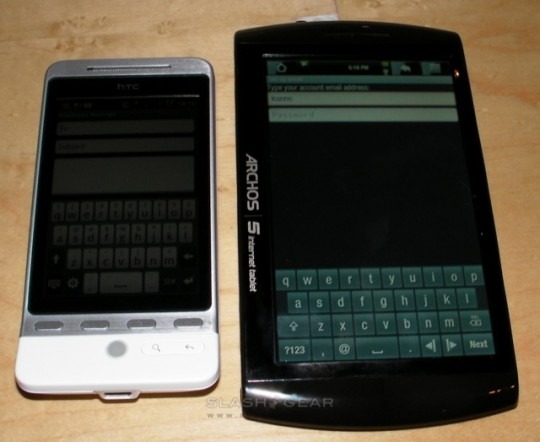 As you'd expect from a media-centric company, the Archos 5 concentrates its efforts on audio, video and picture playback.  As well as being capable of 720p output via HDMI, there are various docks on offer including a DVR Station which allows you to record VGA-quality TV and other video directly onto the PMP's internal storage.  Alternatively you can surf the web at 1,280 x 720 resolution on your HDTV, with either the optional ultra-thin QWERTY keyboard (which wasn't on hand last night for us to try out), Archos' existing mini-keyboard remote, or the on-screen 'board (or indeed any Bluetooth keyboard and mouse).
Still, since this is Android there are apps to be had, though Archos would prefer you to source those through their own AppsLib store (which features software fettled for the larger display).  While we've heard that the regular Android Market will be available on the Archos 5, there was no sign of the icon on the test units we played with.  There's also no Gmail app, though you do get a regular Mail app which supports POP, IMAP and webmail (though not Exchange).  Archos have also cherry-picked a selection of apps to preinstall, including Twidroid and a new MP3 download store.
All in all, it's a tempting machine, though we're holding off final judgement until we see exactly how well the Archos 5 manages web browsing.  While there's Flash support, it's not in-browser (videos open up in a separate window rather than running in-page) but the speedy CPU has us anticipating a slicker, more desktop-like experience than on most Android mobiles.
[vms be180185cac7d243c5eb]