Archos 10 netbook unboxed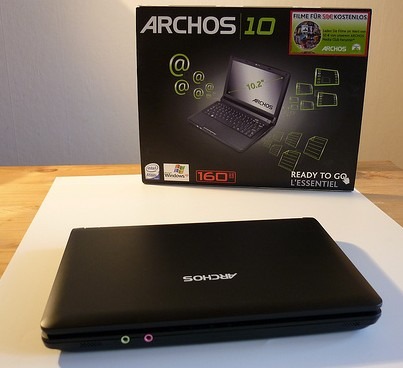 Coincidentally the company's second strand of their 2009 financial recovery plan, our second Archos post of the day concerns their Archos 10 netbook.  Freshly unboxed over at NetbookNews.de, the first netbook from the PMP company seems to hold its own against rivals from ASUS and Dell.
We've been more than a little dismissive of the Archos 10 in the past, not least because it seems to lack the imagination or spark of the company's Internet Media Tablet range.  However in the plastic it looks a little more interesting; still a relatively straightforward OEM rebadge, but at least a decent choice of model in terms of keyboard and mouse-button design.  The large hinges also look sturdy and pleasantly designed.
In fact it fits the design language of the Archos 2 PMP pretty well, which ties up the range neatly.  It's also apparently sturdy and the matte-black case is chic in comparison to the glossy black we see a lot of in netbooks these days.  The matte-finish screen is a great option to have, too.  Early European pricing puts the Archos 10 netbook at €348.98 ($473).
[via EEE-PC.de]