Apple's "clearly wrong" Aussie Samsung tablet ban overturned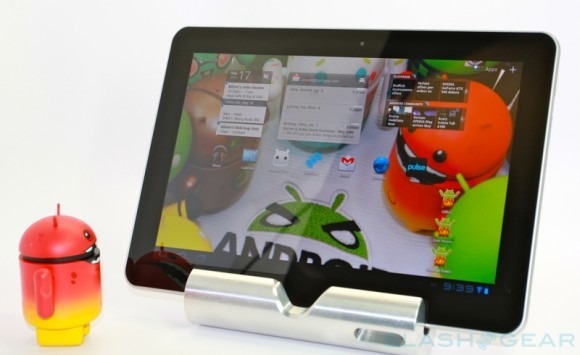 Apple's sales injunction against the Samsung Galaxy Tab 10.1 in Australia has been overthrown, with an appeals court dismissing the original block as "clearly wrong" and allowing the Android slate to go on sale this Friday. The Cupertino company secured a short stay until the end of the week so that it could ready an appeal of its own, but was told by the Sydney court that if it wanted to extend the tablet ban – handed down in October when Apple convinced a judge that Samsung had "slavishly copied" its iPad design – it would need to convince the High Court.
The three judges sitting on Samsung's appeal took a critical view of the original judge presiding over Apple's injunction case. "In our view, her decision was clearly wrong and should be set aside" they wrote of Justice Annabelle Bennett in their closing thoughts, going on to spell out how they believe the judge failed to assess exactly how strong Apple's case was prior to granting a preliminary injunction. More damningly to Apple's case, the three also believe the company is unlikely to succeed in its final trial.
Signs that the appeal was not going Apple's way were clear from early in the process, with one of the judges describing the company's position in the tablet market as a "monopoly" while another questioned whether the firm had overstated the potential impact of the Galaxy Tab 10.1 on its performance, asking if  "the whole of Apple's going to come tumbling down" should it go on sale.
Apple and Samsung will have a chance to test that out for themselves, with the Honeycomb tablet permitted to go on sale in Australia on Friday at 4pm local time. The firm told press that it would publicly announce sales information in the coming days, though it's worth noting that the Galaxy Tab 10. has already been on sale in the country in the meantime, albeit sourced through gray-market channels.
Interestingly, Justice Bennett is also sitting on an ongoing case between Samsung and Apple over 3G patents, with a trial expected to take place in March 2012. Samsung agreed not to seek an iPhone 4S sales injunction until that point.
However, it's not all going Samsung's way elsewhere in the world. Apple has applied for an injunction against the hastily-prepared Galaxy Tab 10.1N in Germany, FOSSPatents reports, despite Samsung's belief that the redesigned tablet sufficiently skirts iPad design patents. The German courts will rule on Apple's complaint on December 22, two days after Samsung will protest the sales injunction against the original Galaxy Tab 10.1 in the German appeals court.
[Thanks to everyone who sent this in!]