Apple Targets Motorola XOOM Next In Euro Tablet Cull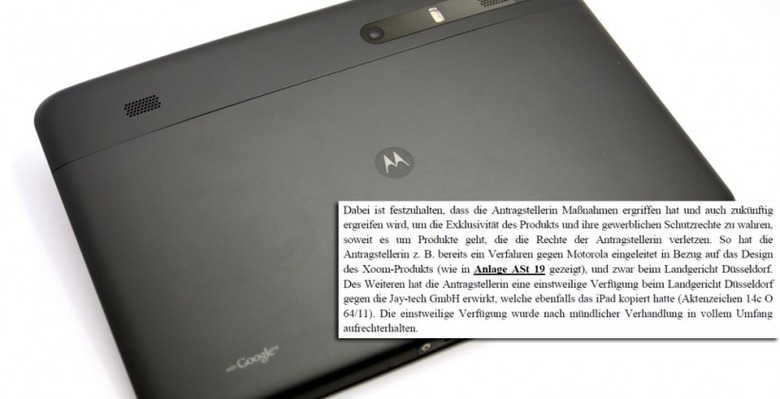 Details of the Apple preliminary injunction against Samsung's Galaxy Tab 10.1 have revealed that the Cupertino company is also targeting the Motorola XOOM in Europe, with a complaint already filed over the design of the Honeycomb slate. Although there's no confirmation that Apple is seeking a similar injunction against Motorola for European XOOM sales, FOSSPatents points to a third, local German tablet company, JAY-tech, which is also named in the paperwork and which has already been banned from selling its wares.
The assumption, then, is that Apple is looking to secure an injunction hat-trick, preventing two of its biggest tablet rivals from selling in multiple European countries. While Motorola's XOOM has been on sale in Europe for several months now – UK availability began back in April, for instance -  the market for Honeycomb-powered Android tablets is still relatively small.
Apple already has an ITC complaint ongoing against Motorola, and the two companies have been engaged in legal battles over patents for several months now. It's only with the preliminary injunction against Samsung that we've seen a real fall-out in the market, however, with sales of the 10-inch tablet frozen as a result.
Motorola is yet to comment on the situation, though given Samsung didn't know that the preliminary injunction was in process until it was granted, it's entirely possible that this is the first the company has actually heard of it. It's speculated that Apple is seeking a permanent injunction, not a preliminary one, since the XOOM has been around for too long to lend the sense of urgency the latter demands.