Motorola's XOOM 3G arrives in UK from £130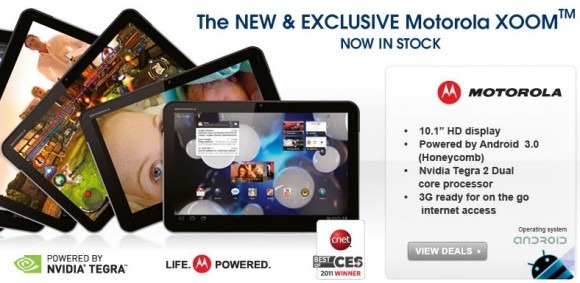 UK retailer Carphone Warehouse has thrown open sales of the 3G-enabled Motorola XOOM, with the 10.1-inch Android 3.0 Honeycomb tablet available both SIM-free and unlocked, or subsidized with various data plans. Alone, the XOOM 3G is £579.99 ($948), while you can grab it from £129.99 ($213) if you're willing to commit to 24-months of data.
£25 per month and £129.99 upfront gets you 5GB per month; alternatively, pay £199.99 for the XOOM and that same £25 gets you unlimited data. There are month-to-month plans available as well, though you'll have to pay the full, unsubsidized amount for the tablet itself.
While we criticized the XOOM – and Honeycomb – for being only part-finished in our reviews, both the platform and the hardware do have plenty of promise. Whether they're enough to take on the iPad 2 remains to be seen.
[via Android Community]