Apple's Galaxy Tab 10.1 injunction leaks

The Apple complaint that led to a pan-European ban on sales of Samsung's Galaxy Tab 10.1 has leaked, complete with the comparison images the Cupertino company used to persuade German courts that the Honeycomb slate is an iPad copycat. The document, shared by FOSSPatents and in German, was filed on August 4 and with no prior warning to Samsung itself, which only became away of the injunction attempt when it was granted.
Apple's request is that Samsung be prevented from "using, in particular, manufacturing, offering (including advertising), introducing into the market, importing, exporting and/or possessing for the said purposes" the Galaxy Tab 10.1, images of which are shown up against design sketches from Apple's patents. A court hearing is currently today at The Hague in the Netherlands, where Apple is seeking a similar injunction on the Samsung tablet there. If successful, that will be a cross-European ban on sales.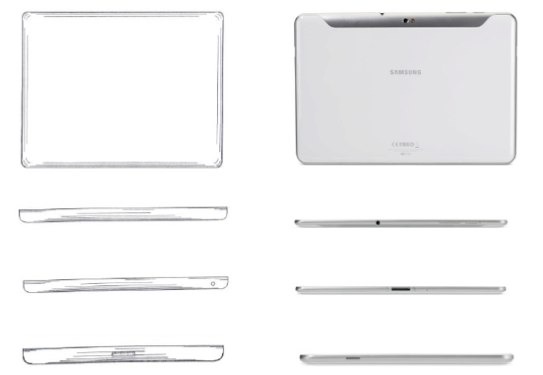 Yesterday, Samsung told SlashGear that it had been given no warning of Apple's injunction request, and that "the order was issued without any hearing or presentation of evidence from Samsung." Because of the way German law works, it's possible to secure a preliminary injunction with no requirement for the company in question to be informed, but if Apple subsequently loses the main case it will be liable to pay damages to Samsung based on lost sales.