Samsung Galaxy Tab 10.1 Sales Blocked In Europe By Apple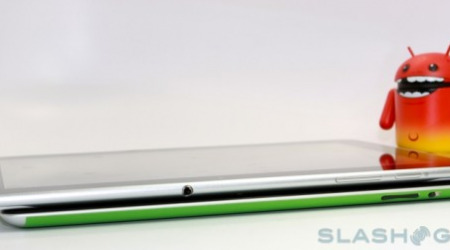 It appears that Samsung has been blocked in a very major way by Apple via the European Union as the fruit-based group has issued a preliminary injunction against the Galaxy Tab 10.1 for violation of intellectual rights in regards to the original iPad. This device had also been launched just last week in Britain, where it must also be removed from shelves and all sales stopped for the time being. The Regional Court of Dusseldorf has granted Apple this preliminary injunction and sales of the Galaxy Tab 10.1 must be stopped across the entirety of Europe except for the Netherlands.
According to pan-European law, it is possible to file for such an injunction which will stop sales of products across the entirety of the EU. Thus far, the judge Apple is dealing with has backed Apple's claim that this newest Samsung tablet has infringed on more than one Apple-owned patent and has "copied" elements of the iPad 2. Samsung is allowed to appeal against the judgement, but as Galaxy Tab 10.1 units are not allowed to be sold across the EU for the time being, the damage is essentially done. Any appeal of the decision already made (or about to be made, depending on when you read this post,) would take approximately four weeks time and would have to be heard by the same judge.
An Apple spokesperson has apparently made a statement already, noting:
"It's no coincidence that Samsung's latest products look a lot like the iPhone and iPad, from the shape of the hardware to the user interface and even the packaging. This kind of blatant copying is wrong, and we need to protect Apple's intellectual property when companies steal our ideas."
The injunction in Germany affects the rest of the EU as well because according to EU law, any injunction issued by a national court acting as a "Community Trade Mark" court against infringement or "threatened infringement" will have an effect throughout the entirety of the EU initially, even if later on it may be found that the case will only affect the small area in which the court resides. We'll be adding more information to this post as the case develops, any giant developments being published as separate posts here on SlashGear in the main news feed as well.
UPDATE: pages from the official injunction added in gallery below:
[via Wirtschafts Blatt]