Apple talks TV and tablets with media execs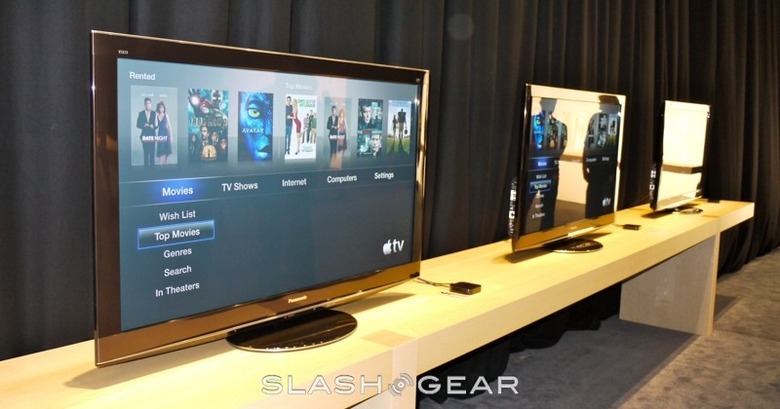 Apple has reportedly ramped up its TV strategy, outlining a Siri and motion controlled television system in recent meetings with media executives and fleshing out its wirelessly-enabled smart TV set. The company has been courting several of the larger media companies, the WSJ's insiders tell them, selling the benefits of a cross-platform system that could recognize viewers whether they were using their TV, a tablet or a phone. However, the talks have fallen short of entering the negotiation phase for actual content licensing.
That, it's suggested, is a sign that the so-called Apple television or "Apple iTV" is still some way out from the market. Previous reports have suggested that the company will test the waters with a TV tuner enabled "smart screen" based on the iMac early in the new year, with a three-model-strong line-up of dedicated televisions tipped by the end of 2012.
Right now, though, Apple is reportedly talking up the benefits of place-shifting and other technologies in the hope of getting media providers and content rights-holders onboard. One topic has been seamless viewing, beginning a show on your TV and then picking it up on your tablet, for instance, while another has been AirPlay-style streaming between devices. It's hoped, for instance, that cable operators reluctance to integrate AirPlay into set-top boxes (STB) will be tempered if the tech is built directly into the HDTV itself, as it removes another possible route of content piracy.
What's interesting – though perhaps unexpected – is that many of Apple's plans could well be delivered with an updated Apple TV, the existing $99 STB that offers streaming access to iTunes rentals and purchased content in iCloud. That opens the door for both options to remain on sale, rather than the Apple television set killing off the Apple TV; those with lower budgets may have to get used to reduced functionality in the updated Apple TV, however, so that the Cupertino company can keep rights-holders happy. Still, the current Apple TV remains a strong seller, indicating the price point may be one the company would like to keep at least a foot in.
Apple's negotiations have also apparently touched on the possibility of licensing content direct, bypassing cable bundles and offering its own packages of streamed shows. Similar deals have been explored in the past, though concerns around profit-sharing and a reluctance on the part of TV networks to frustrate their cable partners have always seen them fall flat.
However, Apple could well bypass cable altogether if it doesn't at least partially get its way. Integrated cable and traditional broadcast functionality isn't yet a definite inclusion, with Apple leaving room to change its mind and dump one or either if it decides to.