Apple reportedly buys Kinect tech-creator PrimeSense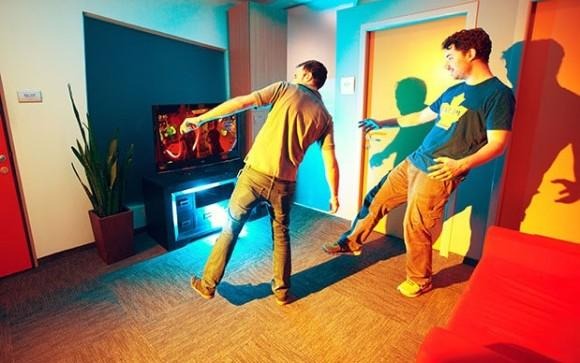 Apple has reportedly acquired PrimeSense, the motion-tracking company responsible for the technology in the original Xbox 360 Kinect, in a deal said to be worth around $345m. Whispers of the possible purchase, today reported by Israeli news site Calcalist, began back in July though were described as being in the early stages, and PrimeSense unofficially dismissed the speculation along with chatter rumors of a $280m price tag.
According to the latest reports, however, that denial was less than accurate, and the negotiations between Apple and PrimeSense have been ongoing nonetheless. A public announcement is said to have been planned in roughly two weeks time, though if Apple is true to past form, the company may simply decline to comment on any deal. We've got a request in for more information, and will update if and when we hear more.
PrimeSense's appeal is in its advanced body-movement tracking technology. Although Microsoft switched from the original PrimeSense system used in the original Kinect sensor for Xbox 360, to a homegrown alternative in the more recent version, that hasn't stopped the company from further developing its system and targeting smaller implementations.
One such implementation is Capri, shown below, which significantly reduces the size of the sensor array while still allowing accurate motion-tracking of separate limbs and more.

Initially, Capri was seen as being the main point of appeal for PrimeSense to Apple, with suggestions that the new sensor could find its way into future iterations of iPhone and iPad. However, according to the Israeli report today, Apple's actual intended goal for PrimeSense's systems is its much-rumored television project.
That would suggest navigation of an on-demand, streaming smart TV system using gestures rather than a complex remote. Talk of a full TV with the Apple logo has persisted for some years now, fueled in part by comments by Steve Jobs in which he reportedly claimed to have "cracked" the problem of unintuitive interfaces.
At the time, it was assumed that Apple's voice control system on iOS, Siri, would be the key to that system, but if the PrimeSense leaks are authentic, it now looks like motion-control could also play a part. That would certainly fit in with PrimeSense's own development roadmap; the company said it was exploring TV integration all the way back in January 2011.
Another suggestion, though not one necessarily based on any more than speculation, is that the sensor system could be used in Apple's smartwatch project, unofficially-dubbed the iWatch. It's unclear whether even the reduced Capri sensor array could fit into a wrist-worn-scale device at this stage, however.
Update: PrimeSense has given us the following statement:
"PrimeSense is the leading 3D technology in the market. We are focused on building a prosperous company while bringing 3D sensing and Natural Interaction to the mass market in a variety of markets such as interactive living room and mobile devices. We do not comment on what any of our partners, customers or potential customers are doing and we do not relate to rumors or re-cycled rumors."
VIA Hillel Fuld