Apple RED contributions applauded by Bono as "leading the crew"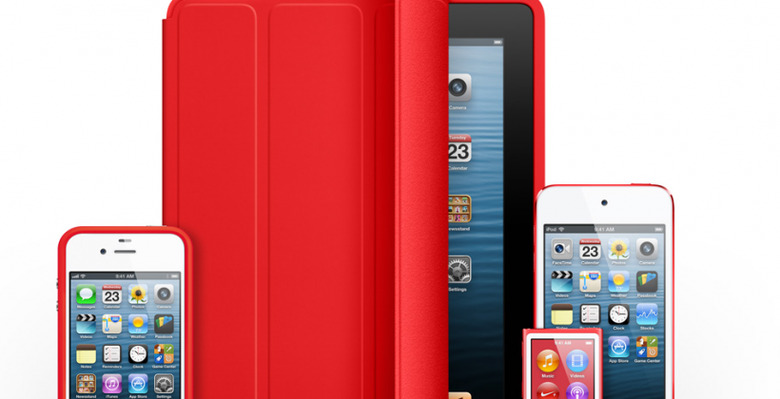 When you've got a company that sells products as successfully as Apple, there's a good chance a group like RED comes knocking at your door at some point or another. For Apple, that time came quite a few years ago – and here in 2013, RED spokesperson Bono has given Apple a round of applause on raising "over $65 million" in the group's efforts to fight AIDS. Bono thanked the company at the 2013 edition of the Clinton Global Initiative this week.
Speaking up in a sort of a digital ping for the actual physical act of saying so, RED tweeted word that Bono gave Apple a shout-out. This team-up between Bono, Red, and Apple has been a long time brewing – leading back to the Red iPod nano and the original Red iPod nano before that. All the way back to October of 2006.
"The numbers don't lie: Every day more than 900 babies are born with HIV. By 2015 that number can be nearly zero. (RED) works with companies like Apple to fight for an AIDS-free generation by 2015 by creating (PRODUCT) RED merchandise. A percentage of gross profits from the sale of those products goes to the Global Fund to help fund AIDS programs in Africa." – Apple
We saw a lovely iPod Shuffle in Red in 2007, and fast-forward to October of 2012 the likes of Final Cut Pro X appeared with RED support. But wait – that's not the same Red. Here's an opportunity for you to see the difference: RED is a sort of camera, one you can find a whole lot more about in our RED camera tag portal. Meanwhile the project known as RED rings true in products like the iPhone 4/4S RED bumper that appeared in August of 2012.
Most recently you'll find the likes of the Apple-made iPhone 5s case appearing with RED branding with a portion of all proceeds heading toward the global fund to fight AIDS in Africa. Right this minute you'll also find an iPad Smart Case, iPad Smart Cover, iPad mini Smart Cover, and an iPod touch with RED branding up for grabs from Apple – with such a lineup with portions or proceeds headed toward RED, it's no wonder why Apple is counted amongst the group's greatest contributors – the biggest in the whole group, in fact.