Apple MacBook Event - SlashGear Summary
Apple's MacBook event this morning was all about, you guessed it, the MacBook. And even though things started out slow, the event built up momentum and soon we were having trouble keeping up with all the news. The MacBook Pro was the real highlight, though a new Apple Cinema Display and MacBook refresh are notable as well. In case you missed our live blog, or merely wanted the highlights, we've got the whole thing distilled down to the essentials for you.You can find more details, photos, plus the full Live Blog transcript, after the cut.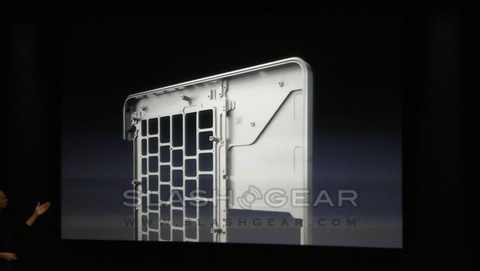 For starters, the whole "brick" rumor was 100% confirmed. Apple is utilizing a new manufacturing process that uses a laser to carve out the notebook casing from a solid block of aluminum. The MacBook Air was actually made this way, and now the technology is being implemented on the MacBook Pro and MacBook lines. This will make for substantially lighter notebooks, weighing in at just a quarter of a pound!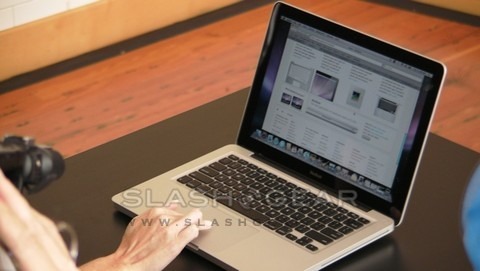 Next up was the MacBook Pro. Turns out those leaked images we saw right up until the event were real. Notable features include the multitouch glass touchpad with new gesture capabilities. It is also much larger than the current touchpads. The glass LED display is backlit and there will be two NVIDIA graphics cards, including the NVIDIA GeForce 9400 M and the 9600M GT. A $1999 and $2499 version are available starting today.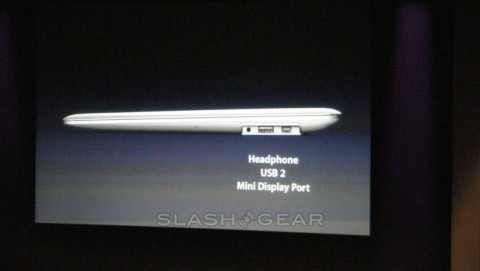 The MacBook Air is also getting an update with a 120GB HDD, NVIDIA 9400M, 2GB RAM and an optional 128GB SDD. The pricing has not been lowered, but there are more features added to bundle. Both a $1799 and a $2499 version will be available beginning in November.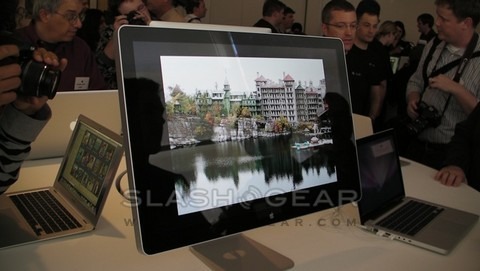 The Apple Cinema Display was also quite a reveal and it is the $899 mystery item that showed up in Apple retail inventory systems last night. The display is 24-inches and sports a 1920 x 1200 resolution, glass screen, LED backlighting and a display port. This display will be available in November.
Lastly, the MacBook got an upgrade as well. There will be a $1299 and a $1599 version. Both have a 2.0GHz processor, 13.3-inch screen and five hours of battery life, though the cheaper of the two lacks a backlit keyboard.
Live Blog Transcript
08:56 am : Live cast will start in an hour, Apple store is down for updates

09:30 am : Thirty minutes until the Apple MacBook event starts

09:37 am : We're expecting new MacBook and MacBook Pro models, with a switch to NVIDIA graphics hardware rumored and potentially a new entry-level price-point of $800-900

09:38 am : There's also been talk of a new manufacturing process, using laser-guided high pressure waterjets to carve MacBook casings out of solid blocks of aluminum

09:38 am : Shortly after that rumor broke, we began to see leaked photos purporting to be of the upcoming MB and MBP models: https://www.slashgear.com/new-spyshot-shows-off-macbook-pro-1319124/

09:40 am : That's the good news; the slightly less impressive is that Apple may have snipped the FireWire port from the MacBook – casing photos show no space for it, which could leave some media editors and those with FireWire external hard-drives frustrated

09:40 am : Still, the possibility of a glass touchpad with button-press feature

09:41 am : and possibly – though it's a long-shot – a clickthrough-style Synaptics system as seen on the recent BlackBerry Stom smartphone, would certainly sweeten the deal

09:43 am : We're currently at Apple headquarters in Cupertino, San Francisco, inside the lobby, waiting to be taken in for the event

09:44 am : The event itself starts at 10am PST – in around 15 minutes time

09:46 am : We'll also be streaming live footage via Qik. Check out the channel: http://qik.com/android

09:48 am : Catch up with all the last-minute rumors – because 10 minutes is a long time when you're waiting for Steve Jobs – in our rumor-roundup: https://www.slashgear.com/macbook-event-rumor-roundup-live-blogging-to-start-soon-1419135/

09:54 am : Remember, we'll be posting all the major news from this morning's event on the frontpage of SlashGear, where we'd love to hear your comments and opinions

09:55 am : Only five minutes to go until the event is due to start

09:55 am : And we've just been allowed into the hall to take our seats

09:56 am : In contrast to the rock music playing at the last Apple event – which saw the launch of the iPod nano 4G and touch 2G – theres classical music playing

09:58 am : This video is from outside in the queue; remember, you can keep track of any live footage from the Apple event today at http://qik.com/android

09:58 am : Event is about to start – we're being told to turn off cellphones

09:59 am : Lights are dimming

10:00 am : Steve Jobs has taken the stage

10:00 am : He's welcoming everyone, and confirming that the event is all about notebooks

10:01 am : He's going to start with an overview of the Mac

10:01 am : Tim Cook taking the stage to do this

10:01 am : Slide on-screen of the full Mac range – as it stands now, anyway

10:01 am : Apple sold 2.5m Macs in the last reported quarter

10:01 am : Have been growing at twice or three-times the market rate over past few quarterds

10:02 am : That's because they're "superior computers"

10:02 am : "far superior to anything else on the market"

10:03 am : And with those better computers come better software

10:03 am : OS X Leopard, the iLife suite, etc.

10:03 am : Also, compatibility and the advances made in that

10:03 am : Cook mentions Boot Camp and other options like Parallels to let Windows users switch and still use software

10:04 am : Though Steve says Windows on a Mac "sends shivers up my spine"

10:04 am : That got a laugh in the room

10:04 am : He's also blaming Vista as a bad step for Microsoft, and not everything they hoped it would be

10:05 am : In fact Vista is listed as a reason Macs are doing well

10:05 am : Finally, fifth reason is marketing

10:05 am : Particularly the Mac vs. PC adverts

10:05 am : encouraging those disappointed with Vista to switch over to Mac

10:06 am : The ad playing is of Vista as king on a throne, and being banished by the plucky Mac

10:06 am : Currently, they're seeing 400,000 people at Apple retail stores every day

10:07 am : And 50% of the people buying a new Mac are new to the platform

10:07 am : We're seeng a slideshow of different Apple stores around the world

10:07 am : Including the new Sydney and Beijing stores

10:08 am : In fact Macs have outgrown the market for the past four years

10:08 am : Retail marketshare in the US has gone "from single digits to 17.6%"

10:08 am : One out of every three dollars is spent on the Mac

10:09 am : Revenue share is 31.3%

10:09 am : Because Apple focus on "fully featured systems"

10:09 am : Apple has a 39% unit share for computers in education, beating Dell

10:10 am : The number of Macs at major universities has gone from 15% to 50%

10:10 am : Q1 to Q3 sales this year have equalled total 2007 sales already

10:10 am : Steve Jobs back on stage

10:11 am : And Jonathan Ives is with him

10:11 am : They're going to discuss how notebooks are made

10:11 am : "We want to talk about discoveries we've made"

10:12 am : Jony is starting by showing how existing MacBooks are made

10:12 am : They're describing how they will build the new notebooks as "a breakthrough"

10:13 am : One of the current problems is making something thin and light, but also strong

10:13 am : At present, the internal frame is filled with components and then bolted to a pressed baseplate

10:13 am : What you see actually only comprises a small amount of the supporting structure

10:14 am : The palm-rest has its own supporting structure inside

10:14 am : And then there's a "plastic gasket" to joint the two

10:14 am : "We've been looking for a better way, and we think we've found it"

10:15 am : The new process resulted in the casing for the MacBook Air

10:15 am : which wouldn't have been possible using the old process

10:15 am : They changed to carving it from a sold piece of aluminum

10:15 am : "we could make a lighter and stronger part"

10:16 am : [This is probably where the 'Brick' rumor comes from]

10:16 am : The Air is made by first rough-cutting, then making the holes for the key-caps, then anodizing it

10:17 am : Basically they go about it all the other way around – start with a block and remove from it, rather than bolt things together to make a whole

10:18 am : They continually clean up and recylcle what's removed – so they start with 2.5lbs of metal and end up with something weighing a quarter of a pound

10:18 am : Ives is saying the new method has applications beyond the Air

10:18 am : Steve Jobs back on stage

10:18 am : Apple has been talking to NVIDIA

10:18 am : They had a new graphics product, but Apple wanted to know if it could be used in a mobile device

10:19 am : It's the NVIDIA GeForce 9400 M

10:19 am : A single die with both chipset and GPU, the latter of which takes up 70%

10:19 am : Has 16 parallel graphics cores, 54gflops of performance

10:20 am : In fact it's five times faster than current graphics in MacBook Pros, and in the real world that translates to 6x the performance

10:20 am : The existing NVIDIA 8600M in the MBP has only 55% the performance of the NVIDIA GeForce 9400 M

10:21 am : Also have a new multitouch glass touchpad

10:21 am : larger than current trackpads

10:21 am : In fact 39% larger

10:21 am : The whole pad is the button

10:21 am : So no need for a separate button

10:22 am : You can have multiple virtual buttons and new 4-finger gestures through software

10:22 am : The glass has been optimized for "silky smooth travel"

10:23 am : They're demonstrating the gestures on-screen

10:23 am : New way to open Expose and "a great way to app switch

10:23 am : They're introducing the new MacBook Pro

10:23 am : Looks just like the leaked photos

10:24 am : "Glass display, all connectors on one side"

10:24 am : Instant-on LED display

10:24 am : "it's just gorgeous"

10:24 am : Has a mini display-port socket

10:25 am : "Precision aluminum unibody enclosure" using the new manufacture technique

10:25 am : It's also "environmentally responsible"

10:25 am : Built-in iSight and microphone

10:25 am : Magnetic latch replacing the old design

10:25 am : "Sudden motion sensor" for drops and knocks

10:25 am : Keyboard is backlit

10:26 am : They're passing around a shell for the new MBP so people can feel it

10:26 am : 50% of the structural parts

10:27 am : It looks exactly like the casing leak photos

10:27 am : "Hundreds of people have worked for many months on this"

10:28 am : Lights are back down

10:28 am : We can confirm that the casing – at least without anything in it! – feels very sturdy

10:29 am : New MBP will use NVIDIA GeForce 9400M graphics

10:29 am : with optional 9600M GT, that is "state of the art"

10:29 am : In fact, sorry, they're including BOTH cards in the MacBook Pro

10:29 am : You can switch between them

10:30 am : integrated 9600M GT for bettery battery life

10:30 am : 5hrs vs. 4 hours on the 9600 GT

10:30 am : Slot-load drive, magsafe power connector and the battery indicator has moved to the side

10:31 am : It also has Ethernet, firewire 800, two USB and mini display port (which will be standard on all new products)

10:31 am : As well as an ExpressCard slot

10:31 am : Also will have optional SSD

10:31 am : accessible from underneath the battery

10:32 am : The mini-display port can drive any display the old socket could, but it's a fraction of the size

10:32 am : It's smaller than a USB port

10:32 am : Ethernet is gigabit, and there are audio in/out ports

10:32 am : It's 0.95 inches thick, the thinnest MBP yet

10:33 am : Has built-in WiFi N and Bluetooth

10:33 am : Two models – $1999 for 15.4-inch 2.4GHz Core 2 Duo 2GB of DDR3 RAM, NVIDIA 9400 and 9600

10:33 am : Then $2499 for a "faster" CPU, double the cache, 4GB RAM, double graphics memory and 320GB HDD

10:34 am : The faster CPU is 2.53GHz

10:34 am : Both use the 15.4-inch LED backlit display

10:34 am : The new models are shipping today

10:35 am : 37% smaller packaging, which helped earn them the EPEAT Gold Award

10:35 am : The MacBook Air gets an upgrade, with a 128GB SSD

10:35 am : (which is an option)

10:35 am : A 120GB HDD as standard, together with the NVIDIA 9400M

10:36 am : It also gets a mini display port

10:36 am : $1799 for the Air with 1.6GHz Core 2 Duo

10:36 am : 2GB RAM and 120GB HDD

10:36 am : Then $2499 for the Air with 1.86GHz CPU and 128GB SSD

10:37 am : They'll be availabel in late november

10:37 am : Also announcing a new Cinema Dispay with LED backlighting

10:37 am : 24-inches, 1920 x 1200 resolution and stereo speakers

10:38 am : MagSafe connector to power your notebook, a USB port and a display port

10:38 am : It'll be $899 in November

10:38 am : Built-in iSight and microphone

10:38 am : Sorry, that's three USB ports, not one

10:38 am : "One more thing"

10:38 am : A new MacBook

10:39 am : The MacBook is the best-selling model "people love them"

10:39 am : Reduced entry price from $1099 to $999

10:39 am : "We've heard that people want want a metal enclosure, faster graphics, and a lot of them want LED backlit displays"

10:40 am : So they're bringing the to the MacBook line – as a new sub-range

10:40 am : like the MB Pro, but smaller

10:40 am : It has a metal enclosure, faster graphics and LED backlight

10:40 am : Same casing design as the new MBP

10:40 am : same glass trackpad

10:40 am : It's basically the smaller casing we saw in the leaked photos

10:41 am : They're calling it the "next generation MacBook"

10:41 am : Uses the NVIDIA 9400M chipset for 5x better graphics performance

10:41 am : Five hours of battery life

10:42 am : 42% smaller packaging, gets the same EPEAT Gold award

10:42 am : Will cost $1299

10:42 am : $700 less than the MacBook Pro

10:42 am : or "$700 more affordable" in Apple-speak

10:43 am : That gets you the 13.3-inch version

10:43 am : with a 2.0GHz Core 2 Duo CPU and 2GB of RAM

10:43 am : 250GB HDD with backlit keyboard and slot-load drive

10:44 am : Sorry, those specs are for the $1599 version

10:44 am : The cheaper one has a 160GB drive, thought the same CPU

10:44 am : But no backlit keyboard

10:44 am : Shipping today, should be in stores tomorrow

10:45 am : Upgrades include 4GB of RAM, 320GB 5,400rpm HDD, 128GB SSD

10:45 am : as well as DVI, dual-DVI and VGA adaptera

10:45 am : "So we think this will be a huge success"

10:46 am : "Two new notebook families, we're building both in a whole new way"

10:46 am : We're watching a video demo/overview of the new MacBooks

10:46 am : Ive is discussing the aluminum body and manufacturing process again

10:47 am : They're showing the actual manufacturing process in action

10:47 am : Imagine a great long tube of aluminum being butchered into a slender MacBook casing, and you'll get the picture

10:48 am : But you end up with a less-wasteful process (as the chopped-off bits are recycled and used again) together with something thinner, lighter and more robust

10:49 am : Ive is saying "In many ways I think it's more beautiful internally than it is externally"

10:49 am : They're showing close-ups of the new MacBook Pro, and it looks like it has a gloss-finish display

10:49 am : Some people are going to be very disappointed about that

10:50 am : But the LED-backlit is instant-on, 30% more efficient and has brighter, more intense colors

10:50 am : They're demo'ing Need For Speed on a MBP

10:50 am : The new glass display looks great

10:50 am : Basically looks flush-fitting with the lid

10:51 am : Now showing images of all the separate components that go inside – hard to believe they fit

10:51 am : But we're assuming they do

10:52 am : They're now talking about how their environmental decisions are "the best in the industry"

10:52 am : New trackpad is getting a video demo

10:52 am : Remember, they've binned the separate button, and the whole thing works to 'click'

10:53 am : Okay, now a Q&A session with Jobs and Phil Schiller

10:53 am : Steve's blood pressure is 110/70

10:53 am : and that's all he's going to say about his health today

10:54 am : That got big laughs and applause

10:54 am : They won't be talking about the financial quarter just ending

10:54 am : btw, the demo video will be on the Apple site today

10:54 am : Q: Does Apple have exclusivity on the NVIDIA chip

10:55 am : A: Apple is the first taking it to market, but it's "up to them"

10:55 am : They're saying they'll be using "a lot of their chips", so it could lead to NVIDIA shortages if other manufacturers wanted to use them

10:56 am : Q: There's no Blu-ray or HDMI – why?

10:56 am : A: HDMI is limited in resolution, and for computer use Display Port is the connection of the future

10:56 am : As for Blu-ray, Steve describes it as "a bag of hurt"

10:56 am : When it comes to licencing

10:57 am : "It's great to watch a movie... we're waiting till things settle down and Blu-ray takes off in the marketplace"

10:57 am : They're claimign to have the best HD and TV options in iTunes, anyway

10:57 am : The 17-inch MBP is also being refreshed today

10:58 am : No word on pricing, though

10:58 am : Q: Is the MacBook upgrade going to steal sales from the MBP?

10:59 am : A: Pros buy MBPs, so we're going to see a refresh demand in both spaces

11:00 am : Q: What about size and weight diferences?

11:00 am : A: MacBook goes from 1.08" to 0.95", same as the MacBook Pro. MacBook is 4.5 lbs; MacBook Pro is 5.5 lbs

11:01 am : Q: How should we talk about manufacturing costs and the change in old process to new?

11:01 am : A: They'll talk more soon about it

11:01 am : Q: What about glare on the display? Is a matte option coming?

11:02 am : A: Jobs says "We're going straight glass. A few of our customers prefer matte screens, but a vast majority prefer glass because of brighter colors, etc"

11:02 am : They'll also push more light through the displays with the LED backlight system

11:02 am : And since they're notebook screens you can angle them to avoid glare

11:02 am : (That last one seems a bit of a cop-out)

11:03 am : Q: Are we going to see a netbook?

11:03 am : A: The netbook is a nascent market

11:03 am : It's just getting started,

11:03 am : (Which means not right now)

11:04 am : Q: You've put a lot of work into the multitouch touchpad, do touchscreens not make sense?

11:04 am : A: Steve says "so far it hasn't made a lot of sense to us"

11:04 am : That's apparently it for the event

11:04 am : No more Q&A

11:05 am : Which means it's time to go for some hands-on time with the new machines

11:05 am : We'll have live photos of the new MacBook update and the MacBook Pro on the frontpage of SlashGear as soon as we can!

11:06 am : Thanks for joining us for today's Live Blog, and keep checking http://www.SlashGear.com for all the latest news