Live at the Apple MacBook event; a walk down memory lane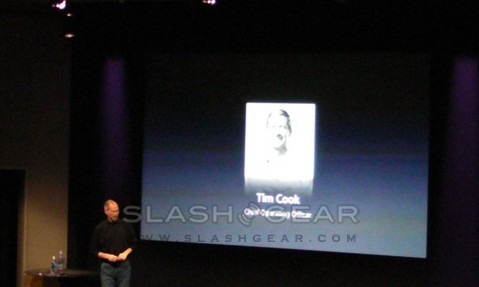 Steve Jobs walked on stage this morning to applauds and began the Apple MacBook event with a review of all that has come before. The on-screen demonstration showed off the current notebook line as it stands.
Apple has sold over 2.5 million Macs in the last quarter and they've been growing twice to three-times the market rate over the past few quarters. Tim Cook said this was because Macs are "far superior to anything else on the market." Even the advertising is better, according to Cook with the Mac vs. PC ads encouraging many who were disappointed with Microsoft Vista to switch to Mac. And while this may very well be true, everyone was waiting in anticipation for what was to come next.
However, we got quite a lengthy discussion of where Macs currently stand in the marketplace. We learned that revenue share is 31.3% and that Apple has a 39% unit share for computers in education. But the interesting stuff was right around the corner, thankfully.
Stay tuned to SlashGear for the latest from the Apple notebook event. And be sure to tune into our live coverage going on now at http://live.slashgear.com/.