Apple iTV Tipped in March 2011 Patent Listing, Full Fledged Apple Television Again Questioned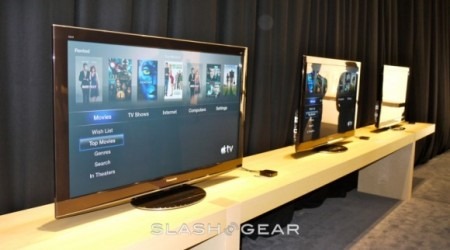 When it comes to Apple products working with the television, it's generally either hit or miss – for example I, personally, have it in my column signature that I use an iPad for a VCR, playing Netflix shows with it all day long (that is, before and after work, of course.) Up until recently, the app didn't function well unless you had it turned to portrait mode. Recently an update fixed this and it's perfect. Similarly, I've got a friend who purchased an Apple TV and used it for a week, then never touched it again, while I've got an uncle who has the same unit and has used it basically every day since he got it. Today we find an application for iTV, a name for a product that may well push Apple to the brink of one of our most universally American products since the dawn of color sets.
The patent application we're looking at here notes iTV as being separate from Apple TV, leading us to believe that there may be one of two situations going on. One, it's possible that this could be a whole new device, a television that works on its own, more than likely a smart television that has direct access to the iTunes store and to iCloud from whens you'd be able to grab, share, display media to your heart's content. The second possible situation here is that iTV was simply applied for so that noone else would take the name, this set of images and texts only describing something Apple already has in play also under the name Apple TV. We DID get wind of this name being a reality about a year ago, too.
Check out the PDF of the application here. What you're going to see there and in the gallery below is a set of images that won't exactly tell you anything new about Apple's relationship with the television we've basically all got in our living rooms, but that name – iTV – shoot – it could very well be an exciting next chapter to the Apple modern media story. Lending further to the possibility of a full-fledged television unit is a column from the 21st entitled Apple to Launch TV Displays This Fall? Next have a look at how the most recent version of Apple TV is indeed still selling well.
Then whet your appetite for controversy with a couple of columns by our own Don Reisinger: Is An App Store-Equipped Apple HDTV A Game Changer? as well as If the Apple TV Was Discontinued, Would Anyone Care? Let us know what you think!
[via TechTilt]