Apple grabs ex-MIT earbud health tracking expert tips report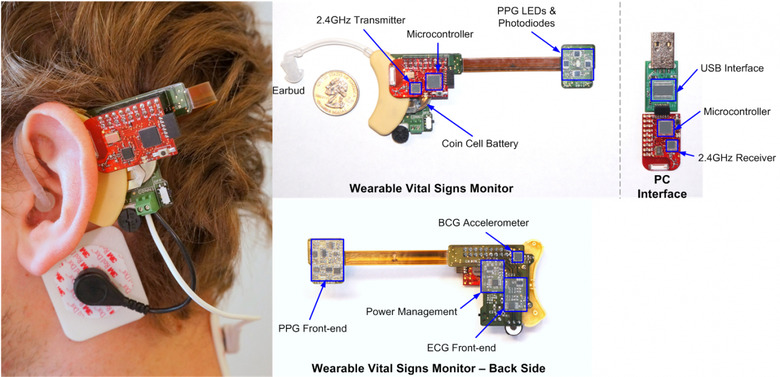 Apple has reportedly added a wearable health expert to its ranks, with an MIT researcher with a history of ear-worn "vital signs monitor" tech said to be joining the company as it makes a push into mHealth. Long-standing rumors have suggested Apple will stage a significant play for the health wearable market with the release of iOS 8, and in fact only this week was tipped to be developing a new set of EarPods headphones that would be able to track pulse.
Now, Eric Winokur – of MIT's Medical Electronic Devices Realization Center – is said to have been brought on board at Apple, according to sources speaking to MacRumors.
Winokur and Apple are yet to confirm or deny the hire, but it's easy to see why his background and research focus could be of interest to the Cupertino firm. The engineer has worked on hearing-aid styled vital-signs monitors which can include sensors like BCG (ballistocardiogram) to track cardiovascular performance, along with heart rate and pulse transit time.
The wearables used so far in the research have wirelessly transmitted data to a nearby computer, though Apple's focus is expected to be on how the iPhone and other peripherals could become the hub of a mobile health platform. Part of Winokur's ongoing efforts are to develop custom components that would help reduce bulk and prolong battery life.
"The device is designed to use the ear as a discreet and a natural anchor that reduces device visibility and the need for skin adhesives ... While the prototype currently uses off-the-shelf components, custom integrated circuits are being designed to replace those components to significantly decrease the device's size and power consumption" Eric Winokur, MIT
Rumors of new EarPods with pulse-tracking, among other things, came from whisper-sharing app Secret, and were viewed with the expected degree of skepticism given their anonymity. However, it's not outside the realm of possibility, at least from a technical standpoint.
LG, for instance, showed off a set of its own health-monitoring headphones back at CES, which connected wirelessly to a phone or to a wrist-worn smartwatch.
Apple's goal is believed to be piping data to a new Healthbook hub in iOS 8, with the the company going on a hiring spree over recent months and bringing onboard experts in novel tracking technologies and fitness.
Winokur is said to be joining Apple from June 2014, likely too soon to have a significant impact on the first generation of the company's wearable health products. They're expected to include the "iWatch" smartwatch, among other things, though no name has been finalized for the project.
SOURCE MacRumors