LG LifeBand Touch and Heart Rate Earphones hands-on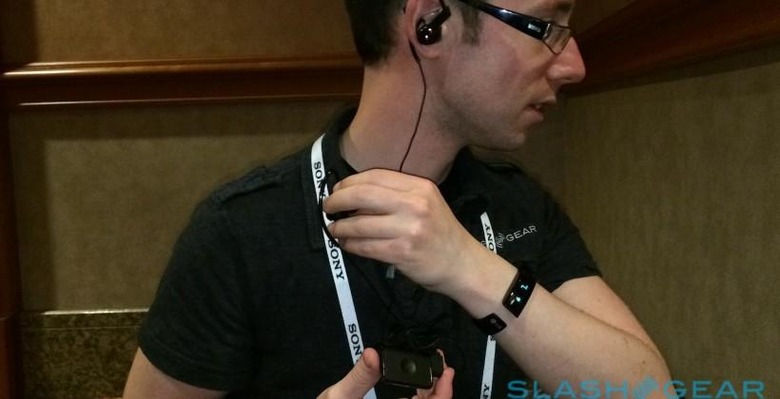 CES 2014 is turning into the year of wearables, and LG is joining the fray with the new LG LifeBand Touch and LG Heart Rate Earphones. Working either independently or paired up, the Bluetooth 4.0 peripherals together track steps and calorific burn, movement over the course of the day, and even heart-rate, along with delivering calls and music controls to the wrist.
The LifeBand Touch is a flexible black rubber and plastic wristband, stretching open to fit around the wrist on either arm. On the top is a small, long monochrome OLED display, which also functions as a touchscreen: you can swipe across it to move between different metrics, like steps and calories, and tap to select.
A single physical button to the side cycles through modes, though what you see depends on what device you have paired up. For instance, the basics are time and battery status, but if you're hooked up to a phone by Bluetooth you can use it to control music playback and get alerts on incoming calls and text messages.
As for the LG Heart Rate Earphones, they use pulse-measuring technology from PerformTek to calculate heart activity from blood flow in the ears. The headphones plug into a Bluetooth dongle that can be clipped to the sleeve or waistband, which feeds data either to the LG Fitness app or various third-party apps for iOS and Android, including MyFitnessPal, MapMyFitness, and RunKeeper.
The LifeBand Touch is a little thicker in places than other wearables we've seen, but the interface is straightforward and we like the concept of spreading the body-worn sensors around rather than fitting them into a single device. That should pay dividends for battery life, too, though LG isn't saying how long either is expected to last.
Both the LG LifeBand Touch and the LG Heart Rate Earphones will go on sale in the US in the first half of this year, with other markets following on afterwards. No word on pricing at this stage.