Apple convinces Tokyo court Samsung infringed bounce-back UI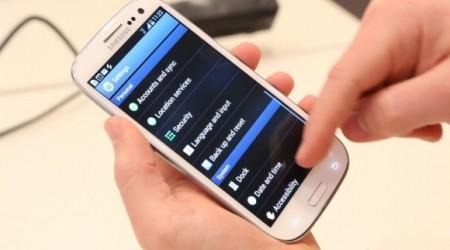 Apple has bested Samsung in a Japanese courtroom, convincing the Tokyo District Court that its South Korean rival's Galaxy devices infringe the so-called "bounce back" patent used in iPhone scrolling. The ruling, which comes even though in the US the patent has actually been invalidated, could leave Samsung open to more financial damages, Reuters reports, though the company has already modified more recent phones and tablets to use a different visual indicator.
In fact, Samsung had addressed the contentious visual feature by early 2012. Apple's UI shows the icons and list entries "bouncing" when the user scrolls all the way to the end of the page, giving a quick and obvious indicator that there is nothing more to see. Samsung had originally used the same system; however, it switched over to a spreading blue glow that blooms when the list is finished.
Samsung may yet appeal the ruling, a company spokesperson told Bloomberg, though says it will need to review the court's conclusions first. Exactly what penalty the Tokyo court will hand down is unclear at this stage.
However, Apple has chased Galaxy smartphone and tablet sales bans in other countries, and is unlikely to be any less demanding in Japan. Given no recent Samsung device actually uses the UI, though, it may have to settle for some sort of financial penalty.
Apple sued Samsung in Japan back in 2011, alleging that it had copied the look and feel of the iPad and iPhone, key elements of their interfaces, and even their packaging. However, by mid-2012 no infringement had been found, though later rulings suggested Apple would have the edge.