Apple antitrust complaint filed against Motorola Mobility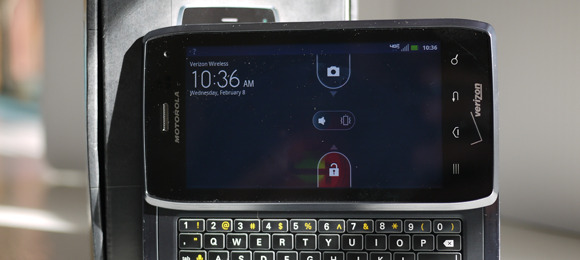 faces a potential antitrust investigation from the European Commission over potential misuse of FRAND patents, after Apple filed an official complaint against its rival. The news, revealed as part of Motorola's most recent
- in which the company also voices concerns that incoming tablets from
among others might have a significant impact on its own market performance in 2012 –  makes Motorola one of a number of big players facing investigation, and comes on the heels of
and
approval of Google's acquisition of the company.
"On February 17, 2012, the Company received a letter from the European Commission, Competition Directorate-General, (the "Commission") notifying it that the Commission has received a complaint against Motorola Mobility, Inc. ("MMI") by Apple, Inc. ("Apple") regarding the enforcement of MMI's standards-essential patents against Apple allegedly in breach of MMI's FRAND commitments. Apple's complaint seeks the Commission's intervention with respect to standards-essential patents" Motorola Mobility, SEC filing
The EC notified Motorola Mobility of the procedure on Friday last week, though it's unclear when Apple filed the complaint. At issue is Motorola's use of 3G/UMTS patents deemed to be standards-essential in litigation against Apple in recent months; Apple alleges that Motorola's licensing fee demands are excessive and out of line with FRAND – fair, reasonable and non-discriminatory – regulations. Motorola was reportedly
seeking 2.25-percent of Apple's iPhone sales
 for use of its patents.
Motorola will now have time to respond to the European Commission, in the hope that it can convince them an antitrust investigation is not necessary. Samsung's legal behavior around standards-essential patents is
 by the EC, and while the Google acquisition of Motorola Mobility was approved, both the EC and DoJ said they would be
looking closely at the search company for signs of potential patent misuse
.
"We expect competition to increase in 2012 as several competitors, including Nokia and several China-based manufacturers, significantly expand their smartphone and media tablet portfolios. We also expect continued significant competition from Apple for reasons including their differentiated user experiences, distribution capabilities, extensive marketing of their products and consumer loyalty and from Samsung for reasons including their vertical supply chain integration, distribution capabilities and extensive marketing of their products" Motorola Mobility, SEC filing
Meanwhile, the SEC filing also highlights some of Motorola's concerns for the remainder of 2012, with Nokia flagged up as a possible rising star. Motorola also expects a Nokia tablet to be launched this year, though the Finnish company itself has been coy on its plans beyond Windows Phone handsets. The big threats are Apple and Samsung, however, with Motorola pointing to the former's user-experience and customer loyalty as key strengths, while the latter has supply-chain integration and distribution capabilities in its favor.
[
FOSSPatents]