Android Auto hands-on: Promising but patchy flexibility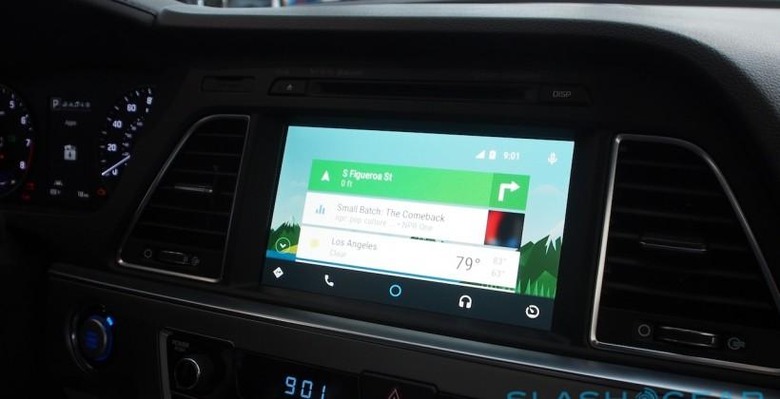 We've heard plenty about Apple's CarPlay, but what about Android Auto? Finally getting its moment in the spotlight now that Android 5.0 Lollipop is arriving, the dashboard-takeover isn't actually available on any production car quite yet, but I was able to take an early look at the LA Auto Show inside a new 2015 Hyundai Sonata. The premise is simple: plug in your Android phone – in this particular case, a Nexus 5 – via USB cable and the car's central infotainment touchscreen gets an Android Auto revamp, with specially-designed graphics for use while driving, voice control rather than stabbing at a keyboard, and smart integration with your use of Google services elsewhere. Interesting, but it's not entirely road-worthy just yet.
At heart, Android Auto and CarPlay take the same approach. Each acts a layer on top of the car's native infotainment system, with support for a selection of the key hardware controls, and the familiar apps from your phone so as to minimize confusion.
CarPlay is, perhaps unsurprisingly, more controlling about what you can use than Android Auto is. As we saw when we tested Apple's system earlier this year, you get Apple Maps, Messaging, phone, music, and a small selection of third-party apps like Spotify to choose between, with Siri used to navigate them.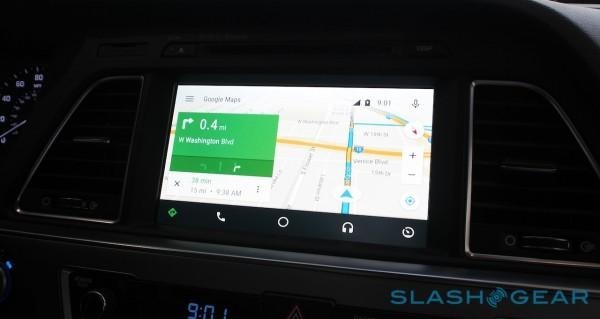 Android Auto's strength, for me, is in how it's more open to other applications and services. With CarPlay, if you'd rather use Google Maps or HERE Maps than Apple's own navigation package, you're effectively out of luck unless Apple has a change of heart. Google, though, is taking a more open approach, should developers wish to avail themselves of it.
Out of the box, you get Google Maps with a tweaked navigation view that pares back the number of labels and icons for clearer visibility, messaging and call support, music both local and streaming, and a number of external services supported like Spotify, Kick, Songza, and Soundcloud. Google's familiar voice recognition navigates between them, as well as tapping the touchscreen.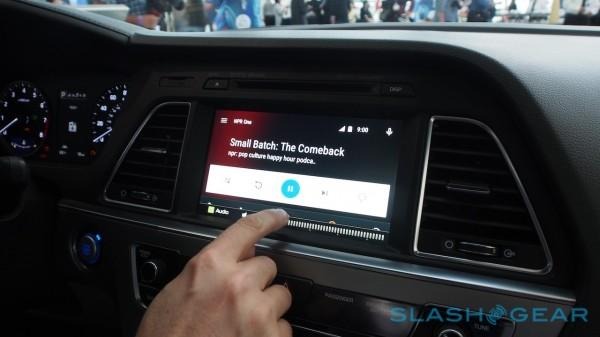 The interface works well, for the most part; the Nexus 5 had no issues keeping everything running smoothly. There were some occasional pauses as the server-side voice recognition churned away, but it's worth noting I was testing it in a crowded convention center. Google has implemented some sensible caching, too: when you start navigating, for instance, Android Auto downloads not only the mapping data for your route, but throws in some wiggle-room either side just in case you get lost or diverted but don't have a signal.
A similarly thoughtful approach has been taken to just how many options get presented at any one time, depending on context. If you trigger navigation via voice command, for instance, Maps will automatically start giving you directions following the most direct route, assuming that you probably don't want to be distracted by alternatives.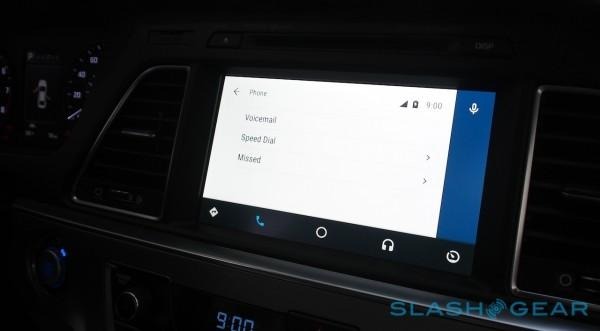 If you find a destination via the touchscreen and the category search, however, or from the list of locations you previously searched from your desktop browser (logged in with the same Google account), then you get to choose from a selection of routes.
Android Auto may work with the Sonata's steering wheel voice and volume buttons, and its central touchscreen, but it doesn't get full access to everything the car's native systems can do. For that, you have to hit the "Return to Hyundai" button and jump back into the regular interface; if you've got music or directions running, they'll be kept going in the background, while if you start, say, satellite radio playing through the Sonata's own interface, that will keep going when you're back in Android Auto.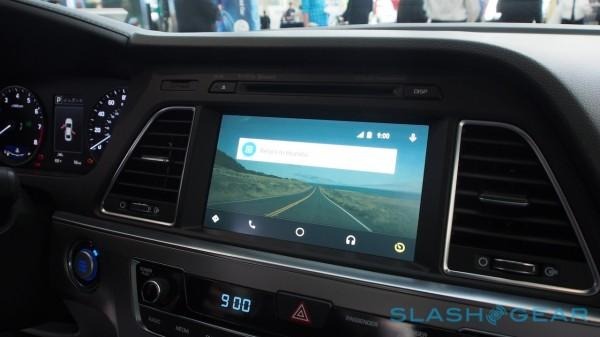 At these early stages of integration, I can forgive the lingering divide between what Android Auto does and what the car's native infotainment system handles. I'm less willing to accept shortcomings in the native functionality, particularly when Google is both hoping to clamp down on phone-fiddling and espousing its broader support for third-party platforms than, say, CarPlay has.
For instance, Google has already released an SDK which developers like WhatsApp have used to integrate with the in-car platform. The premise is simple: add a few lines of code, and all of a sudden Android Auto can recognize the incoming messages through your app, and read them out in the car.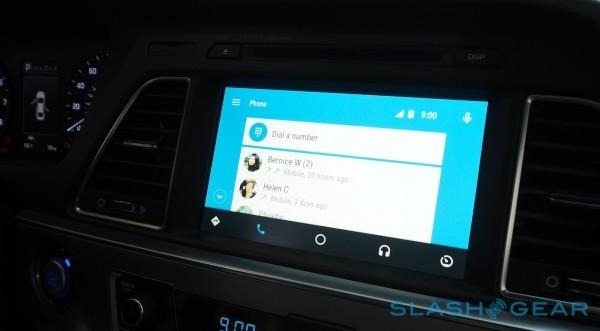 Unfortunately, that integration isn't quite complete yet, but the limitations aren't entirely clear to the user. Sure, you can have a WhatsApp message read out, and reply to it by voice, but you can't actively choose which messaging service to use to contact someone.
The default is always Google's own SMS in Hangouts. Even if you say "Ok Google, send a WhatsApp message to Colin" – because you always use WhatsApp for that so as to save on SMS charges or simply because that where your message history is – Android Auto won't recognize it. There's no helpful "that funtionality isn't supported" error report, either, just a generic "I didn't understand" that leaves you uncertain whether you're simply phrasing it wrong.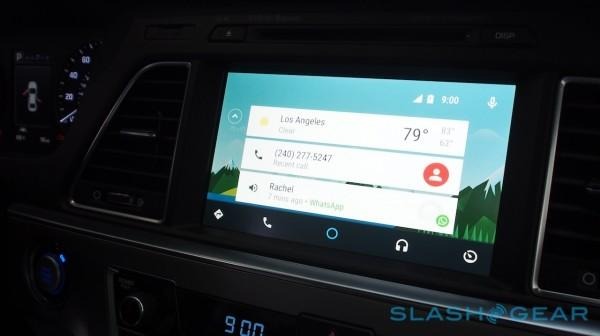 Could that be fixed? Certainly. Yet the fact that poorly working and confusingly structured voice control is one of the biggest complaints about cars suggests that there's more of an issue here than just one half-baked feature. Google needs to make sure it communicates exactly what Android Auto can and can't do, else people will just end up unplugging their phones.
There'll be some degree of reassurance from Google on that matter, but I'm not sure it's quite going to be enough. While the Google Play store is usually a Wild West of apps, Google plans to check over each and every Android Auto app before they're distributed. Those checks, however, will only cover adherence to the UI style guide; if the app itself is just plain badly coded, or crashes repeatedly forcing you to take your eyes off the road to unplug and reconnect your phone, then you'll have to hope Google's usual automated checks will pick up on those instabilities.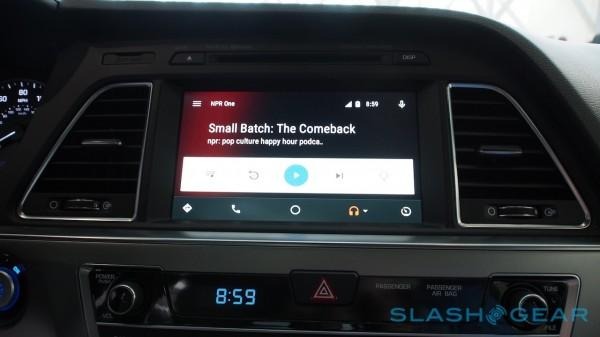 Teething-pains aside, I'm impressed with Android Auto. The Material Design interface lends itself well to car use, familiar for Android users yet not out of place on a dashboard – no offense, Hyundai, but it only takes dropping out into the Sonata's native UI to see quite how more advanced Google's feels – and I like developers have been given enough room to customize their app interfaces so as to be distinctive and recognizable, but without diluting the consistency you really want when you're trying to change playlist while simultaneously driving.
There's room for advancement still – few cars limit themselves to a single dashboard display any more, for instance, or indeed just voice and volume buttons, yet that's all Android Auto (and CarPlay for that matter) can handle – but we may have to wait until the first Android Auto equipped cars hit the roads to see exactly where the platforms should go next. In Hyundai's case that will be sometime in 2015, though Audi, Ford, Chevrolet, and others have all said they'll support Google's system.
More from the LA Auto Show 2014 in the SlashGear Cars Hub!