2015 Hyundai Sonata first-drive: CarPlay & Android Auto onboard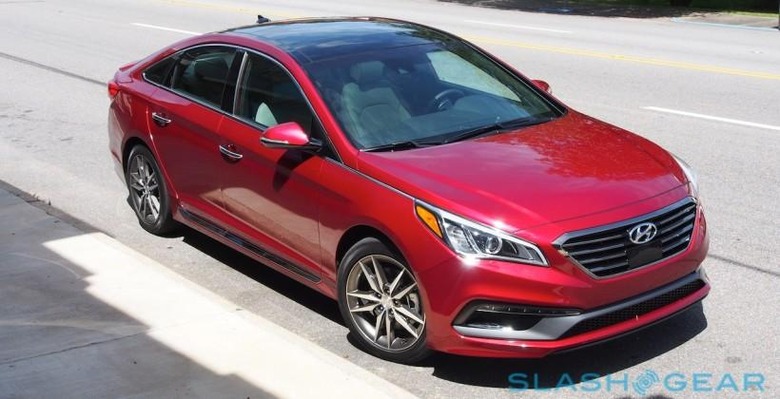 Hyundai has something to prove in the midsized segment, and the 2015 Sonata is the car it's aiming to do that with. Dropping the droopy design for a tauter, more sturdy appearance, and stepping up its game with more usable performance, clever electronic toys like smart cruise control, and interior space that belongs with a class above, the new Sonata wants you to forget the Camry, Passat, and Fusion in favor of a US-made Korean alternative. Ambitious, but as I found behind the wheel there's plenty to recommend it.
Design
Hyundai calls the Sonata's style language "Fluidic Design 2.0" though, while the name implies shape-changing science fiction aliens, on four wheels it translates to a taut, solid looking body that errs on the conservative side. A the front the hexagonal grille gets lashings of chrome and a nicely scalloped front diffuser, while LED running lights can optionally be paired with HID headlamps.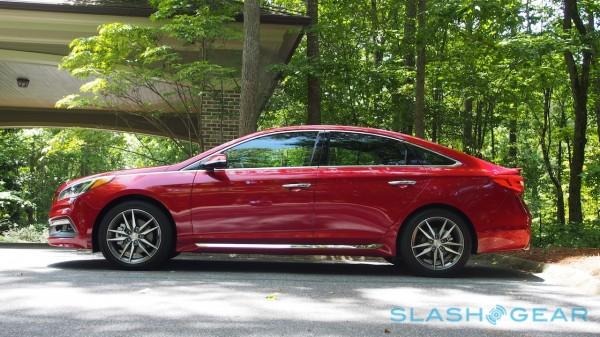 The chrome continues along the shoulder line, drawing back along the hood edge from the corner of the lamps like over-enthusiastic 70s eyeliner, and merging with more shiny stuff around the side glass. A second chunk of it is down on the sills. I'd prefer a little less of it and a little more subtle sculpting of the bodywork itself, but in profile the new Sonata is a reasonably unobtrusive beast overall.
At the back, there are distinctive bulging lamp clusters and the option of quad, chrome-tipped tailpipes and a diffuser on the Sport model. The crease lines work, though the standard-fit spoiler looks a little tacked-on; it and the rest of Hyundai's aero work must be doing something right, however, as the 2015 Sonata shares a class-leading drag rating with Ford's Fusion.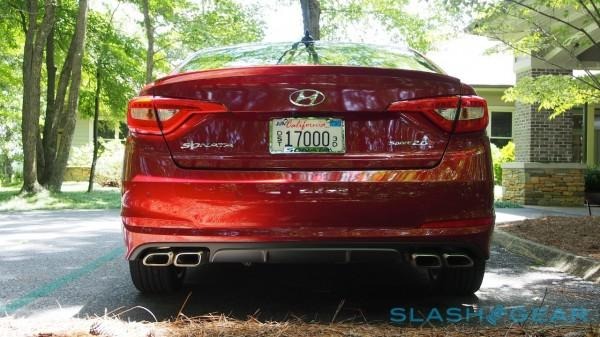 Taken as a whole, it's a mature design if not an especially aggressive one, with even the add-ons of the Sport version running toward the mild despite what the badging might have you believe.
Interior
Hyundai is particularly proud of its interior and dashboard design, with the fact that the new Sonata is slightly longer and wider than its predecessor meaning it actually leads its midrange class in overall space inside. In fact, at 106.1 cubic feet, interior space rivals some of the lower-end numbers of the class above.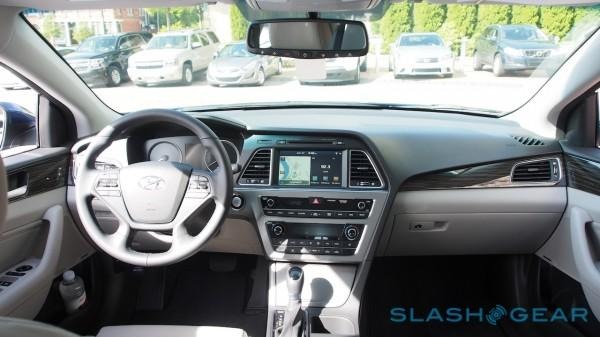 You feel that in some places more than other. In the rear, there's no shortage of room for either legs or heads, and the bench seats are comfortable and supportive. Up front it's much the same, only the fact that the windshield merges with the roofline at a comparatively low point could leave taller drivers feeling deceptively cramped. Actual headroom isn't an issue, in fact, and the optional full-length glass roof (the front pane of which tilt/slides back) fixes any perception problems.
Driver and front passenger seating treads a careful balance between comfort and firmness, and meant that even after a full day on the road there was no discomfort. Hyundai's cloth fabric feels sturdy but hardly premium, though; the leather with contrasting piping is much better. Heated and cooled seats are optional, as is push-button start, seat memory presets, and a clever hands-free trunk lid.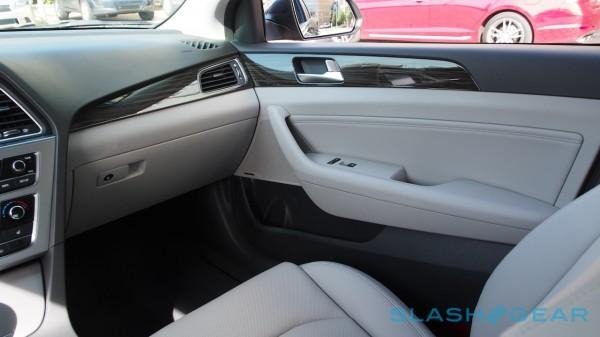 Where similar systems from Ford and others require you to wiggle your foot under a certain part of the rear bumper, Hyundai's fix for those with full hands simply asks you to stand at the back with the keyfob in your pocket and wait for the count of three. Unfortunately you'll still need to open the trunk lid yourself, as it only pops open a small amount (unlike the full power-opening on Hyundai's more expensive sedans).
Hyundai's dash layout follows a tiered design, with the company keen to highlight how the driver instruments and infotainment section (more on which in a moment) are at the same level to make glancing down more consistent. Two sections of jam-packed buttons and dials – for either the clock or infotainment controls depending on spec level, and then environmental controls – are then stacked underneath. Gone is the manual parking brake, replaced by an electronic version that, on some models, automatically switches on and off for stop/start traffic including hill-starts.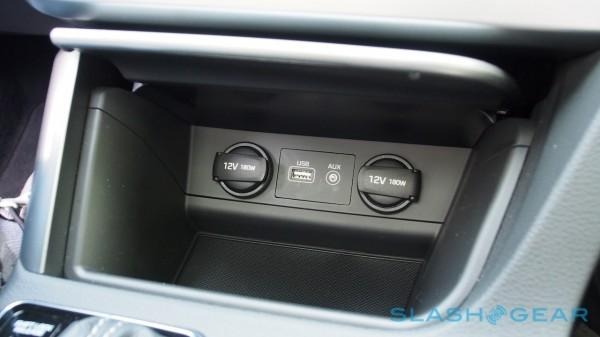 The success of it all depends hugely on trim levels. In entry-level SE form, as well as Sport and Eco, the plastic steering wheel is needlessly cheap-feeling, easily addressed by the leather-clad version on the Limited and Sport 2.0T versions. The dashboard is nicely sculpted and clean, but there's a huge amount of elephant-butt finish plastic, and some of the obvious points where soft touch rather than hard plastics would make sense – like where driver and front passenger knees would knock against the center console – have been neglected.
For the most part, everything feels solid and well-constructed, and road noise proved minimal. The buttons are tactile and – though plentiful, particularly on the steering wheel – are well laid-out. There are a useful three 12V outlets, two in the front and one in the rear, and it all feels like it could readily survive a family or a demanding road-trip.
Infotainment
Three infotainment systems are offered in the new Sonata. The SE gets a basic radio/SiriusXM/CD system with a small display, iPod/USB, Bluetooth, and aux-in support, which is functional but hardly something I – or, I'd wager, the SlashGear audience – is intrigued about.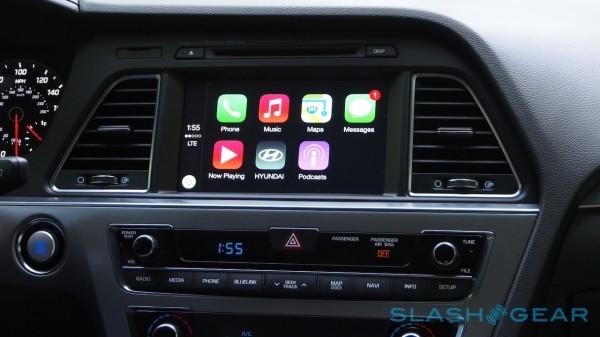 In the middle is a system with a 5-inch color touchscreen, the same source support, and a rearview camera. It's standard on the Sport, Sport 2.0T, and Eco models; the Limited increases the power to 360W and adds a subwoofer.
Most interesting for me – and, I'd wager, most people reading this – is the top-spec system offered as an option on all but the Sonata SE. It has an 8-inch touchscreen and throws in HD Radio too, with the Sport and Eco models getting six speakers and a subwoofer, while the Limited and Sport 2.0T get ten Infinity speakers and a 400W amp.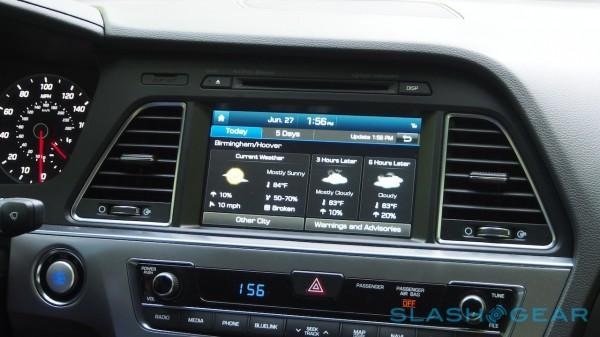 It's certainly loud, and clear too, though I was surprised that even with the bass cranked up and some rap playing through SiriusXM the subwoofer didn't exactly shake the car unduly. I'll concede that it might not be too great an issue for the target audience, mind. Hyundai's UI is straightforward if a little bland, though does have a useful split-screen view that can show both navigation and multimedia simultaneously.
Later in the model-year, meanwhile, there'll be CarPlay and Android Auto support. With Google only officially announcing the latter last week, Hyundai only had Apple's system to demonstrate, but it's one of the better implementations of the hands-free iPhone 5s system that we've seen.
For instance, there's no treating the native infotainment and CarPlay as church & state: you can leave CarPlay streaming audio through iTunes Radio, for instance, while you jump back to Hyundai's system for navigation. Hyundai is sticking with a physical Lightning cable for connectivity, even when Apple adds Bluetooth CarPlay support, since it argues that will be a more straightforward route for most owners.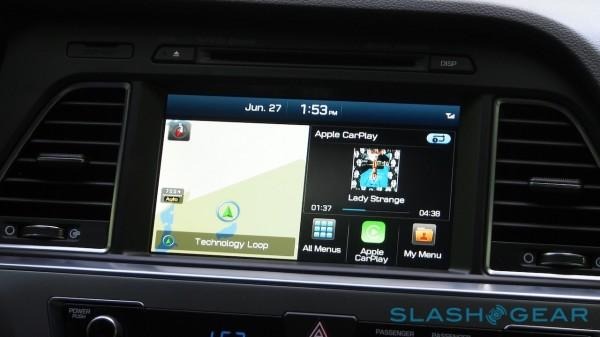 Those who buy the 2015 Sonata before those updates happen will get an upgrade to support both CarPlay and Android Auto, with Hyundai aiming to be the first mainstream car company to offer both roughly simultaneously. It's undecided yet whether the functionality will be pushed out over the Sonata's integrated 3G connection (which uses Verizon's network, and to which the driver doesn't have access: there's no mobile hotspot support, for instance) or require a trip in to a service center.
Engines and Performance
Hyundai will offer three engine choices in the US, with the SE, Sport, and Limited all getting a 2.4-liter GDI DOHC 16v inline 4-cylinder good for 185HP and 178 lb-ft of torque, pushed through a 6-speed auto. Fuel economy is 24/35/28 MPG for city/highway/combined; with mixed driving conditions, I saw consumption in the region of 24mpg. It's a solid engine, though it's not going to be mistaken for anything with racing intentions, even with the three-level driving mode set to "Sport" (as opposed to "Normal" or "Eco"). Power delivery is smooth and consistent, with little in the way of gear-hunting, though there was a noticeable reluctance to kick down which undermined some overtaking attempts.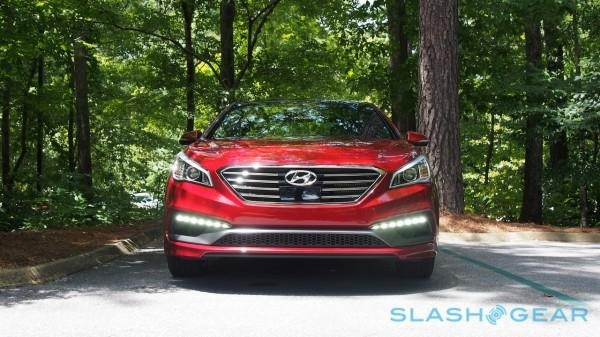 The Sport 2.0T, meanwhile, gets a new 2.0-liter Turbo-GDI DOHC engine with the same 6-speed auto, and which actually drops in horsepower from the old model: down to 245HP from 274HP. However, Hyundai says that there's more usable torque, now, thanks to retuning, which it argues will make better use of the 260 lb-ft in most road conditions. It's rated for 23/32/26 MPG, though in my experience it fell several points short of that.
Hyundai admitted it was still finessing the turbo engine, and so hopefully some of the lag I felt will be ironed out for production cars. Combined with the somewhat reluctant gearbox it sapped a little of the enthusiasm I felt for what's otherwise a perky car, with handling sharper than I expected and traction control that treads a neat line between over-intrusive while nonetheless stepping in predictably on dusty road surfaces. Solid brakes pull things to a halt with no complaints.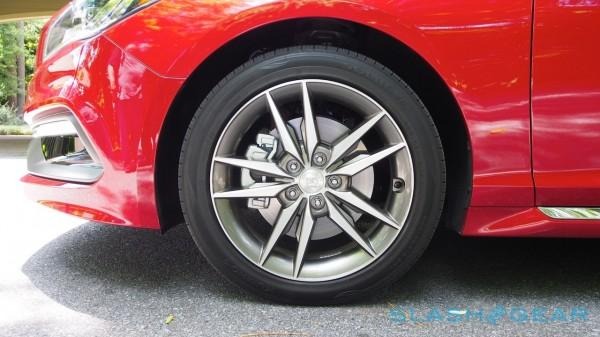 Finally, I also had the chance to test a pre-production version of the new 1.6-liter Turbo-GDI engine which will only be offered on the Sonata Eco. It's rated at 28/38/32 mpg – Hyundai claiming another class-leading result, if you don't consider hybrids – and gets a new, 7-speed auto to play with. Given the car's status it's too early to judge the economy, but what particularly impressed was the 1.6's eagerness to play, rivaling (and potentially besting) the 2.0T for peppiness.
As for the tech, all get cruise control, ABS, traction control, hill-start assist, tire pressure monitoring, and an extra focus on besting the NHTSA's Small Overlap Test (those results aren't in yet, though). The blind spot detection (standard on the Limited and Sport 2.0T; optional on the Sport and Eco) can be optionally upgraded on the Limited/Sport 2.0T to Lane Departure Warning, which monitors even further back in the lanes either side of the Sonata and flags up if there's a fast-approaching vehicle there which might scupper your own maneuvering.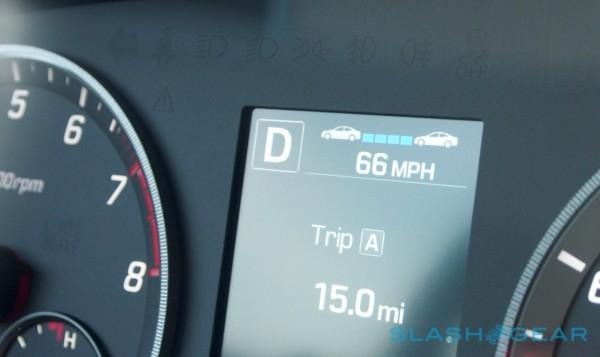 Best, though, is the smart cruise control. You have to accept an ugly black box in the center of the grill, but in return you get radar speed adjustment depending on the traffic in front. Set your preferred speed and the Sonata will automatically maintain it or adjust it as the car in front slows and speeds up again; the distance between can be set, too, down to a few car lengths.
It's not entirely new – other cars have offered similar systems before – but it's still pretty magical to experience. Foot hovering semi-cautiously over the brake pedal, I let the Sonata bring itself to a stop as traffic in front paused at a junction; if things get moving again in under three seconds, the car will automatically pick up speed again of its own accord. Otherwise, it just takes a flick of the speed adjustment level on the wheel to resume.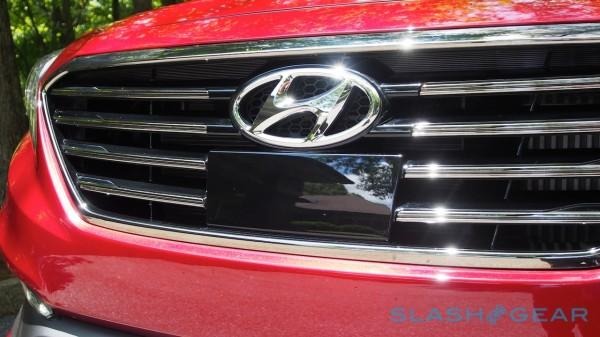 Even when an overly-aggressive car in the next lane pulled in front, the Sonata wasn't flustered, instantly recognizing something was in front and braking to maintain my chosen degree of spacing.
Wrap-Up
The midsized sedan segment is a tough one. Balancing price and specifications in something that appeals to families doesn't leave much room for glamour, though Hyundai has done its best to blend solid styling and impressive on-road performance in the 2015 Sonata. The sprinkling of electronic magic helps too, though you pay for it: the SE starts at $21,150, but you're looking at $26,525 or more for the Limited, and $28,575 for the Sport 2.0T.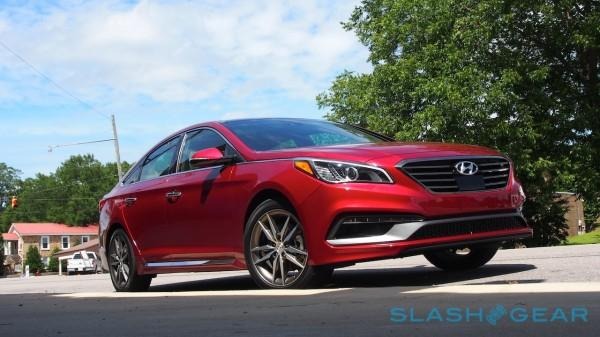 The $23,175+ for the Sport trim which Hyundai expects to be the most popular still requires $3,450 more if you want the 8-inch navigation system (among other bells & whistles). Add smart cruise control and the 8-inch screen to the Sport 2.0T, meanwhile, and you're looking at a $33,525 car: that puts the Sonata into fiercely competitive territory (high-profile competition includes Mercedes-Benz's CLA, for instance).
Step back from that higher-cost brink, however, and you're left with a solid, competitive sedan. Comfortably capable at speed; content with lengthy road-trips, and accommodating inside, it's an impressive update to a car that many might not once have considered a contender.