Ferrari FF CarPlay hands-on plus Pioneer's Apple upgrade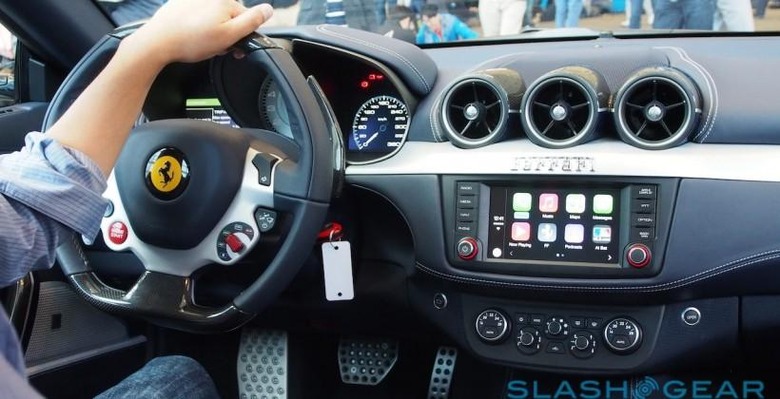 CarPlay is coming, and Apple's push to put iOS and Siri in the dashboard could be one of the most significant plays from the Cupertino firm since the iPhone itself. Breaking away from the multitude of different infotainment UIs, CarPlay pushes out a customized iOS interface instead, with familiar apps like Apple Maps, iTunes, and Messages, all controlled by voice. I spent some time in three demo vehicles – Ferrari's eye-widening FF, Chevrolet's latest Spark EV, and a beautiful classic Mustang – to see how CarPlay works.
Hooked up via Lightning cable (or, in time, over a wireless connection), CarPlay effectively works as a video-out to the dashboard display, in addition to passing back button-presses from the car's own controls. A subset of apps, redesigned to suit in-car duty, is available, with Siri intended as the main method of control.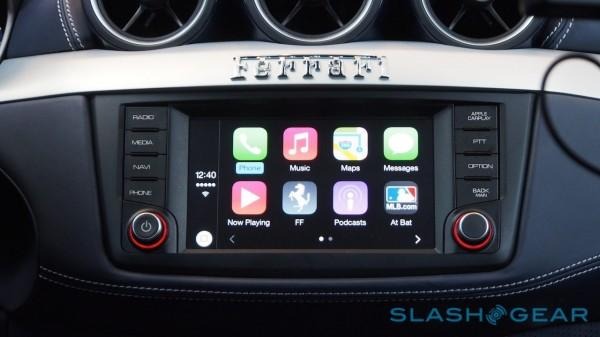 Exact implementations will differ, slightly, depending on the hardware each car company fits. So, both the Ferrari and the Spark EV have touchscreens, but the former uses a resistive panel while the latter gets a capacitive screen. Mercedes-Benz, meanwhile, will rely on separate controls instead of touch; Volvo will embed the CarPlay UI in-between controls for its cars' own features.
Ferrari FF CarPlay demo:
Notably, you can still use your iPhone in the usual way, even when it's plugged into the dash. That means your passenger can browse the full range of apps and services, even while CarPlay is delivering its car-specific set.
Switching from the $295,000 Ferrari into a Chevrolet Spark EV costing a fraction of that highlighted one of CarPlay's most important features: its consistency. Right now, switching cars usually means a jarring change in infotainment system, even if you're staying brand-loyal. Rely on CarPlay instead, however, and the UI is exactly the same.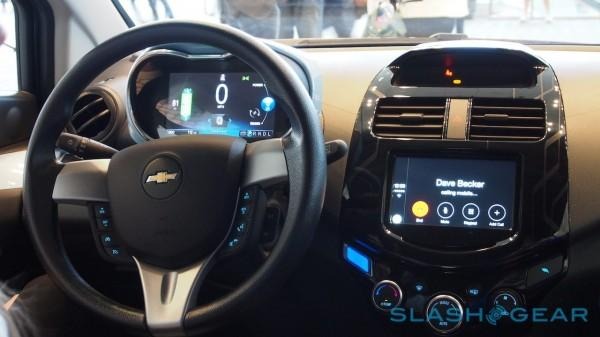 That leaves car manufacturers in a somewhat precarious position, however. While some have been wary of inviting Apple into their dashboards, loathe to give up part of the car ownership experience that drivers interact with so frequently, it's also not hard to envisage a time when people considering a new car purchase will see omitting CarPlay compatibility as a deal-breaker.
Getting CarPlay as a factory-fit option in a new car isn't the only way to get Apple's infotainment interface on your dashboard, however. Alpine and Pioneer have both announced plans for aftermarket head-units that are CarPlay compatible, meaning that while vehicles like the stunning 1965 Ford Mustang on display at WWDC 2014 might not have airbags, it can have Siri.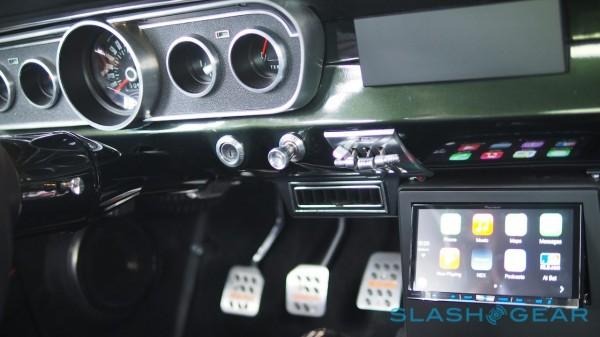 The functionality is almost identical to CarPlay in the Ferrari, though the less-than-ideal ergonomics of the vintage Mustang's dashboard do highlight the fact that how user-friendly an aftermarket head-unit will be will depend on the design of the car's interior. Pioneer's system also taps into any steering wheel controls you might have, though they were also obviously missing from the Mustang.
Pioneer aftermarket CarPlay demo in 1965 Mustang:
Interestingly, there's no technical reason, Apple told me, why Siri on CarPlay shouldn't respond to an aftermarket trigger button, should a manufacturer like Pioneer decide to offer one as an accessory. A clip-on control that attaches to the steering wheel for cars that lack integrated buttons seems like an obvious addition, saving drivers from reaching down and tapping the touchscreen.
It's early days for CarPlay. Apple seems to have the simplicity down, and Siri's natural voice recognition seems tailor-made for this sort of hands-free use. What remains to be seen is how quickly Apple will iterate to take into account new apps and services: there's no CarPlay-specific App Store, for instance, which means users are limited to whatever Apple decides is appropriate. Given the prevalence of smartphones and the growing expectations for driving functionality, though, for many connecting car to CarPlay will be a no-brainer.