AMD Seattle chips ditch x86 for ARM to undermine Intel's server market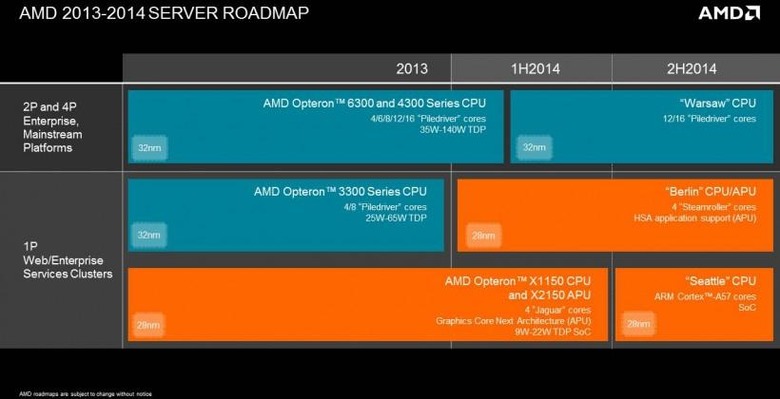 AMD has revealed its new "Seattle" chips, processors headed to power-dense servers, and using for the first time ARM architecture as commonly found in smartphones and tablets, rather than x86. AMD Seattle, which is expected to show up in systems from the second half of 2014, will initially offer eight ARM Cortex-A57 cores running at at least 2GHz, with 16-core versions headed to market after that. According to AMD, there'll be big advantages over traditional server chips.
For instance, Seattle is expected to deliver between 2x and 4x the performance of AMD's Opteron X-Series chips, despite offering better computer-per-watt numbers. As what AMD is describing "the industry's only 64-bit ARM-based server SoC from a proven server processor supplier", it will also debut the company's so-called Freedom Fabric interconnect technology, improving speeds between different SoCs.
Seattle will support 128GB DRAM, server-caliber encryption, and new "offload engines" that can reduce CPU loading and improve power efficiency. It will also fit into older setups thanks to legacy networking support, such as integrated 10GbE.
AMD confirmed its ARM intentions back in 2012, building on its acquisition of super-dense server provider SeaMicro. SeaMicro eschewed the traditional path of putting a few high-power processors into each server, and instead harnessed hundreds of more power-efficient, lower-potency chips which could either work simultaneously under conditions of high-load, or be selectively powered down to save energy.
However, that's not to say that AMD is putting all its eggs in the ARM basket. The company is also working on x86-based server processors using its APU technology and Heterogeneous System Architecture (HSA), which allows the CPU and GPU to share access to the same pot of memory. That will show up in "Berlin" in the first half of next year, with four Steamroller cores delivering up to eight-times the performance of the existing AMD Opteron 6386SE processor.