AmazonWireless puts ALL Verizon phones on sale for a penny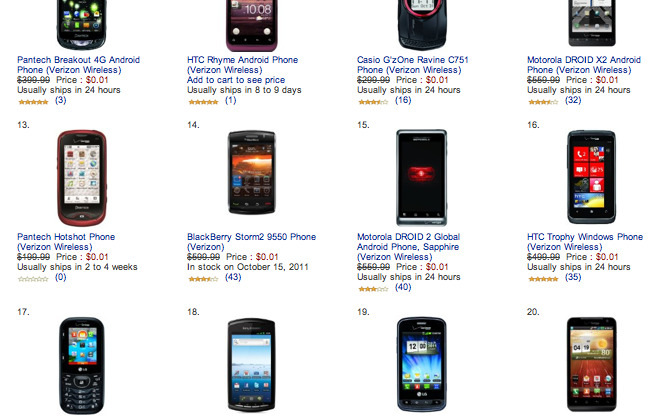 There's only one exception to the rule on this "all Verizon phones" sale for a penny, can you guess what it is? One might think that the servers here at AmazonWireless would be massacred if it was found that all models of the iPhone would be on sale for a penny, but alas for you iOS fans, AmazonWireless doesn't carry the iPhone at all, so technically this is an "all Verizon phones that we have here in stock" sale. That said, you'll be able to pick up such BRAND NEW devices as the DROID 3, the DROID BIONIC, HTC Rhyme, and the Pantech Breakout, amongst the 31 on sale today.
What you should notice with each of these devices that are set to ship inside 24 hours (with only a few exceptions, of course,) is that you'll need to start a brand new account to attain them. This sale also only lasts between 5PM PDT on October 11th through 11:59PM PDT on October 17th, 2011. Get in on this deal before you regret not having done so. That said, do you think that the timing on this offer has anything to do with the new Apple iPhone suite (iPhone 3GS for free, iPhone 4 for $199, and iPhone 4S) being released this week? I think there's no question about it.
So have at them, race fans, Androids galore, some feature phones, a Windows phone, and even a selection of BlackBerry devices, all for a penny. Also be sure to check out our reviews of a few key players here:
Pantech Breakout LTEDROID Incredible 2HTC ThunderBolt LTEDROID BIONIC LTEDROID CHARGE LTELG Revolution LTE
and of course, the lovely HTC Rhyme
Gotta catch em all! At AmazonWireless now!