Amazon Kindle Fire HDX hands-on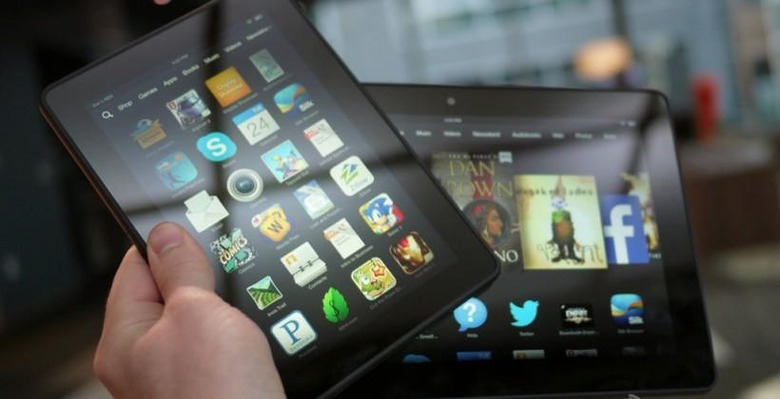 It's two years since the first Kindle Fire tablets, and Amazon hasn't been sitting still: the new Kindle Fire HDX line-up is evidence of that. Still aggressively targeting cost-conscious users with a near-cost sticker price Jeff Bezos & Co. hope to offset with music, ebook, movie, and other purchases, the Kindle Fire HDX take on the Nexus 7 and iPad mini direct, with better specifications than ever before plus a video technical support system, Amazon Mayday, which could make Christmas morning the easiest its ever been. We spent some time trying out the new Kindle Fire HDX 7 and HDX 8.9 to see if they're really Kindle Fire or just Kindle Dire.
Aesthetically, the two new tablets don't stray much from the Kindle Fires we've seen before, at least at first glance. They're slimmer, narrower, and shorter than the second-gen models, however, not to mention lighter; the HDX 8.9, for instance, drops 1mm to come in at just 7.8mm thick, while it tips the scales at 13.2oz. Both feel sturdy and flex-free, though the black gloss plastic trim – that butts up against dense matte black cast magnesium and the glass fascia – is an instant fingerprint magnet.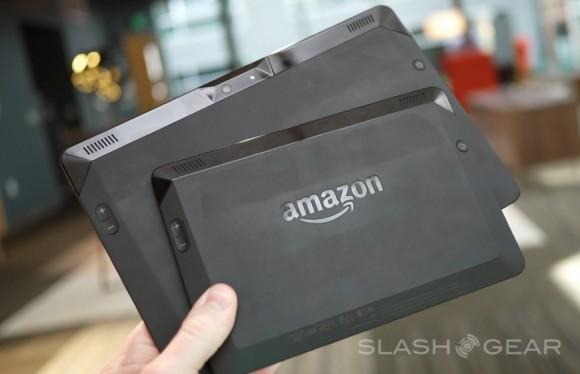 Amazon has moved the power and volume keys to the back, embedded into the rear panel, underneath where your fingers naturally fall. The only other physical features of note are the microUSB port for charging and the headphone jack; you don't get an HDMI output on either model, nor a microSD card slot.
Amazon Kindle Fire HDX hands-on:
The crowning glory, however, is Amazon's choice of displays. On the smaller Kindle Fire HDX 7, that's a 7-inch panel running at 1920 x 1200 resolution, for 322dpi pixel density. For the first time on an Amazon tablet there's 100-percent RGB coverage, and it's also the company's brightest display, at 400 Nits. More importantly, though, Amazon has tackled outdoor visibility in a more compelling way: when the light sensor notices a change in ambient conditions, such as when trying to read in direct sunlight, it not only adjusts the backlighting but the contrast of the panel.
It doesn't sound like much, but it actually makes a considerable difference in how visible on-screen text, images, and video are. It also saves a little battery life, Amazon's algorithm balancing backlighting with finessing the contrast so as to minimize the power consumption. We'll have to put the Kindle Fire HDX through its paces ourselves to find out if that's actually true, but Amazon is claiming an extra hour of runtime – up to 11hrs – over the last model, despite the Snapdragon 800 processor that's up to 3x faster than the old chip, and the Adreno 330 graphics that deliver up to 4x the graphics performance.
In fact, that 11hr estimate isn't necessarily the case all the time. Amazon actually claims up to 17hrs of runtime from each Android tablet, though you'll only see it in certain circumstances. Use the Kindle ereader app, and the slates automatically kick into low-power mode, throttling back the processor and RAM in a way that's imperceptible to the reader but far more frugal.
It's not the only interesting approach that Amazon has taken with the Fire HDX. While you may not have a physical HDMI connection, you do get support for a wireless secondary display, with Amazon turning to something it knows very well – the cloud – in order to deliver it.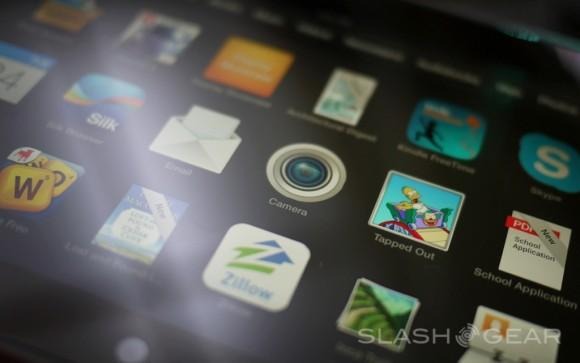 Rather than beaming content stored on the Kindle Fire HDX to the TV, Amazon instead streams a version from the cloud. The upshot is that it leaves the tablet's processing power completely free to do either second-screen duties, showing relevant content like actor bios, or to do something else, like email or browsing.
Kindle Fire HDX cloud-streaming demo:
The downside is that you need a compatible TV, and right now that means a select Samsung Smart TV, or alternatively an Xbox 360 or PlayStation 3. Amazon tells us that situation will change in relatively short order, but couldn't tell us whether more affordable adapters, like those from Roku, might gain the streaming feature any time soon.
There's a second option if you're not one of the chosen few to have a cloud-capable TV or console. Both versions of the Fire HDX support Miracast streaming, though only for display mirroring. In short, what you see on your tablet is what you get on your TV, and there's no way to view different things simultaneously.
Still, even with the limited availability, Amazon's system is impressive. Switching between local tablet playback and TV playback takes a couple of seconds, usually, with a pop-up output list allowing you to choose between whatever screens are wirelessly enabled. Two tablets linked to the same account can each see the second-screen content, but only one can control what's playing; there's zero lag when you hit the pause button, even though the whole thing is being routed through the cloud. Meanwhile, if you have multiple wireless-enabled TVs and multiple Kindle Fire HDX tablets, each can separately stream content.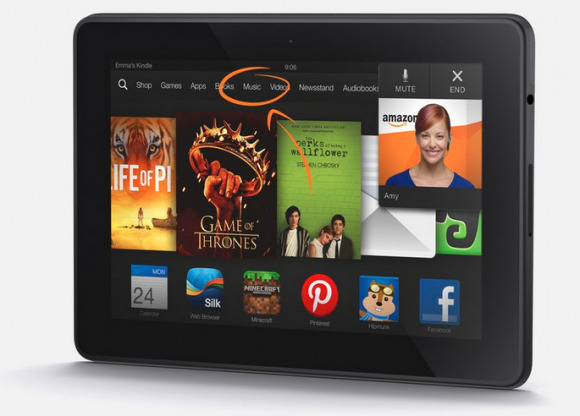 Clever as the cloud streaming is, Amazon – and Jeff Bezos in particular – is especially excited about Mayday. The new remote support service puts a live video link-up with an Amazon customer support agent right on the tablet's display, summoned with nothing more than the tap of a button in the drop-down control panel.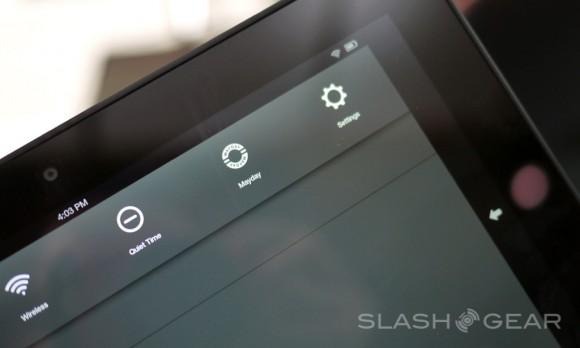 Mayday addresses issues like customer services not being quite sure what the user is seeing on-screen at any one time, and allows the agent to annotate the display and even take control, walking owners through how to use different features of their device.
Kindle Fire HDX Mayday demo:
What they can't see is what you're wearing – or not wearing, for that matter. Amazon has opted to make the video feed one-way, even though both Fire HDX slates have front-facing 720p HD cameras, to maximize the available bandwidth for the support agent, along with for privacy reasons. There's also a comprehensive privacy policy covering what they might see on-screen inadvertently, useful if you're an avid Fifty Shades of Grey reader.
Amazon expects Mayday to be the deciding factor in the tablet war, getting users past simply "approachable" software and actively helping them use new features or remember how to use old ones. It's certainly easy to use, with our test agent Tony quickly walking us through features like the child-friendly mode. The fact that it'll be offered completely free as part of the Fire HDX deal is also impressive, and anything that minimizes unofficial tech support calls to us as the resident family geek has to be a step in the right direction.
Is the Kindle Fire HDX enough to clinch the tablet market? Jeff Bezos is keen to point out that Amazon thinks there's space for plenty of options, though with prices starting at $229 for the HDX 7 and $379 for the HDX 8.9, he's also vocal in pointing out that you're unlikely to find a better deal for the same specifications and capabilities. We'll reserve final judgement until we have review units on the SlashGear test bench, but the new models are certainly the most impressive to-date, have some of the best displays we've seen around, and set the bar high for Apple's much-anticipated iPad mini 2.