Alpha Wolf+ Cloudbreak has an innovative camper tent from Heimplanet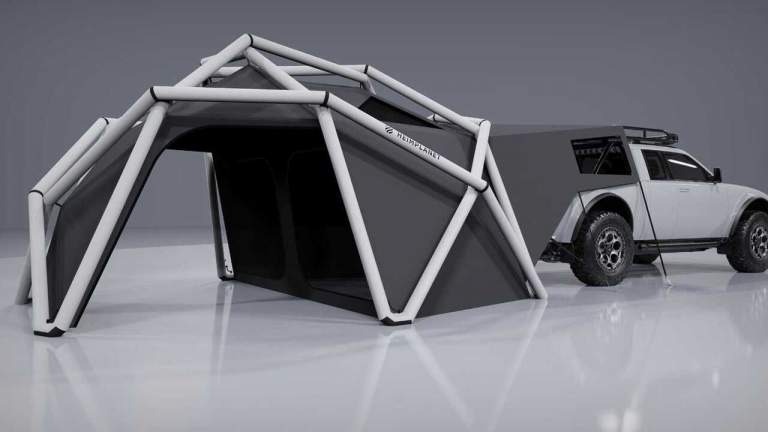 The Alpha Wolf and Wolf+ (Wolf Plus) have yet to make it to production, but the California-based startup is already working on an overlanding version of its first all-electric small truck. Alpha Motor Corporation (AMC) has collaborated with German outdoor specialist Heimplanet in creating a bespoke Cloudbreak tent that neatly integrates into the truck bed.
"Cloudbreak is a design we have been working on for quite a while," said Stefan Clauss, Co-Founder of Heimplanet. "For the collaboration with Alpha Motor Corporation, we adapted the shape to fit the dimension of the vehicle while allowing for two separate access points."
Heimplanet's Cloudbreak Geodesic Tent is something out of a science-fiction movie. It's like a Rubix cube (although it's not a cube, obviously) that is "opening a world of new possibilities in outdoor adventure," said Alpha, while creating "a new mobility experience driven by function."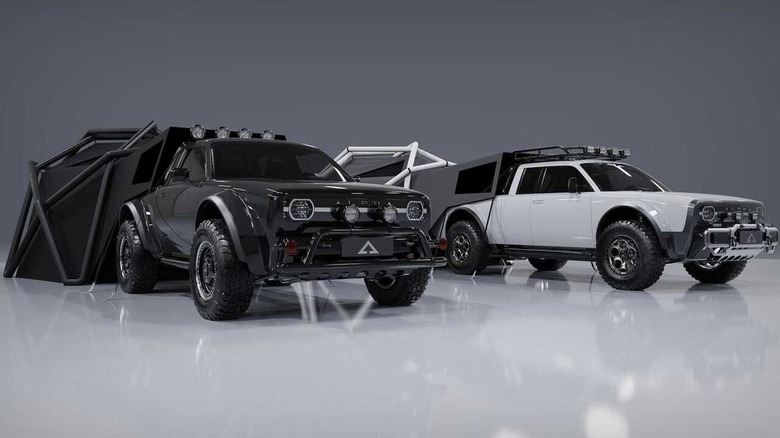 Carmakers and startups are now integrating outdoor adventure gear into new vehicle offerings. Mini recently debuted the "greenest camper fleet in the world" with roof tents and model-specific carrier systems for the all-electric Cooper SE and Cooper SE Countryman Hybrid. Outdoor adventure companies are also riding the craze, with Truckhouse recently debuting a carbon-fiber-reinforced camper rig for the Toyota Tacoma.
Meanwhile, the Cloudbreak tent in Aplha Wolf+ offers dual access points with significant entryways. And unlike ordinary tents, the Cloudbreak is made of weatherproof, durable, and tear-resistant high-tenacity polyester material to provide ample protection against the elements.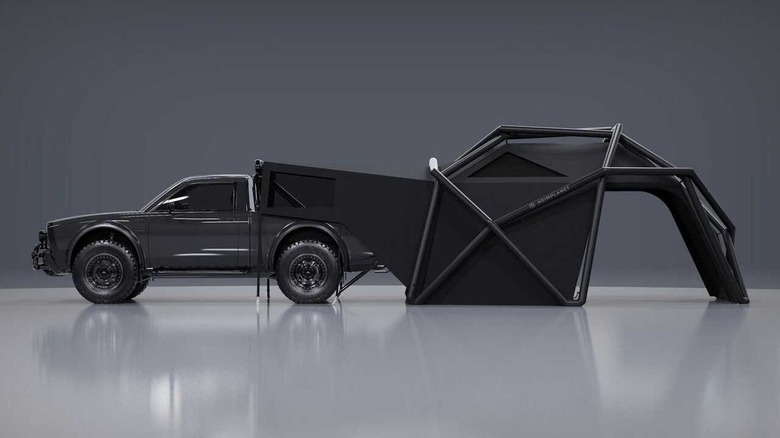 "Creativity is the main component to mainstream upcycling, and that is beyond technology," said AMC. "We are passionate to find sustainable solutions in mobility that people can truly appreciate."
The specific details are scarce at this point, but there's no denying Heimplanet's Cloudbreak tent is one of the most unique-looking overlanding campers we've seen in a while. Alpha debuted the short-wheelbase Wolf electric pickup truck last March, followed by the extended-cab Wolf+ in April.
The base Alpha Wolf will have a single front-mounted electric motor and a $36,000 base price, while the dual-motor version has AWD and enough gravitas to accelerate from zero to 60 mph in 5.2-seconds (6.2-seconds for the base FWD version). Alpha claims a driving range of around 275 miles from a still-unspecified battery pack.
A standard Wolf can tow up to 3000 pounds (1360 kgs), but the AWD version has an increased towing capacity of 6274 pounds (3050 kgs). Also, Wolf+ has dual suicide rear doors for an added dose of style and substance. We have no word yet about production and launch dates, but AMC is currently accepting advanced reservations for Wolf and Wolf+.