Alienware has already designed its competitor in the gaming tablet market, but don't expect to see the slate near shelves any time soon: unlike rivals, the company just isn't convinced the hardware is ready for primetime. While the aesthetic of the tablet – to match the new Alienware 14, 17, and 18 – has been settled on, along with an Alienware smartphone and an all-in-one PC, company general manager Frank Azor told us, "just because it looks good, doesn't mean that it's actually going to deliver on our brand tenets."
"That's the biggest reason why you don't see a tablet from us today" Azor explained, when we met with him ahead of E3 2013 and the big reveal of the new Alienware laptop line-up. "There's a certain experience that we have to deliver, that has become synonymous with the Alienware brand; that you've come to expect. We're not willing to compromise the integrity of the brand to deliver a form-factor just because it's in high-demand. The technologies that are available today are not ready, in our opinion, for us to deliver the experiences that we believe need to be successful in any of those types of form factors – smartphone, tablet – right now."
That's not to say Alienware doesn't think the mobility segment will ever be ready for it to wade in, only that the functionality doesn't match the ambition today. "We look at the space, we are monitoring technology roadmaps, we are making sure we're in turn with our technology partners on what they're associated designs are looking like, and where they're headed" he outlined. "And when the experience is worthy of an Alienware brand name you should expect to see something very soon from us. But we're not there yet."
That potential speed to market – once the chipsets, batteries, and other components are up to scratch – is because Azor's team has already done the heavy lifting in terms of hardware design and even some market testing. "We do think about all of them" he told us, when we asked about non-laptop alternative form-factors. "When we create industrial designs like [the new notebooks], we're thinking about four or five years this has to survive. So three years ago, not only were we having to think about today, but about 2018 as well."
"So when we work with our ID teams on creating industrial design, we have to translate that ID to every single form factor that could possibly ever be released by Alienware. So I could tell you exactly what an Alienware tablet would look like, including a smartphone, an all-in-one, I could tell you exactly what they would look like."
The end result is what you see in the image above, taken from one of Alienware's market research videos. Several touch-centric designs are clearly visible, including one which apparently includes a slide-out physical controller pad.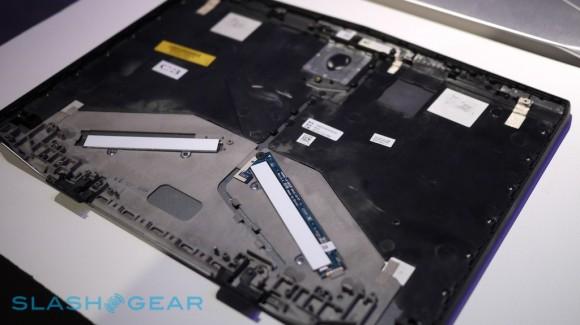 Alienware's stance isn't one that's shared by the entire gaming industry, however. Razer has made a play for the mobile market with its Edge tablet, while Archos trimmed costs even further with its GamePad. Azor isn't particularly impressed, though.
"You look at some of the other attempts that have been made in the marketplace … some of them weigh two pounds, four pounds in some cases when you actually connect the gaming-enabled hardware to them" the Alienware exec pointed out to us. "A four pound tablet's not very compelling to us. We built a 4-pound M11x and that was a full-fledged notebook with an incredible amount of performance and batterty life, and that was still too heavy by our standards – and, by the way, [these tablets] cost $1,200, or $1,000 – this doesn't seem to make a lot of sense to us. And I think some of these folks are learning – I think, I don't know – they're learning that these probably weren't the best decisions in the world."
When, exactly, it will be the right time will come down to a 'perfect storm' of hardware and software, when tablet-focused chips match up to gaming potential and battery life expectations. Whether that would be on top of one of Intel's new tablet processors or something ARM-based from NVIDIA, like a future Tegra, remains to be seen.
"We've been doing this a long time: we have very tight relationships with Intel, AMD, NVIDIA; these guys, we buy a considerable amount of hardware from them, not only from Alienware but from Dell as well," Azor concluded. "So, we know what the right time is – or we will know what the right time is – and then we'll plan something for that."