Alienware 17 and 18 hands-on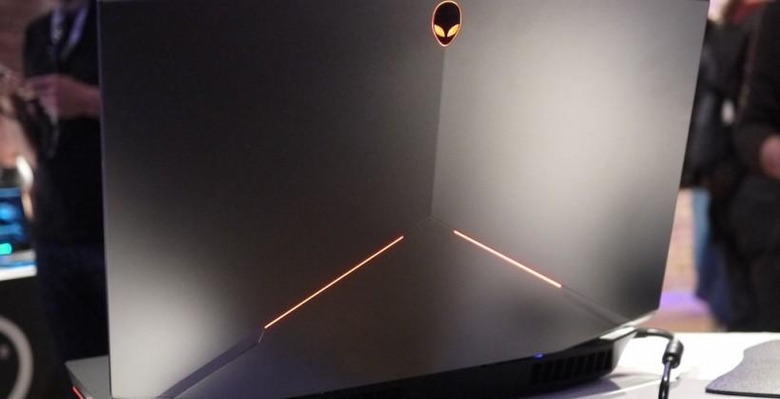 Three years in the making, the new Alienware 17 and Alienware 18 notebooks arrive at a time when gaming is under the spotlight. Microsoft's Xbox One and Sony's PlayStation 4 have thrown new attention on mainstream gaming, but the Dell-owned PC gaming specialist isn't willing to concede the power crown so readily. Alongside the new Alienware 14, a more portable option, come two gaming monsters that are perhaps more accurately described as "luggable". Still, big machines get meaty specifications, not to mention distinctive designs. Read on for our hands-on first impressions.
Alienware's 17-incher has always been the company's best seller, general manager Frank Azor told us. So, its been particularly important to get the new Alienware 17 right: that means a good range from more affordable specifications at the entry-level, up to meatier models for those wanting a portable powerhouse. An anti-glare 1600 x 900 17.3-inch display is standard, but can be switched for either a matte 1080p display or 3D-capable 1080p gloss-finish panel. The latter is probably more likely to be of interest for its 120Hz refresh rate, Azor admits, with Alienware seeing interest in 3D gaming as "diminishing over time."
Inside there's a choice of Core i7-4700MQ (3.4GHz), Core i7-4800MQ (3.7GHz), Core i7-4930MX (3.9GHz) or factory overclocked Core i7-4900MQ (4.0GHz) processors, with up to 32GB of DDR3L 1600MHz memory and a choice of NVIDIA GeForce GTX 765M (2GB), GTX 770M (3GB), or GTX 780M (4GB) graphics. Storage ranges from a single HDD or SSD, up to four different drives, with the top-spec version having three 256GB SSDs in RAID-0 and a fourth 256GB mSATA. Alienware puts the drive bays on the base of the notebook, so they're easily accessible for user-upgrades, and a slot-loading DVD burner is standard (with Blu-ray an option).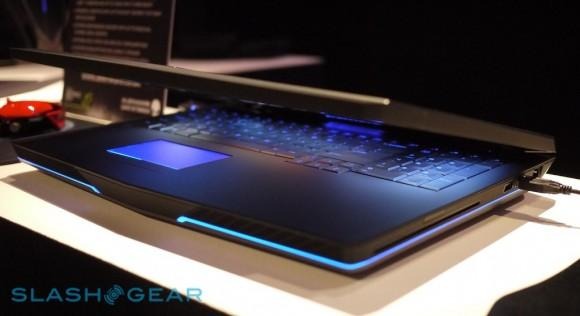 The Alienware 18 takes a considerable step up, being – as Azor puts it – the machine the company throws all the top technology at, with less concern for the final sticker price. So, there's an 18.4-inch Full HD display as standard, along with two factory-overclocked processor options: a Core i7-4900MQ (4.0GHz) or Core i7-4930MX (4.3GHz). Those who can handle their own overclocking can pick between the Core i7-4700MQ (3.4GHz) and the Core i7-4800MQ (3.7GHz); up to 32GB of DDR3L 1600MHz memory is supported.
Graphics are NVIDIA SLI dual across the board. The entry-level Alienware 18 gets a pair of GeForce GTX 765M (2GB apiece) cards, while GeForce GTX 770M (3GB apiece) and GeForce GTX 780M (4GB apiece, for a total of 8GB of dedicated video memory) are options. Storage and optical drive options are the same as for the Alienware 17.
Alienware 14, 17 and 18 hands-on:
Both the Alienware 17 and Alienware 18 have the same connectivity options: Killer Networks gigabit ethernet, 802.11n/ac, and Bluetooth 4.0 as standard, along with Mini DisplayPort and HDMI outputs. The HDMI port also works as an input, which Alienware suggests makes it ideal for hooking up an external source like a set-top box or games console, or even your smartphone to take advantage of the notebook's bigger display.
Otherwise, there are four USB 3.0 ports, a multiformat memory card reader, and three audio in/out (with support for S/PDIF). 2.1-channel Klipsch speakers with a subwoofer are standard, with Dolby Home Theater v4 software. A 2-megapixel webcam and dual digital microphones live above the display.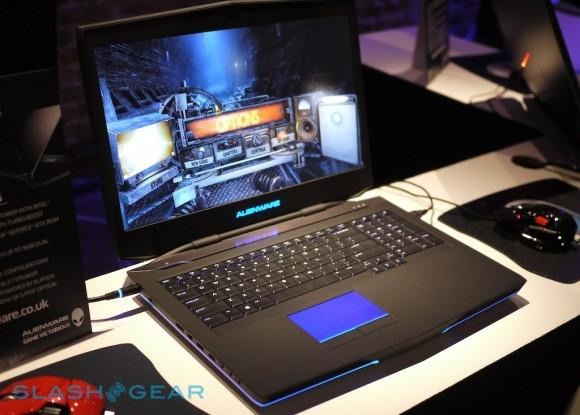 As you'd expect from an Alienware machine, there's plenty of user-customizable lighting to play with. Both notebooks have 10 individually-controlled zones, each capable of up to 20 distinct colors; they can be manually set, or – with compatible titles – change according to what's going on in the gameplay. A new keyboard is standard on both, with the Alienware 17 now getting a set of four macro buttons on top of the numeric keypad. The Alienware 18 gets them too, in addition to five more running down the left side of the 'board.
Hands-on, they're incredibly sturdy, and about as far away from the mainstream wafer-thin-metal-slice notebooks in fashion as you could expect for gaming monsters. The aluminum/magnesium casings are incredibly sturdy and feel high quality, the keyboards are bounce-free and tactile, and the crisply angled designs – which sensibly put things like hot-air vents at the back, and push bulkier ports as far toward the rear as possible. There's obviously been plenty of thought put into just how the two notebooks are put together, and how they operate for habitual gamers.
All that comes at a price, of course, especially if you get carried away with the options list. The Alienware 17 kicks off at $1,499 (£1,299 in the UK, pre-tax) while the Alienware 18 starts at $2,099 (£1,999 in the UK, pre-tax).
Alienware 17 gallery:
Alienware 18 gallery:
Alienware 14, 17 and 18 gallery: