Alienware has a new gaming notebook range, the result of three years of development, and the Alienware 14 may well be our favorite. "Significantly evolved" from the already eye-catching design of the old model, the new Alienware 14 – the "M14x" nomenclature has been retired, Alienware GM Frank Azor says, since nobody outside of the company knew what it stood for – wraps Intel's latest 4th-gen Core i7 Haswell processors in a new magnesium alloy and anodized aluminum chassis, with Tron-esque AlienFX lighting and no shortage of grunt. Read on for our first impressions.
There's not much room to argue with the hardware. A choice of three processors – Core i7-4700MQ (3.4GHz), Core i7-4800MQ (3.7GHz), or Core i7-4900MQ (3.8GHz) – are on offer, along with up to 16GB of DDR3L 1600MHz memory, and either NVIDIA GeForce GT 750M (1GB GDDR5) or GeForce GTX 765M (2GB GDDR5) graphics. That powers a choice of 1366 x 768 TN or 1920 x 1080 IPS 14-inch LCD panels, running at 200 Nit and 300 Nit respectively.
Inside, there's a multitude of storage options, with up to three drives supported. As standard there's a 750GB 7,200 HDD, but you can spec a single SSD, or up to a combination of twin 256GB SSD (in RAID-0 array) with a 256GB mSATA SSD too. Whatever you choose, there's also a DVD burner as standard, with the option of a Blu-ray drive.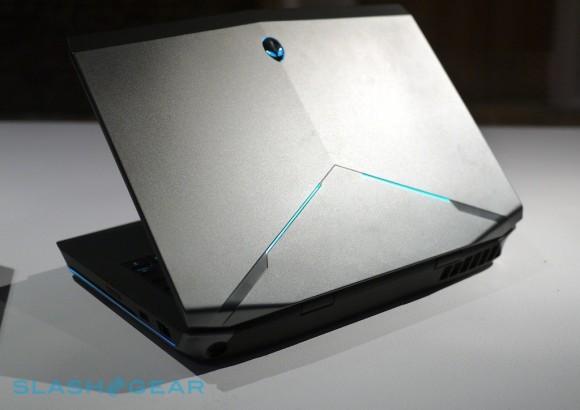 Connectivity includes Killer Networks gigabit ethernet as standard, along with WiFi 802.11n and Bluetooth 4.0; 802.11n/ac is an option. There's also three USB 3.0 ports, a Mini DisplayPort, HDMI output, multiformat memory card reader, twin audio outputs (one supporting microphone input), and a line-in. 2.1 Klipsch speakers with a subwoofer are standard, as is a 2-megapixel webcam with dual digital microphones.
Still, there's more to making a great gaming notebook than just ticking the right specification boxes. Alienware is seventeen years old now, Azor pointed out to us, the most recent years getting the benefit of Dell's laptop building expertise too, and that's left the company in a strong position for addressing potential design and hardware issues before they arise.
Alienware 14, 17 and 18 hands-on:
So, rather than follow the crowd – or, indeed, Alienware's old range – with edge-to-edge glass on the display, the Alienware 14 uses an anti-glare finish with a more traditional bezel. It might not look as eye-catching at first glance, but it makes the notebook far more flexible in outdoor or bright lighting, Azor highlighted. The keyboard has been updated, the first time in six years that Alienware has changed it, with larger keycaps, slightly reduced brightness for the AlienFX backlighting so it's easier on the eyes, and yet the same prized key-travel and sturdy under-'board steel plate to minimize flex and bounce.
That's not all. Alienware may be known already for its somewhat outlandish style, but the Alienware 14 cranks that up a notch, cladding a magnesium alloy frame – with an almost honeycomb design, for reduced flex but increased strength – with anodized aluminum panels for strength and aesthetics. Ten different color zones are individually controllable, including the keyboard, edge lights, and slashes in the laptop's lid.
According to Azor, Alienware did experiment with more subtle designs than the folded, grooved, and generally angular look of the Alienware 14. However, user feedback kept bringing them back to the design you see today; as Azor explained, there's no shortage of slim aluminum ultraportables, but you'll not mistake the company's 2013 range for anything else. You also get the benefit of sturdier hinges and improved scratch-resistance across the casing.
It adds up to a notebook that's eye-catching, certainly, but also makes a lot of sense when you use it. At 6.12 pounds or up and 1.642-inches at its thickest, it's not the thinnest or lightest 14-inch notebook, but it's incredibly sturdy and both the keyboard and the display are excellent. The fully-backlit trackpad works well, though Alienware has put USB on both sides for those who prefer an external mouse. The company also does nothing to throttle or compromise on performance; "we want you to get the best of the hardware you paid for" Azor explained to us.
Unsurprisingly this sort of functionality and consideration doesn't come cheap. In the US, the Alienware 14 starts at $1,199 (from £1,099 pre-tax in the UK) though figure on bumping that up considerably if you start throwing multiple drives at the system. Still, if gaming is your goal, then the Alienware 14 does a great job of balancing performance and portability.