Alfa Romeo is planning two new high-end sports cars, taking on Porsche, BMW, and more with a pair of hybrids that bring back some storied nameplates. The two cars were previewed as part of FCA's Five Year Plan, with the goal being to have both new models on the market by 2022.
First up, there's the new Alfa Romeo 8C. That badge was last seen on the Alfa Romeo 8C Competizione and 8C Spider, a pair of limited-run sports cars made between 2007 and 2010. Borrowing retro design cues from Alfa cars from the 1950s and 60s, only 500 of each model were produced.
Where the 8C Competizione had a 4.7-liter V8 supplied by Ferrari under the hood, however, the new Alfa Romeo 8C will use something far more modern. That'll be a twin-turbo gas engine, mid-mounted, and paired with an electrified front axle. Together, the automaker teases, the resulting drivetrain is expected to deliver more than 700 horsepower.
It'll be enough to take the car from 0-62 mph in under 3 seconds, so Alfa Romeo claims. Technical details are in short supply at this point, though we do know that the new 8C will be built on an carbon fiber monocoque chassis, much like a racing car would be. It'll also seemingly wear the four-leaf clover "Quadrifoglio" badge, the mark of Alfa Romeo's most potent cars.
That's the Porsche 911 competitor; then comes the grand tourer. The Alfa Romeo GTV brings back another name with history: indeed, the last time we saw those three letters was on the trunk of the GTV coupe, produced between 1994 and 2004. Short for "Gran Turismo Veloce" or "Fast Grand Touring," the angular two-door prompted dropped-jaws with its crisp Pininfarina design. The following year, it spawned a convertible Alfa Romeo Spider version.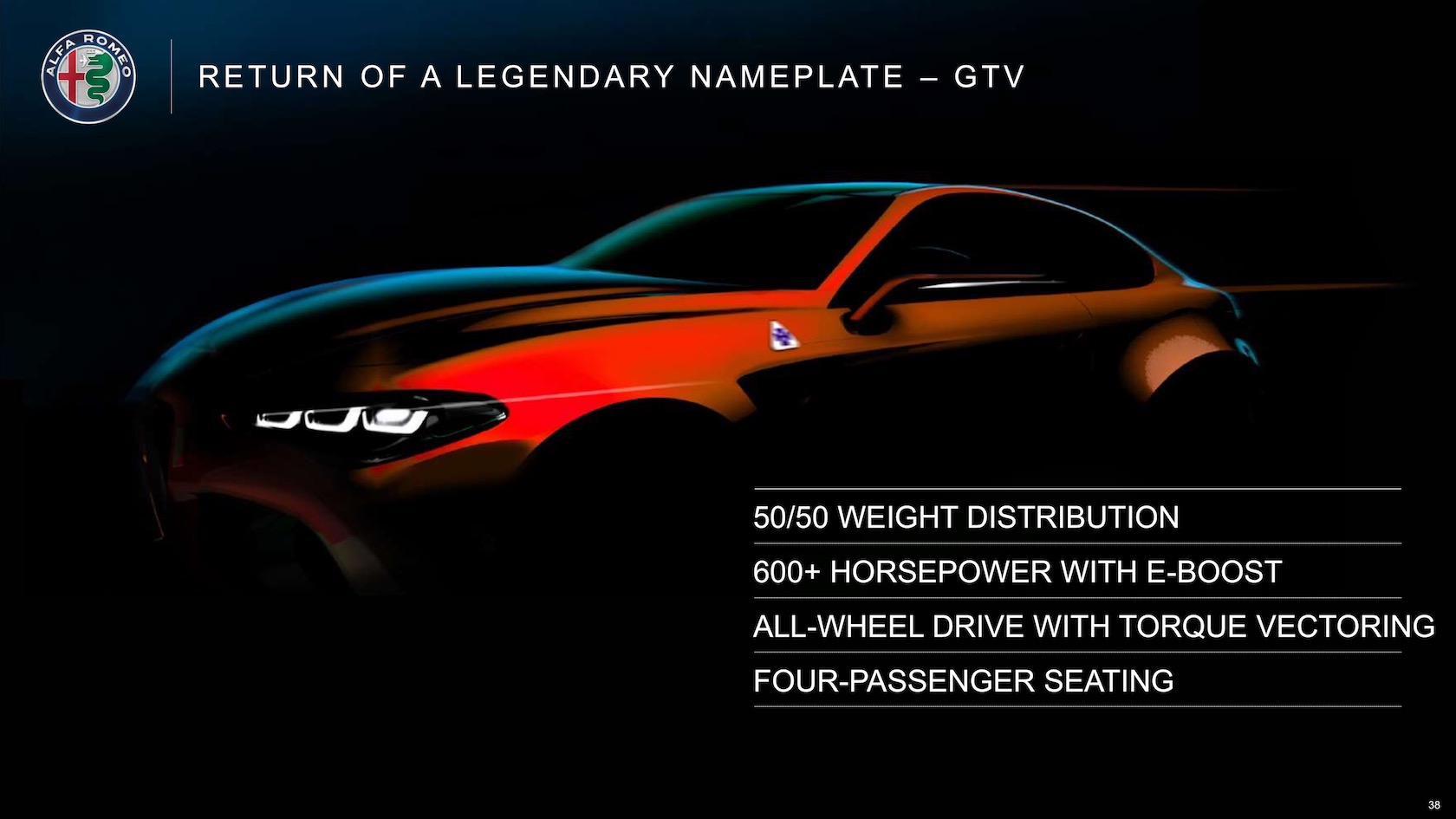 This new GTV, meanwhile, will take a different approach. Again, there's seating for four passengers inside – no word on quite how much space those in the rear can count on, mind – but it too will be a hybrid. Alfa Romeo is talking about more than 600 horsepower courtesy of the car's E-Boost system, though that'll be in the Quadrifoglio version. More affordable variants will have less power. There'll be all-wheel drive with torque vectoring, too, and a 50/50 weight distribution.
The two new cars will give Alfa Romeo a much surer footing in the sports car space. Although the current 4C Coupe and 4C Spider are, it's generally agreed, fun cars to drive, they're also fairly demanding in terms of the overall ownership experience. Minimal luggage space, cramped cabins, and few creature comforts make them a challenge for anyone but the most committed purist drivers.
In contrast, the new 8C and new GTV look set to be more livable expressions of Alfa Romeo's sporting vision. Still, we can expect some grit with the glamor. After all, the automaker doesn't want to tread on the toes of the also-incoming Maserati Alfieri, its new flagship coupe which will be offered as both a gas-engined model and as a full battery-electric car.