2016 Alfa Romeo 4C Spider Review - Italy's bad-attitude baby supercar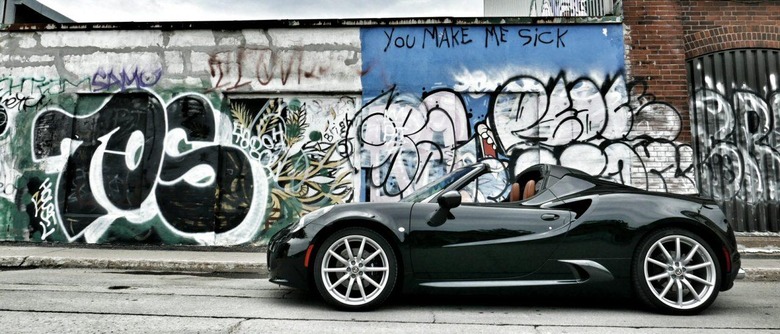 The 2016 Alfa Romeo 4C Spider has a secret. It's not particularly good at keeping it either. You see, this is a car that honestly doesn't care if you have a problem with its 'lack' of power steering (demanding strength beyond strength when parking), or its ultra-wide door sills (that require you to fold your body like a jackknife to slide behind the wheel), or even its miniscule trunk (truly just a plastic bin tucked behind the motor that's barely big enough to store the fussy fabric roof that you need to snap-and-tug on and off all on your own).
The Alfa Romeo 4C Spider's general lack of interest in the tastes of the driving public at large are at once its greatest strength and its most crippling weakness. Without a doubt, this ultra-lightweight roadster is one, if not the most thrilling two-seater under $100,000 that you can buy today. It's also aimed at a very specific, perhaps non-existent audience of hardcore performance junkies willing to sacrifice the veneer of civilization that other sports cars in its price range have to offer in the name of its gorgeous design and uniquely thrilling personality.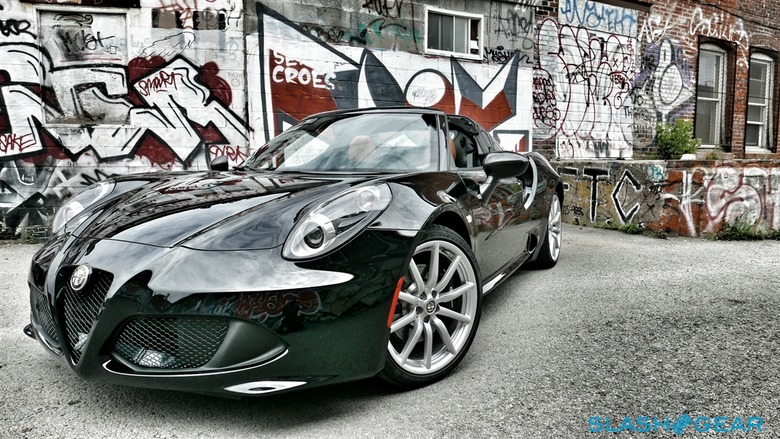 Almost everything about this topless sequel to last year's Alfa Romeo 4C coupe stands out from the crowd, starting with the carbon fiber tub that surrounds the cabin and necessitates door sills wide and flat enough to mount rocket pods on, causing you to awkwardly lunge in and out of the car as though gravity had ganged up with perspective to play some cruel trick on your senses. As inconvenient as it may be, the tub helps keep the 4C Spider's weight down around 2,500 lbs, a remarkable achievement for any modern automobile (and one that is equaled only by Mazda's more modest roadster, the MX-5 Miata).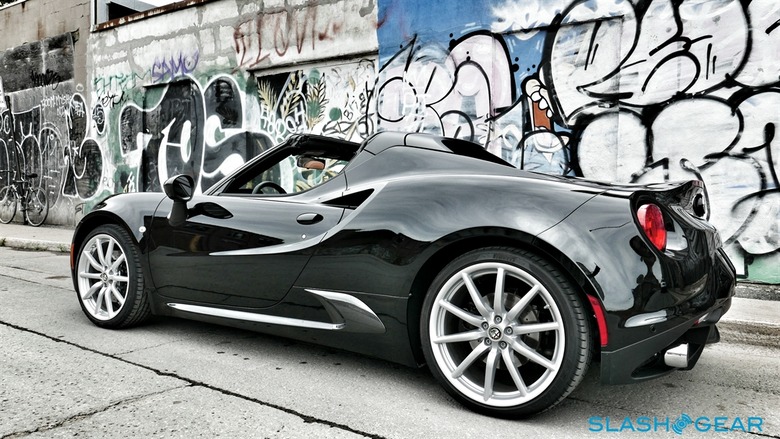 Once ensconced inside the car, you'll quickly discover that Alfa Romeo's ergonomics team was clearly only interested in keeping your gaze locked on the road ahead and your mind focused on the task at hand – that is to say, driving. Seat adjustability gets you closer or farther from the steering wheel, with a smidgen of rake thrown in to mollify taller individuals, but strangely, bolstering is minimal. An Alpine stereo deck is stuffed into the dash like an afterthought, a USB port hangs from underneath where you'd find a glove compartment on a 'normal' vehicle, and the automated manual transmission presents a four-button array splayed out on the center console that will confuse each and every valet unfortunate enough to pull Alfa duty. Forget a navigation system, because you're already there. You're driving.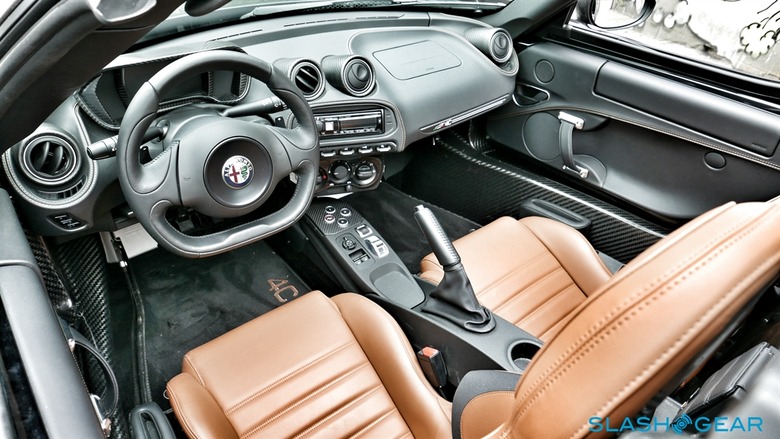 Turn the (actual, physical) key in the ignition and the basic nature of the 4C Spider's interior presentation is immediately wiped from your mind by the wave of repressed anger and furious aural energy unleashed by the 1.75-liter turbocharged four-cylinder engine. I'm not exaggerating when I say this is the best-sounding 4-cyl you can buy right from the factory, largely because the Sport exhaust on the options sheet entirely deletes any form of muffler from the equipment list. Even at idle, it stirs the blood to the point where mothers passing by on the sidewalk instinctively tug their children away from the car, neighbors instantly write off your friendship forever, and the attention of the local constabulary expands to include all but motorcycle cops, who simply give you the thumbs up on their way by.
A rush of expended hydrocarbons isn't the only sound that greets you once you've fired up the hyperactive turbo mill. For reasons unknown, Alfa Romeo has also outfitted the 4C Spider with a piercing, high-pitched buzzer tuned to perhaps the only frequency capable of cutting through the cylinder chatter directly behind your head. Turn the car on – it chimes. Put it in reverse – it chimes. Get within 15 feet of an obstacle while parking – the banshee screech sounds loudly, then soft, then loudly once more. Face it: you're in an on and again / off-again relationship with the 4C's parking sonar, and you better figure out why it's mad at you before you try slipping into the spot you can barely make out through the Plexiglas portal positioned between the car's two blind-spot humps.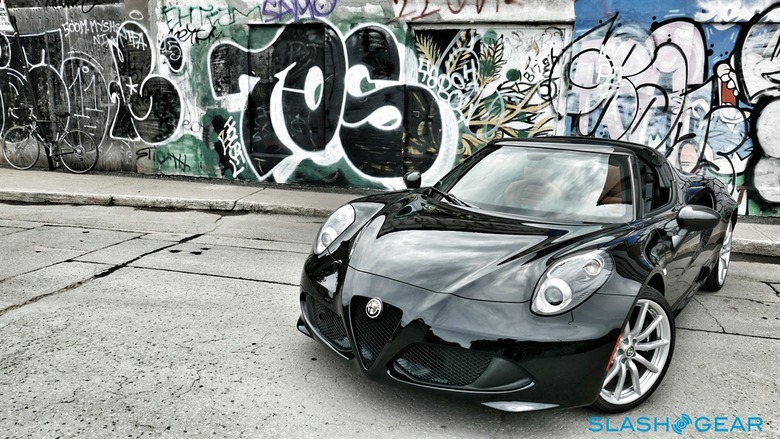 One would expect a car as primal as the Alfa Romeo 4C Spider to offer a traditional manual transmission, but instead it's equipped with an intriguing dual-clutch automated manual unit that is controlled via the previously-mentioned console buttons in conjunction with steering-wheel mounted paddle shifters. The preferred modus operandi is as follows: once running, ignore the piercing buzzer, hit the '1' button to select first gear, release the parking brake, push the 'A/M' button to put the car in manual mode, and then pounce on the accelerator. There's no 'creep' built into the DCT – the car will roll forwards and backwards on a hill, just like most manual gearboxes with the clutch depressed – and there's enough play in the programming to toy with the throttle and enhance the tailpipe symphony with the vehicle in gear without the danger that you'll rocket into the vehicle sitting in traffic in front of you.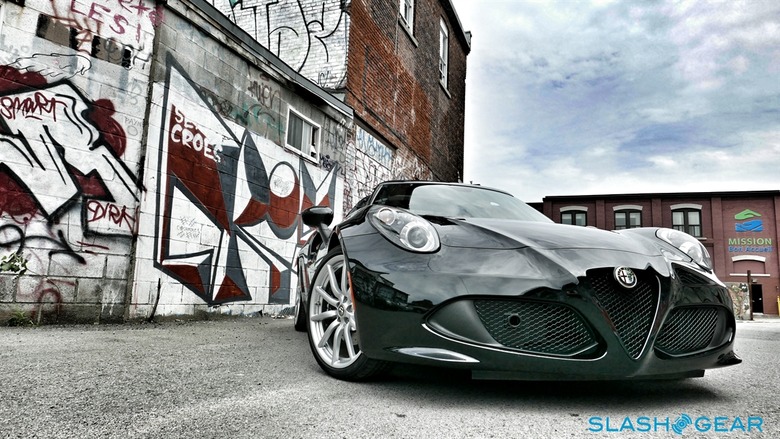 Should you wish to go for launch – well, you'd better hang on. In full flight, the 2016 Alfa Romeo 4C Spider's 237 horsepower and 258 lb-ft of torque are a bit of a handful, squirting the car forward with glee and challenging you to keep up with the pace of its engine racing to the redline, where it helpfully barks and squawks against its limiter until you pull back on the right-hand paddle and send it sprinting through the next ratio in its six-speed box. Watch for the flash of yellow on the LCD gauge cluster, time your Playstation-honed fast-twitch finger muscles right, and you're looking at a race to 60-mph in the low four-second range.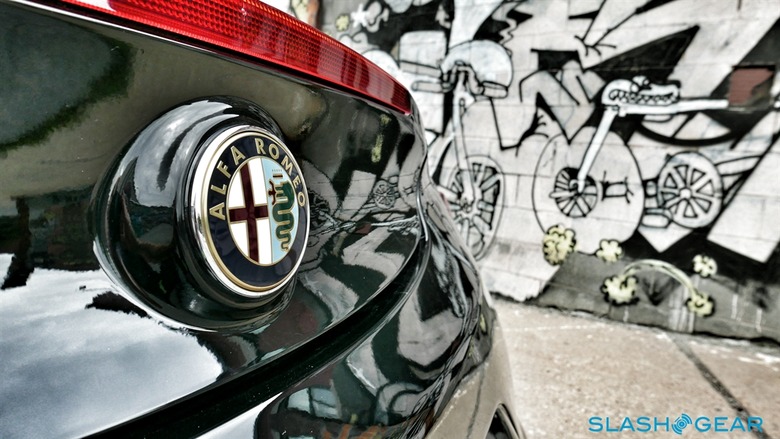 Once you've gotten straight-line speed out of your system, however, you'll be primed to discover what the 4C Spider was really intended to do, and that's shred your local canyon road / country-lane / race track with a level of smooth confidence equivalent to what you thought you had at your college mixers. Select 'Dynamic' from the vehicle's drive mode toggle (it's there beside 'Normal' and 'All-Weather), and you're treated to the most responsive version of the Alfa Romeo's transmission and throttle, which are a perfect complement to its firm but not overly-stiff suspension tuning and, of course, the supreme feedback of its unassisted steering rack.
On a road course, I was shocked by how well the Alfa Romeo 4C Spider flowed through the corners, connecting one apex to the next with an elegant poise one would not expect from the frenetic nature of its power delivery. The 4C Spider doesn't so much rotate in a corner as pirouette, teasing you with the balanced nature of its mid-engine chassis while still offering the availability of power oversteer should you enter too hot. What surprised me most during my session at Autodrome St-Eustache was how the 4C's speed after exiting the tight esses leading to the track's bowl turn was almost identical to its velocity at the end of the long front straight – the point at which one must brake to enter that very set of S corners. I've never driven a vehicle at ASE that's been able to make that match before, and it only added to my delight in flogging the Spider.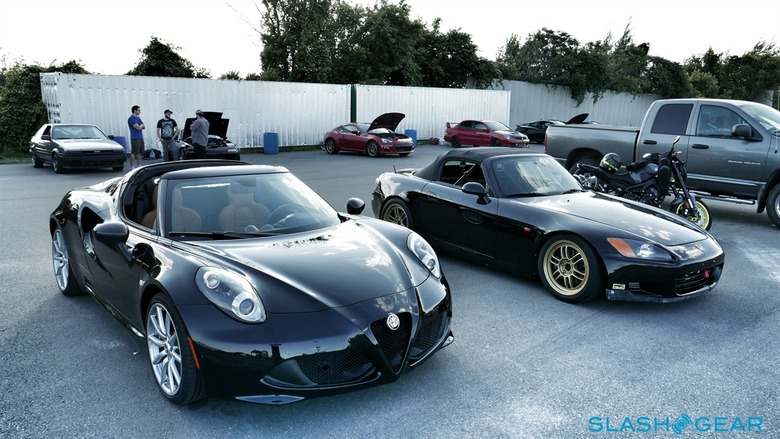 It's tempting to say that I've never piloted a car in any situation that's quite like the 2016 Alfa Romeo 4C, but that's not exactly true, because if I really think about it there's a parallel to be made between FCA's latest roadster and a very special – and equally-unusual – car that debuted roughly 25 years beforehand. In my mind, the 4C Spider feels much like a first-generation Dodge Viper R/T 10, only loaded with more technology. As with the original Viper before it, the 4C Spider demands a lot from the driver but rewards those with the intestinal fortitude to go against the grain with an experience that cannot be duplicated by any of its peers.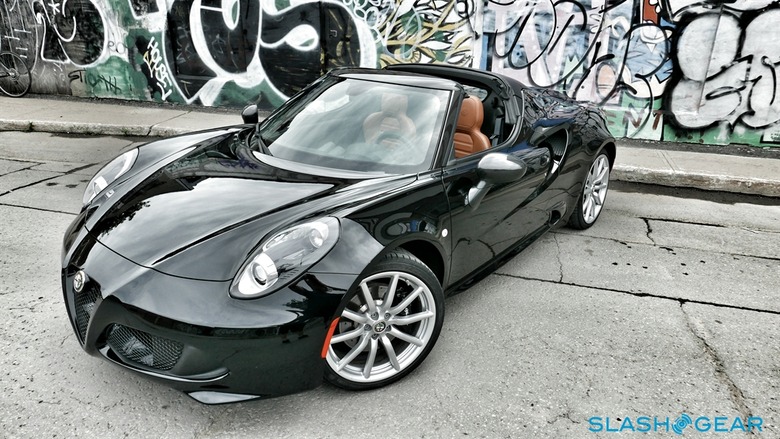 There are certainly quicker and better all-around options at or below the $65,900 asking price of the Alfa Romeo – in fact, almost every sports car could be said to be more practical and easier to live with, long-term – but none of them are the 4C Spider. Whether that matters to you or not will go a long way in deciding just how many of these rough beasts, their hour come round at last, will find their way to customers across the country who are determined to vex their neighbors to nightmare and soothe their own high performance passions.