Adobe: Save 50% If You Dump Apple's Final Cut Pro X For Our App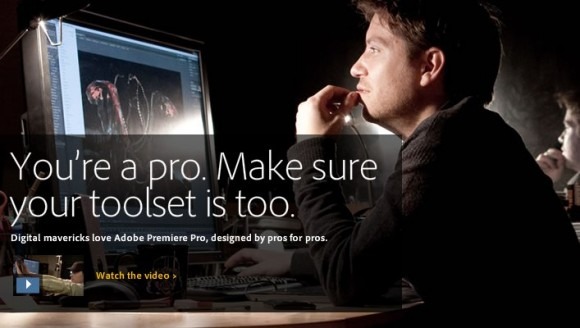 Earlier this week we pondered out loud whether Adobe – in addition to releasing various video tutorials showing dissatisfied Apple Final Cut Pro X users how easy it was to jump to Premiere Pro – would sweeten the deal with a discount; what we didn't expect was that discount to amount to a whopping 50-percent. If you've bought Final Cut Pro or Avid Media Composer, you can save half on a new copy of Adobe CS5.5 Production Premium or Premiere Pro CS5.5.
"We're hearing from video professionals that they want pro level tools that address cutting edge work but also allow them to use legacy footage and workflows," snipes Jim Guerard, Adobe's general manager and vice president of professional video and audio, obliquely referring to complaints from Final Cut Pro X users that they were unable to load up their old projects in the new version of Apple's software. "At Adobe we've been in the trenches with video pros for years" he continues.
The offer isn't valid for Adobe's Premiere Pro subscriptions, the OEM bundles or Education packages, but could save you almost $400 off the full copy of Premiere Pro. That still leaves it $100 more than the $299.99 Final Cut Pro X, but Adobe is seemingly counting on general Apple dissatisfaction to motivate would-be buyers.
Apple has promised six-monthly updates to Final Cut Pro X as well as offering refunds to dissatisfied upgraders.