Acer Aspire S3 (Core i7) Review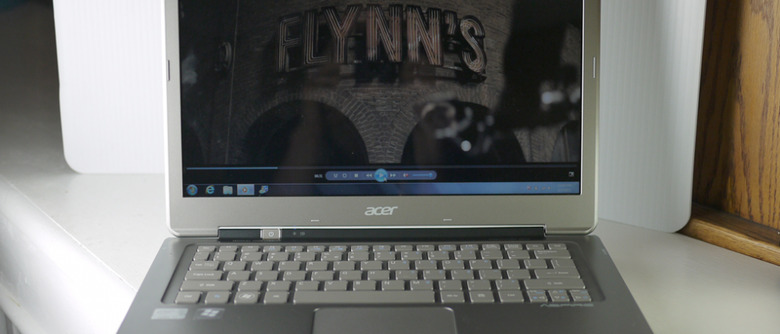 The Ultrabook world is continuing its rise to glory as the Acer Aspire S3 (here with the Core i7 processer inside) runs the thin show at .68 inches at its thickest point. This is by no means the thinnest notebook on earth, nor is it the Ultrabook with the most impressive set of specifications, but this relatively basic (if any Ultrabook is basic) model has a stack of features and a full package that will satisfy any general use owner. This notebook has a 13.3-inch Active Matrix TFT display at 1366 x 768 pixel resolution, CineCrystal (glossy) and clear as day coupled with Intel HD Graphics 3000 and Dolby Home Theater v4 audio enhancement on built-in stereo speakers – that means good entertainment.
Hardware
For those of you wondering, this device goes by the code S3-951-6432. You'll find that the display has a perfectly bright and sharp widescreen view for your gaming, processing, and video viewing needs, but beware the glossiness of the display if you're planning on using this laptop outdoors. Of course you're not the type of person to go galavanting around the park with a laptop, so you'll only be worried about your ability to have a great experience on the run. This notebook is made for your ability to both carry it around all day and provide you the power you need to use it for all of your daily activities be you a student, a journalist, or a graphic designer, all the same.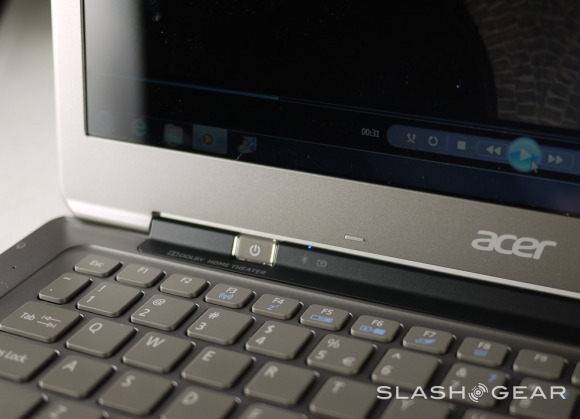 The keyboard is one made for typing rather than gaming, and you'll find that using the return key and the arrow keys will be a bit of a learning activity at first as they're connected in space and not separated by the surrounding base of the notebook. On the back of the device you'll find two USB 2.0 ports, a full-sized HDMI port, and your power port. On the right you'll find a full-sized SD card port (that also has the ability to read MultiMediaCard (MMC) units) and on the left you'll find a headphone jack. On the bottom left and right near the front of the laptop are speakers, each of them part of the Dolby-optimized speaker system which together create a surprisingly nice sounding experience for movie-watching especially.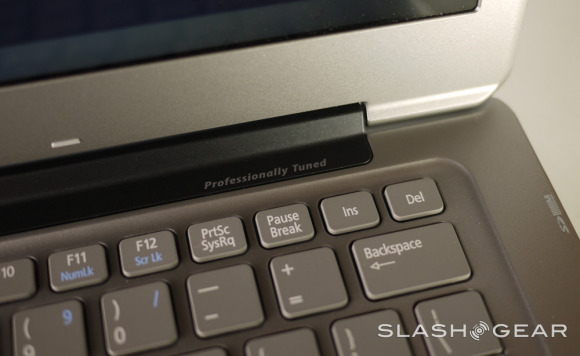 On the other hand, don't expect to watch a movie with a group of too many folks to you left or two your right as the viewing angles aren't too fantastically great here. Watch the hands-on video to see a basic view of how far you'll be able to see, but note that it's certainly not more than 60 degrees in any direction from straight on. Straight on though, and inside everywhere 60 degrees looks just as bright and sharp as a Core i7 processor under the hood would suggest. I've heard reviewers speaking on how the color accuracy isn't perfect, and I agree, but the difference between this display and a perfectly tuned display for graphic designers and photography majors is so small that I doubt anyone in the field will have a big issue. Those of you in the photography business should take note though – perfection is needed!
[sgbenchmark id=149 show=system]
Inside you've got Bluetooth 4.0, the multi-gesture touchpad is precise and makes for an easy to control experience all around, and the webcam is alright – good enough for video chat certainly. You've got 3.86 GB DDR3 SDRAM at 666MHz controlled by your HD 3000 graphics control unit, and a partridge in a pear tree. And that's just the hardware. The whole thing looks rather nice too, if you don't mind the similarities to the rest of the ultra-thin super-powered notebook competition out there. Take a peek at this tower of laptops to see the difference between the units your humble narrator has been using lately – up top you've got an 11-inch MacBook Air, next the Acer Aspire S3, a MacBook Pro 15-inch, and a gigantic mother of an Alienware gaming notebook M17xR3 complete with lots o' lights – each of these units has a different purpose, and the size shows their power here, as it were – note that the MacBook air is from a few years ago so isn't as pumped up as the line is today, and you can check the Alienware machine in action back at Arkham City.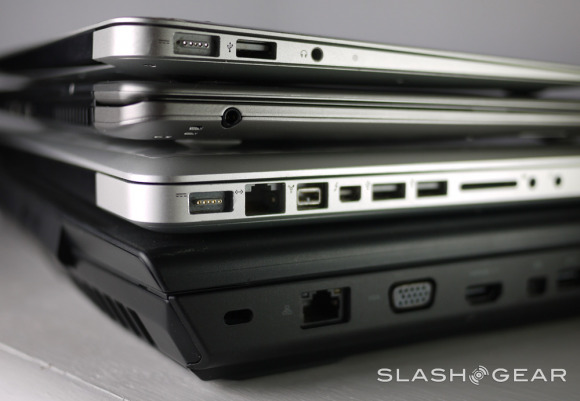 Software
You've got Windows 7 Home Premium right out of the box and Clear.fi for all your personal cloud needs. This machine is set to bring you a personal experience for, again, the student or the everyday average user – with the i7 under the hood you've got the ability to play some higher powered software if you wish, but for what the machine comes with – not one whole heck of a lot – you'll be more than prepared to run the heck out of all of it. Take a peek at this hands-on with the machine and get a glimpse of how quick the machine starts up from being off completely, how the display looks, and the basic software set you'll get with Windows 7 Home Premium.
[vms 360d0eb8e9504c78d38b]
Performance
[sgbenchmark id=149 show=score]
You're certainly going to see the S3 knocking out the benchmarks as any i7-toting machine should, and as far as the instant-on feature goes: it really truly does make the machine seem much higher class than previous models with a much slower wake-up time. This machine is speedy, hasn't had a real rough time working with any of the built-in apps or functions it's got out of the box, and is OK for some random gaming here and there. Again, this machine is by no means built for hardcore gamers, but if you're just looking to play a racing game here and there, you'll be set.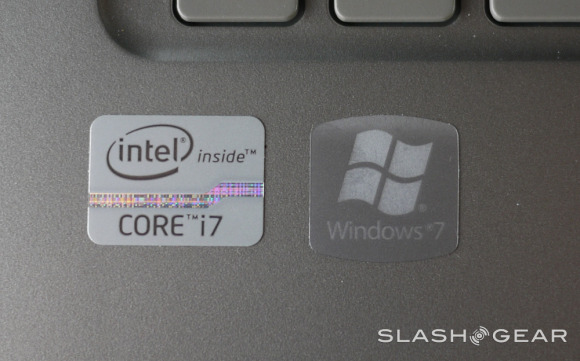 Battery
One of the most awesome bits in this machine's bag of tricks is the Instant-On technology Acer is employing, this allowing you to pop your machine open and have it up and running in 2 seconds. The real magic here is when you close the notebook though, as once you've closed the machine it goes to one level of sleep, then after 8 hours it goes into a much deeper sleep which will preserve the battery for a total of 50 days — we've not had the machine for quite that long, so I'll report in on that once the battery dies. Thus far we've seen this machine play video for 4 hours straight before dying, and with basic functions like typing and web browsing we're seeing closer to 6.

Wrap-up
This machine is a great example of what the Ultrabook line is meant to be: relatively light, thin, and powerful enough to knock the netbook name out of the realm of reality. With the price on this particular setup being a bit more than the standard build, you'll need to think about what you're planning on using the machine for – if it's home use for the internet and simple games exclusively, you'll want the more basic Core i5 build. If you're attempting to run some more impressive games and maybe a bit of the ol' video processing, this i7 build is the one you want. Toss it in your backpack and be surprised at how little it ads to your daily weight, break it out at the coffee shop and impress the denizens of the generally Apple-heavy world of public browsing. Acer has come through with a winner here, folks, make no mistake about it.