The Reason Why The Dodge Viper Was Discontinued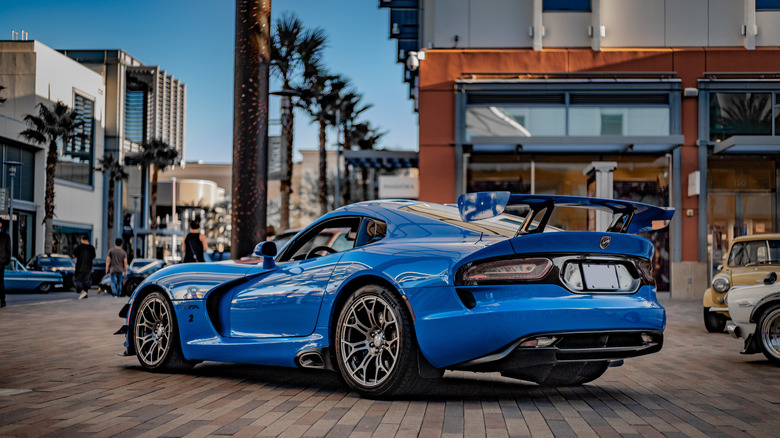 Lawrence Carmichael/Shutterstock
The Dodge Viper is arguably one of the leanest, meanest American muscle cars to ever slither across the asphalt. It's the car you want to drive — well over 55 miles per hour, mind you — with AC/DC's "You Shook Me All Night Long" blasting through its 900-watt, 18-speaker Harman Kardon stereo system.
The Viper was first introduced at a 1989 auto show in Detroit as a concept car, but the broader general public didn't see it until 1991. That year, it was the pace car at the Indianapolis 500.
Initially, Chrysler was going to show off its new "affordable" supercar called the Stealth, which just happened to be made at the same Japanese plant as the Mitsubishi 3000GT. Not only was it built at the same plant, it also used the same Mitsubishi Z16A platform. Because of this precariously close partnership, many thought the Stealth was nothing more than a Japanese 3000GT gussied up in Dodge clothing. The United Auto Workers weren't happy that a foreign-built car, which had never paced a lap at this most American of auto races before (or since), was about to do so (via Hemmings).
To avoid blowback from the powerful union, one capable of causing a great deal of grief, Chrysler changed gears and rapidly built two pre-production prototypes of the Viper as replacements at Indy (via Hemmings). One was used as the ceremonial pace car, and the other was put on display and meant as a backup in case the first one failed. Carrol Shelby drove the pace car, which is ironic given his previous alliance with Ford.
The Viper had a whole lot of bite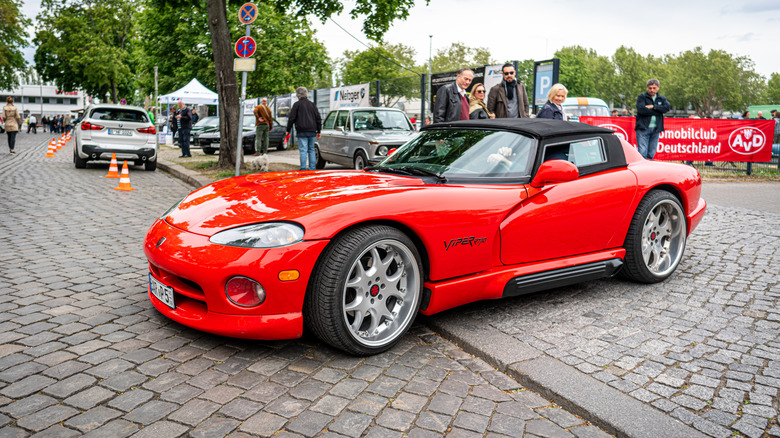 Sergey Kohl/Shutterstock
The Viper was meant to be Chrysler's version of the legendary Shelby Cobra offered up by Ford, and Carroll Shelby himself went on to help market Dodge's very own muscle car (via MotoTrend).
The following year the first generation production model of the Viper RT/10 appeared at the famed Detroit auto show. Under the hood was a 400-hp, 465-lb-ft, 8.0-liter V-10 developed by Lamborghini (owned by Chrysler then). It went from zero to 60 mph in only 4.2 seconds and had a top speed north of 160 mph. It was quicker than Chevy's base Corvette and Porsche's 911 Carrera 2 (via MotorTrend).
That initial two-seat roadster was packed with power, but it was also stripped down. The Viper came with a six-speed standard transmission, favored by muscle car enthusiasts. Still, it lacked some standard features like air conditioning, anti-lock brakes, traction control, and airbags. Heck, it was so minimalist that it didn't come with a hard roof, exterior door handles, or glass side windows. It only had a cavass top and zipping vinyl window inserts. There was no mistaking this as anything but a ride built for speed.
Still, the Viper evolved over the years. Each successive iteration came with a more powerful engine, various upgrades to standard equipment, and was released in several different models and editions. The fifth and final generation had a naturally aspirated 645 hp, 600-lb-ft, 8.4-liter V-10 that went from zero to 60 in 3.5 seconds, and topped out at a speed of 206 mph.
The once and future Viper?
Demand was consistently high for this well-received, critically acclaimed muscle car that never shied away from being fast, loud and bold. It was all-American to the end. Yet, demand didn't always translate into high purchase numbers, and production was sometimes bumpy. No new Vipers were made in 2007, 2011, and 2012 due to a lack of sales. Only 630 were sold in 2016.
New safety regulations regarding side curtain airbags came into effect, which was not something the automaker was willing to spend the extra money on, so Fiat Chrysler (FCA) decided to put the Viper to bed and closed its Conner Assembly Plant in Michigan in August of 2017.
Five years later, demand persists, as evidenced by a recent SlashGear poll, which showed 31% of respondents wanted to see the Viper return. And despite being discontinued since 2017, FCA sold four Vipers in the 2020 model year. The specifics aren't clear, but it's an odd occurrence.
And then there are the imaginings of Guillaume Mazerolle, a Junior Exterior Designer at NIO, who has also worked for Lamborghini, Honda, and Renault Samsung Motors. Mazerolle created a stunning portfolio of meticulous concept drawings showing what a redesigned Viper might look like today.
With so much apparent interest ... perhaps, if enough Viper enthusiasts make their voices heard, this snake can once again be charmed back onto the streets.