2022 Porsche 911 GT3 Review: The Argument Starter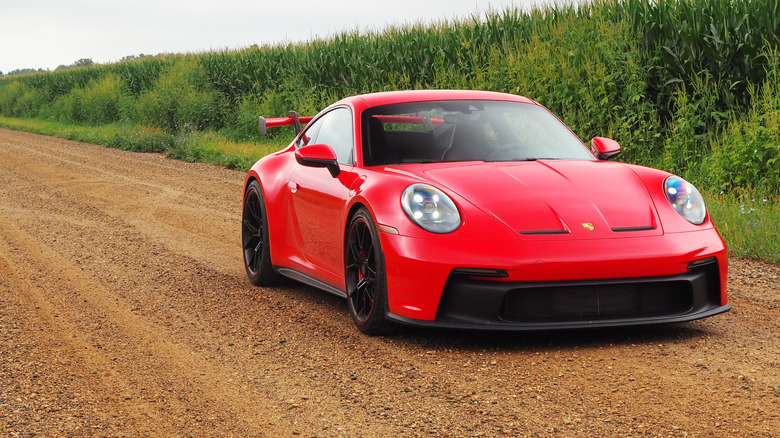 Chris Davies/SlashGear
EDITORS' RATING :
10 / 10
There are things in life that we do not deserve, but that we get to enjoy anyway. Unconditional love. Hollywood orthodontics. A syrupy ribbon of flowing road and the keys to a 2022 Porsche 911 GT3. My teeth may be wretched, but that didn't stop me from showing at least 50% of them at once as I grinned behind the wheel of what might just be the German automaker's most glee-inducing car right now.
That's a provocative suggestion, if only because in this world of Top Trumps sports cars, the 911 GT3 isn't Porsche's most powerful model, nor its fastest. Neither is it the most expensive, with a starting price just shy of $170k. You'll also pay the gas guzzler tax on top, sure, but that will probably look like a rounding error compared to the inevitable dealership markup.
911s are in short supply these days, but honestly, I can't really fault would-be GT3 owners for digging a little deeper into their pockets to get their hands on one as soon as Germanically possible. Indeed at the risk of spoiling my conclusion, little embraces playful performance — or spurs friendly discussion bordering on argument — like this particular Porsche.
The same, but different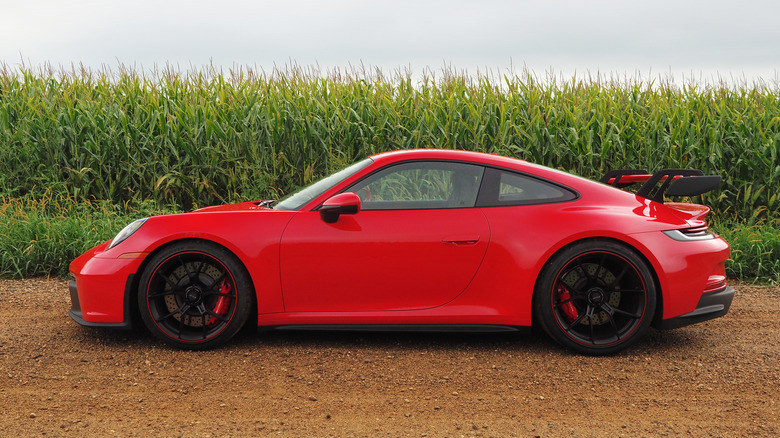 Chris Davies/SlashGear
Even among a plentiful range of 911 variants — including coupes, convertibles, and a very fetching Targa — the GT3 manages to carve out a distinct spot. The 992 generation coupe skips the turbocharger that its siblings make excellent use of, and the result is a 4.0-liter naturally aspirated boxer six gas engine with 502 horsepower and 346 lb-ft of torque.
Does a 911 Turbo have more ponies? It certainly does, but it also has a 7,200 rpm redline. The 911 GT3, in howling contrast, will spin its tach all the way to 9,000 rpm, and sound pretty darn glorious as it gets there.
Porsche pairs it with its excellent 7-speed PDK automatic transmission as standard. It is, frankly, a tremendous gearbox: more than enough to squash the complaints of anybody with tired prejudices against sports cars that shift themselves. Thing is — and this is where the arguments start — I don't think you should get it.
Sticking with stick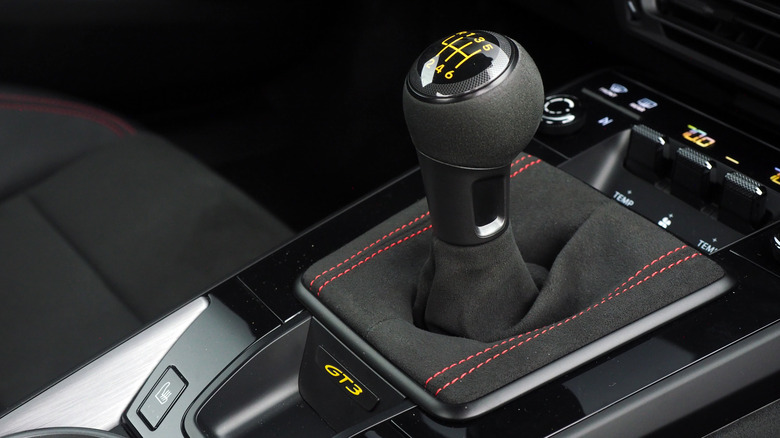 Chris Davies/SlashGear
That's because Porsche also offers a six-speed GT Sport manual transmission as an option. You'll pay exactly the same for your GT3 regardless, lose a ratio, and gain a pedal.
I know, I know. "Automotive journalist recommends the stick shift version" is about as tired a cliché as you can get, and I can't even promise to be consistent in my enthusiasms. There are cars out there, available with manual transmissions, where I'd still say going for the automatic is the right answer. It just so happens that the 911 GT3 isn't one of them.
With the PDK, the GT3 is faster: 0-60 mph arrives in 3.2 seconds, Porsche says (and, I think, underestimates considerably), compared to 3.7 seconds for the stick. Thing is, if you pay too much attention to all that, you're back to the whole "verdict by numbers" thing again, and that's missing the point. The GT3's spirit is one of involvement.
Oddly everyday-friendly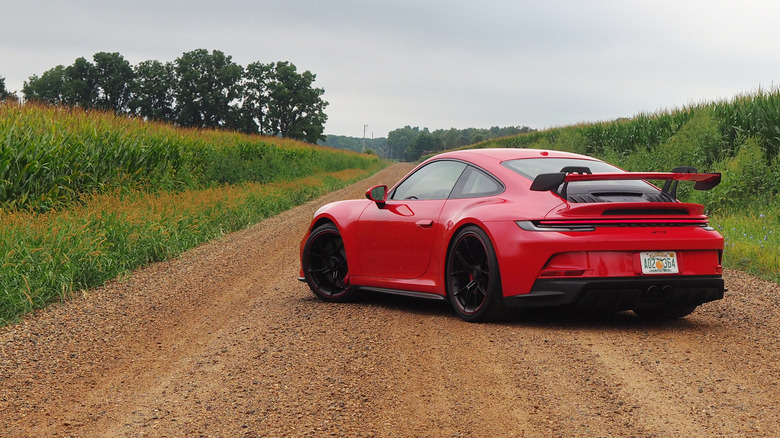 Chris Davies/SlashGear
The clutch pedal is firm but — once things have warmed up — easy to modulate. The shifter's throw is short and tidy; it manages to feel weighted just right whether you're ambling or pushing hard. Rev matching will auto-blip when you shift, almost like the GT3 is giggling with you.
Altogether it takes the edge off what I suspect is the primary reason most drivers don't pick the stick shift these days: everyday usability. The same goes for the 911 GT3's suspension. At the front, Porsche has borrowed the tech from the 911 RSR; the resulting double-wishbone front axle is a first for a 911 road car. At the rear, the old 911 GT3's multi-link system gets more ball-joint connections, among other fettling.
Adaptive dampers are standard, as are rear axle steering and well-massaged electrically assisted steering. Michelin Pilot Sport Cup 2 R tires are available from the dealer, a first on a non-RS 911, in case you want to upgrade from the standard Michelin Pilot Sport Cup 2 rubber.
Glutton for corners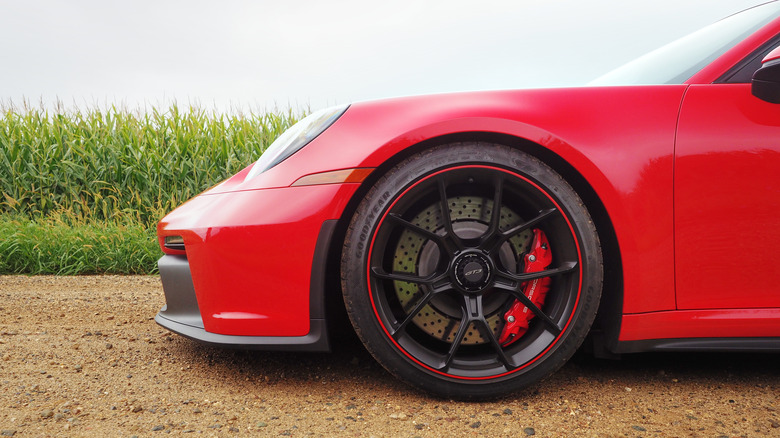 Chris Davies/SlashGear
My car didn't have them, nor the $9,210 ceramic composite brakes (PCCB), but I can't say I was left distraught at their absence. The 911 GT3's standard steel brakes are more than up to the task on public roads, neither grabby nor suffering from vagueness of bite, and you can get away with using them sparingly, too.
That's because the GT3 adores corners. Is a glutton for them, in fact. It may only be the rear wheels that get the power, and the 911 may have a lengthy legacy of catching out unwary-but-eager drivers who forget that an engine at the back can lead to a wagging rump if you're not prepared for it, but the absence of all-wheel drive matters not a jot for this car's composure.
Slow like you think you should slow, and the 911 sails serenely around the turns. It doesn't quite mock you for your caution, but it certainly does nothing to discourage you from carrying more speed the next time. Could you overcook it? Undoubtedly, but you'd also be flirting with merrily illegal pace at the same time, and you should probably save that for the track.
Justified compromise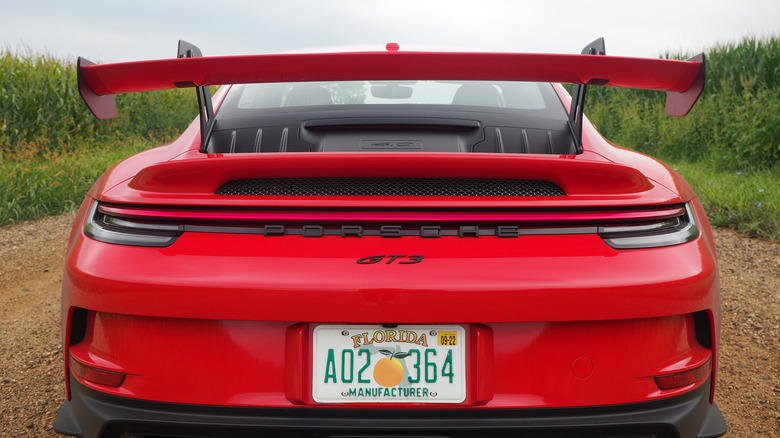 Chris Davies/SlashGear
The adaptive dampers adjust per drive mode. If you're feeling particularly keen, you can tweak the camber, toe-in, anti-roll bar, and the height settings. You can even move that vast rear spoiler to the "Performance" position, and crank the downforce up to 840 pounds or thereabouts. I suspect Porsche owners will love the flexibility, even if I also suspect most will just stick with the defaults.
There are, of course, compromises to be made. Perhaps it's my squat torso, but the GT3's rear wing perfectly bisects the view out of the back glass. You can either bob your head like a turkey and hope to piece together a glimpse of what's approaching your tail, or you can attempt the same with the side mirrors.
You forgive it, though, because — like so much of the 911 GT3's design — it's all there for good, right-minded, practical reasons. In addition to delivering masses of downforce, the rear wing and spoiler are made of carbon fiber reinforced plastic (CFRP). So, too, is the hood and, optionally, the roof. A lightweight stainless steel exhaust and trimmer li-ion poly battery shed heft; even the glass is lightweight.
The result is a car that's larger than the old GT3 — because the 992 platform itself is larger — but the curb weight has only increased by 11 pounds compared to the 991.2 car.
Firm, loud, precise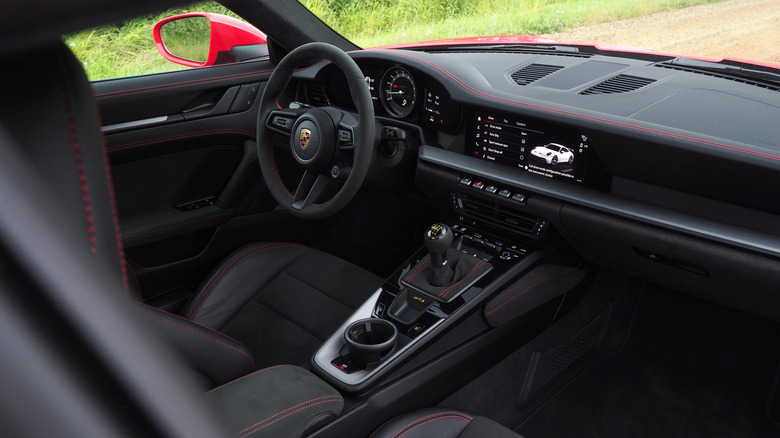 Chris Davies/SlashGear
In the grand scheme of things, 11 pounds is negligible. I stacked more than that in weight in the passenger seat and footwell, when I took the GT3 to the grocery store. In the process, I got a front-row lesson in the Porsche's secret weapon.
Yes, it's fast, and agile, and almighty fun when you're flogging it, but it's also weirdly close to being a daily driver, too. The 911 GT3 isn't quite as mesmerically compliant in the same way that, say, a McLaren 720S can be, but the very fact that you can lope through town and sidle into the Costco parking lot without a headache is unexpected given Porsche's focus here.
Left in Normal mode, the GT3's slick suspension even managed to handle the underwhelming — or outright vicious — Midwest asphalt in my area. It should be harsh, and crashy, and make every pothole a nightmare, but somehow it isn't. Just firm, a little loud, and precise.
Wing it or not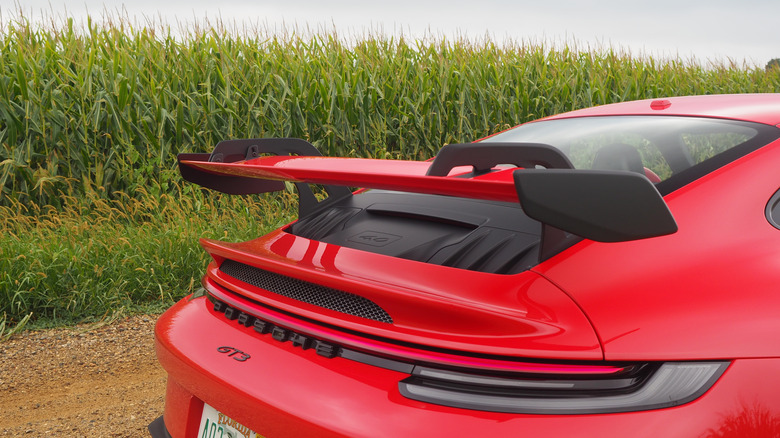 Chris Davies/SlashGear
Precise seems a good word to describe Porsche's design, here, too. The big wing is, well, big. People will stare. You can, of course, opt for the 911 GT3 Touring Package which costs the same but loses the more outlandish aero in favor of a little more visual restraint.
In Guards Red, though, with satin black wheels along with a body-matching pinstripe lip — a $6,230 upgrade — this is a shouty car. Perhaps too shouty for some. At least you can argue that the vents are all functional.
Porsche showed unusual restraint in its options on this particular car, the total coming in at just shy of $178k. One thing I'm glad was added is the front axle lift ($3,760), which quickly raises the nose for steep driveways, curbs, and speed bumps. It'll memorize locations you frequent, but the button is put in a sensibly obvious position (unlike some rivals).
Coping with complexity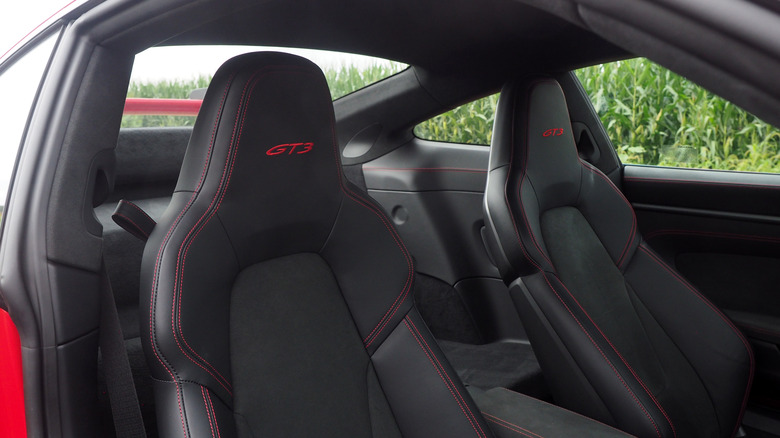 Chris Davies/SlashGear
It's not the only nod to practicality. Yes, the rear seats are missing, but the GT3's cabin doesn't feel unduly snug or, for that matter, spartan. Porsche offers a handsome set of CFRP and leather buckets, yours for $5,900, and I know some of my colleagues in the industry swear by them. I can't say the standard sports seats in my test car were unsupportive, though, and while the buckets may hold you better on the track, for road use Porsche's regular versions are tried and tested. The leather and Race-Tex interior — black, with contrast red stitching — is probably worth the $6,230 upgrade.
It feels special, but not contrived. Porsche's touchscreen infotainment system offers plenty of functionality, but you can safely ignore it when the road gets interesting. A dial on the steering wheel twists between Normal, Sport, and Track; a simple row of switches across the dashboard finesse the suspension, traction control, and other safeguards.
There's flexibility — you can dip into the menus and adjust whether the auto-blip squirts, the active exhaust yowls, and other aspects — but it feels a far cry from the mode-upon-mode complexity other performance cars offer you. Complexity which, though certainly ample in terms of adjustment, can feel like they get in the way when you just want to drive.
2022 Porsche 911 GT3 Verdict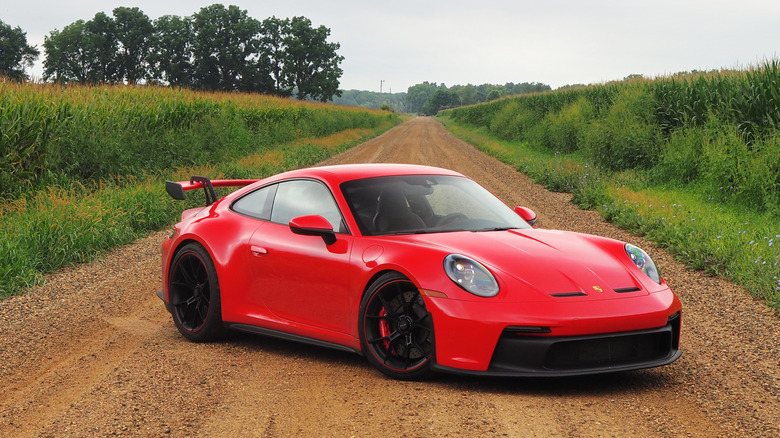 Chris Davies/SlashGear
I'm no zealot at the altar of ousting tech in favor of some mythologized concept of mechanical purity. Certain things are worthy of involvement; others, I'm happy to leave up to the machines. Where that dividing line falls is not only one of those deeply personal things, but something that can easily vary in a way that might look a whole lot like indecisiveness.
However you configure the 911 GT3, though, I can't imagine a bad result. That's a testament to just how capable, just how compelling Porsche's coupe is. It'd even be (relatively) attainable, had scarcity not fueled the sky-high dealer adjustments.
If you've the funds and the inclination to play that game, though, I can't really bring myself to criticize you. Few cars so thoroughly deliver on their promises — or, for that matter, so effectively go above and beyond them. The Porsche 911 GT3 may not be the fastest 911, or the most powerful, but that only makes its true benchmark status all the more impressive.