Acura Precision EV Concept Unleashes A Huge Glowing Grille For A Huge Electric Milestone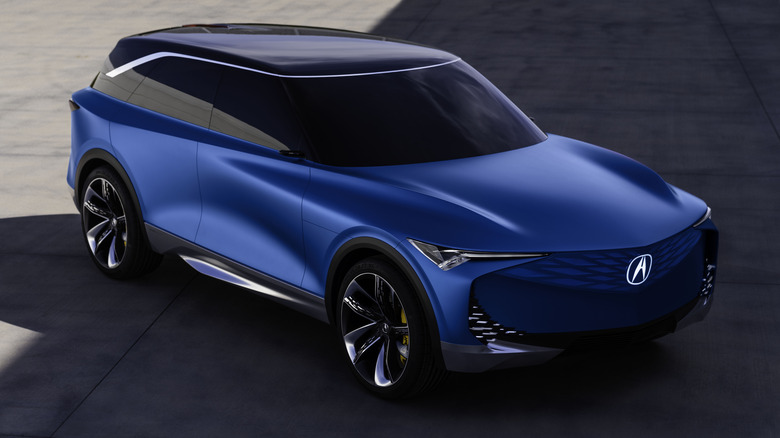 Acura
Acura's first all-electric SUV is coming, and it's previewing just what we might expect from that turning point for the automaker with a new EV concept car. The Acura Precision EV Concept aims to tease just how the company's design language could evolve when the gas engine is left behind and electric motors take its place.
This concept-first design strategy is one we've seen play out at Acura before. The automaker's current aesthetic, with its sizable trapezoidal grille and bold character lines, was itself previewed by the Acura Precision Concept back in 2016. Then, the sleek four-door sedan was a vision of how what's outside could help reshape Acura's reputation. This time around, the biggest changes are underneath the skin.
To be clear, Acura is insistent that the Precision EV Concept is a "design study" rather than a production vehicle. That means, though the all-electric SUV expected to launch from the brand in 2024 probably won't look exactly like this, we can definitely draw some broad brushstroke expectations from the concept.
Bold design, bold lighting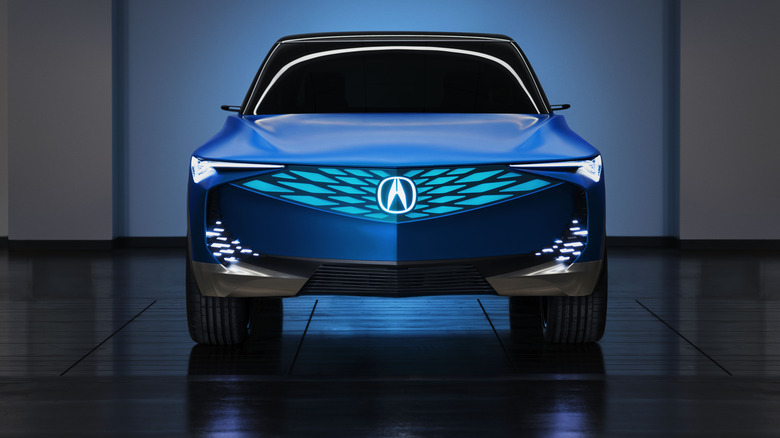 Acura
The lighting seems like a clear place to start, there. With electric cars having lesser — and generally differently-located — cooling requirements than their internal combustion counterparts, Acura has been free to repurpose the outsized front grille for more melodrama. The Diamond Pentagon grille features what the company is calling "Particle Glitch" lighting, echoed on the Chicane daytime running lights, and then again on the 23-inch wheels.
Step up close to the SUV, and the lighting will welcome you with a greeting animation. That's then carried on inside, where matching graphics appear on the infotainment displays.
Acura says it has taken inspiration from F1 cockpits for the Precision EV Concept's interior, with a two-grip yoke steering wheel. The rest of the cabin looks to environmentally sustainable alternatives to the traditional materials we'd associate with luxury cars. There's marbled recycled plastic and 100% biomass leather, for example, while the aluminum and the green cast acrylic are both recycled. The wood trim, meanwhile, comes from FSC-certified wood.
A preview of a very real electric SUV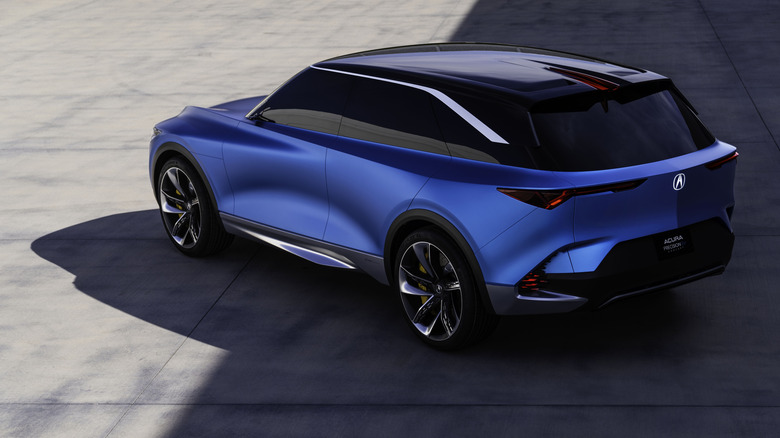 Acura
Meanwhile, those who have driven a recent Acura may find more interest in the displays. The Precision EV Concept previews the automaker's next-generation infotainment system, including a wide, curved transparent display and haptic feedback.
Unsurprisingly, Acura envisages both human-piloted and autonomous drive modes playing a part, here. In the former, the cabin will glow red with ambient lighting, and the digital instrumentation will be racing-style. Switch to self-driving mode, meanwhile, and the steering wheel will retract and "underwater" animations will be projected around the cabin — complete with "soothing scents" — to distract you from the traffic outside.
That seems unlikely to make it to Acura's actual first all-electric SUV, expected to arrive in 2024. What we do know about that model is that it'll be the second part of Honda's deal with General Motors, using the GM Ultium platform for a pair of EV SUVs that are Honda and Acura branded respectively.
First of those, the Honda Prologue, will arrive in 2024, the automaker has said. We don't know full specifications yet, but the likelihood is a pair of Ultium drive units as we've seen Cadillac implement in its own Lyriq electric SUV. Considering just how fast the GMC Hummer EV can be with it's application of Ultium, meanwhile, there's every possibility that the Acura electric SUV will be very swift indeed when it finally arrives on dealership forecourts.