How To Use An Old iPhone As A Dash Cam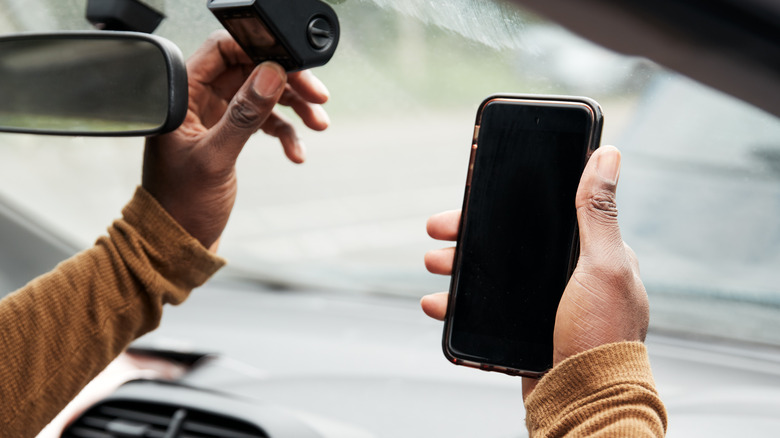 Monkey Business Images/Shutterstock
We may receive a commission on purchases made from links.
You can easily buy a reliable dash cam for under $100, but a higher-end unit that offers high-resolution video and audio recording and does not have limitations like built-in storage may be at least two or three more expensive. If you're particularly frugal or want better features with minimal investment, you can utilize an old iPhone as a dash cam instead of tossing it. In this article, we will take you through how to use an old iPhone as a dash cam. If you have an Android phone instead, you can also check our guide on the best uses for an old Android phone.
There are plenty of reasons to install a dash cam in your vehicle. Whether it is to record an unfortunate accident or to capture something really funny or spooky, a dash cam can prove really useful for documenting things you would love to share with your friends or want to secure for legal reasons. The idea of using an old iPhone to record footage while driving isn't new, and that's why there are apps dedicated to this purpose.
Things you'll need to turn an old iPhone into a dash cam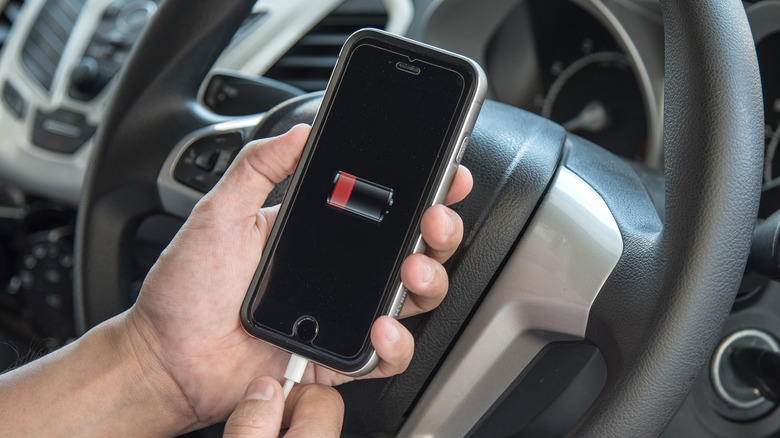 think4photop/Shutterstock
Before we get started with how to use your old iPhone as a dash cam, we need to ensure you have all the resources required. Note that the biggest requirement is to have a functional iPhone. Don't worry if the screen is cracked; it should work as long as the touch is responsive. If you don't have an old iPhone handy, you can get an old and fully functional unit for under 50 bucks through some online retailers and third-party sales sites. 
While it is not necessary, it might be better to use an iPhone that still gets iOS updates, and you can check the most recent list of iPhones that will get the upcoming iOS 16 update. This will ensure that the iPhone is protected against any security vulnerabilities such as spyware, especially if you plan to use the iPhone with the same Apple ID as other devices.
Once you have the iPhone ready, it might be a good idea to get a car mount for the phone so it remains appropriately seated on the dashboard or the windshield of your vehicle. You will also need a spare USB-to-Lightning cable and a car charger because the constant video recording will suck a lot of juice from the old battery on your iPhone. Lastly, if you like to keep things tidy, you may also pick cable management clips to prevent them from dangling freely and obstructing your view.
iOS apps that turn old iPhones into dash cams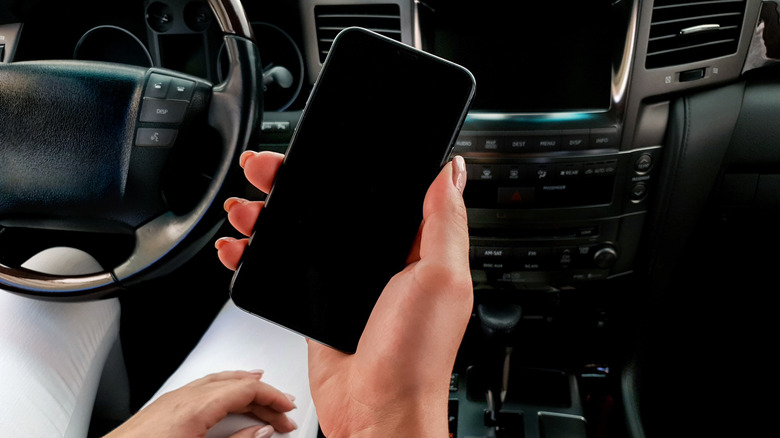 Evia_art/Shutterstock
Once you have the old iPhone and all the accessories handy, the first step is downloading an iOS app that lets you use the iPhone as a dash cam. There are various apps — both free and paid — that offer this functionality. Here are a few options for you to consider:
Driver: Dash Cam & Cloud Sync — Free and one of the highest-rated dash cam apps on the App Store with dual-camera mode, pedestrian detection alert, and roadside assistance (some features may require a subscription).

Smart Dash Cam — Free app that also allows you to record videos while the display is turned off and also upload them directly to cloud storage.

CamOnRoad Car Video Recorder — Free app with a built-in speedometer, alerts for speed traps, and free 2GB cloud storage.

Nexar – AI Dash Cam — Free app with certain paid features. Uses AI to detect sudden braking and collisions, even if they are not in the camera's frame.
Once you choose an app, you can follow simple steps to get the setup running.
How to set up an old iPhone as a dash cam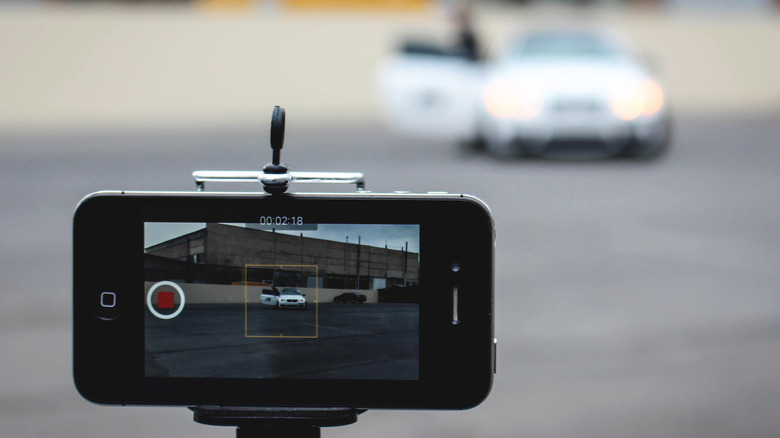 Caddy Man/Shutterstock
Get started by choosing an ideal spot to place the car mount for the iPhone. If you use one that relies on a suction cup, make sure you place the holder in a spot that does not get too hot under direct sunlight as it may fall off due to heat. Another thing to note is that certain states in the U.S. prohibit vehicle owners from placing anything on the front windshield. So, just check the laws in your region before putting the car mount.
After you mount the iPhone, connect it to the charger using the Lightning cable, then open the app you downloaded. While options may vary per app, certain essential options will be present in each app. These may include the video quality, storage space utilization, and recording duration (including looped recording in certain apps). Once those options are set up, hit the record button to get your old-iPhone-turned-new-dash-cam on its feet. Make sure you either move recordings to another device or delete older recordings that you do not need. This will allow the old iPhone to continue working as a dash cam without issues with limited storage. While you utilize the new and economical gadget, there are a few things for you to note.
Things to know when using an old iPhone as a dash cam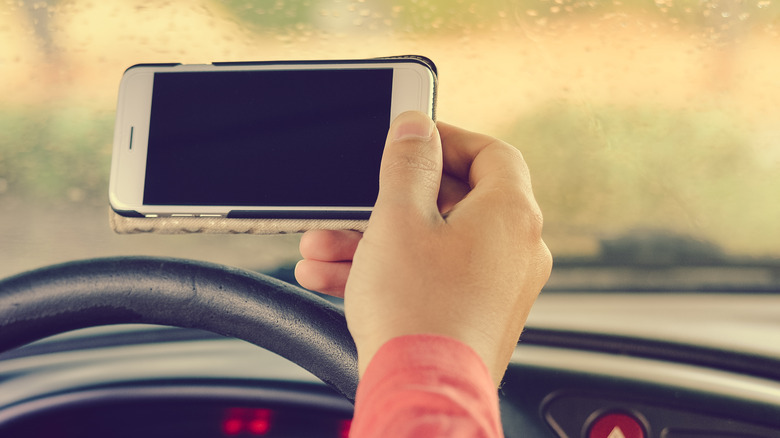 ARIMAG/Shutterstock
A few points will help you ensure that your attempt to save money by reusing an iPhone doesn't turn into a painful loss. Firstly, take your iPhone off the mount whenever you step out of the car because it can be a free invitation for thieves to not only steal the iPhone but also invade your vehicle for other valuables. It is best to either take the iPhone with you or keep it securely in the glove box.
Secondly, as mentioned earlier, make sure the mount is placed at a spot in the car that is least affected by heat. Besides the sun, regular phone usage will generate a lot of heat, so make sure you take caution. Excessive heat, in general, can also lead to the malfunctioning of the iPhone and be detrimental to the battery, so it's best to avoid it. Although it goes without saying, we still want to clarify that you must not fiddle with any wires or electrical components in the car without getting help from a professional. Avoid using DIY chargers or phone mounts at all costs, as it can be catastrophic.