Ford Draws First Blood In The Mainstream Electric Truck Wars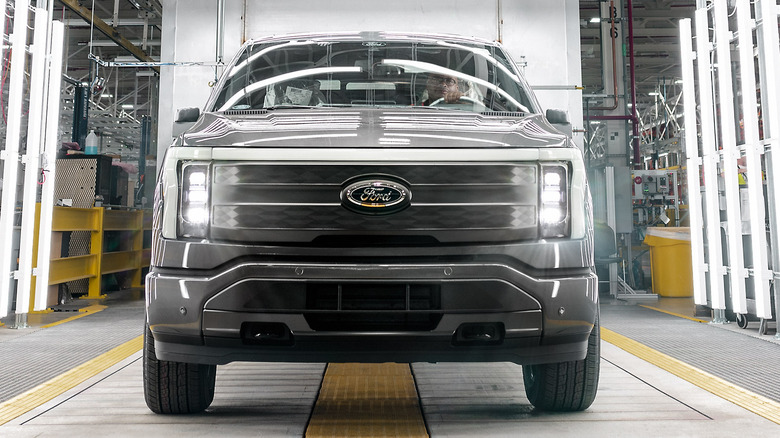 Ford
Ford has begun full production of the F-150 Lightning, its first all-electric pickup, and the EV that could set the blueprint for what mainstream drivers expect from their zero-emissions trucks. Announced after Tesla's Cybertruck — though hitting production well before Elon Musk's controversial EV — the F-150 Lightning will pull together familiar F-Series features with cutting-edge electrification in the hope of coaxing gas and diesel truck owners into a relatively affordable green alternative.
To do that, Ford has been ruthless in its F-150 Lightning pitch. The truck will start at under $40,000 before tax credits and other EV incentives, borrow heavily from the styling and functionality developed for the regular F-150, and stick closely to the F-Series formula which has made it a best-seller for decades. That's not to say there's no room for innovation, too. Along with driving range, the electric F-150 will also introduce new ways to utilize its sizable battery pack beyond just driving. It'll also help debut Ford's newest driver-assistance technologies, and its latest infotainment platform.
Ford has a huge reservations backlog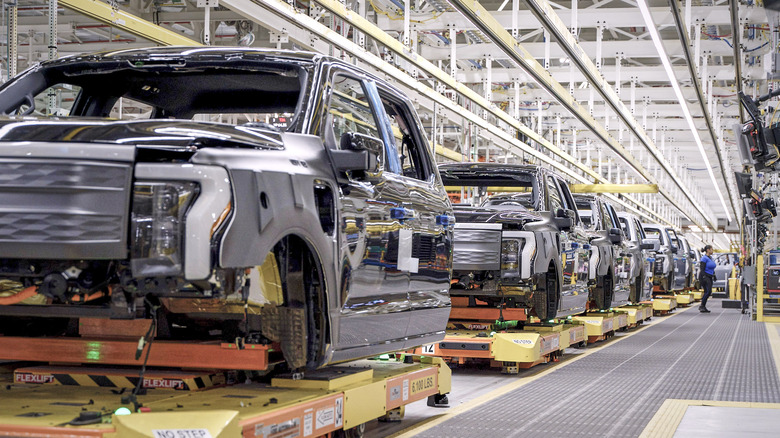 Ford
It's a promise that has clearly found a receptive audience; reservations for the F-150 Lightning now exceed 200,000 since the register opened midway through 2021, and Ford has been busy converting those to actual orders since the start of the year. While the F-150 has never been lacking in customers, what has stood out is just how varied the audience for this electric version has proved to be: three out of every four reservations, the automaker says, come from a customer new to the Ford brand. Many are new to either trucks or electric vehicles in general.
That success has also proved to be a significant challenge. Far exceeding Ford's initial projections for demand, the company announced earlier this year that it would bump up production for the F-150 Lightning. Now, it aims to build 150,000 of the EVs per year, starting in 2023.
Ford is facing more production facilities and fewer tax incentives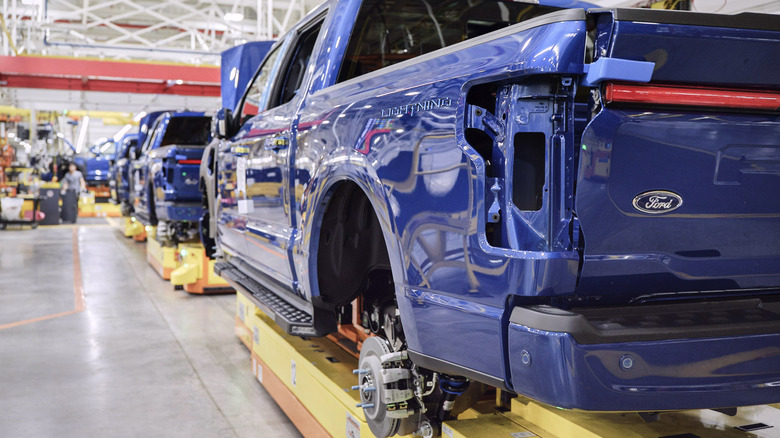 Ford
To do that, Ford will invest a further $950 million in the Rouge Electric Vehicle Center, as part of a $1+ billion spend on Lightning alone. Five Ford plants across Michigan — including the Van Dyke Electric Powertrain Center — responsible for the assembly of electric motors and transaxles — will collaborate to produce the new EV fleet. The hope is that, by the time production scales, Ford will also have solved the battery shortage faced by the auto industry as a whole.
Nonetheless, the expectation is that a wait is involved, even for reservation holders. Ford is no longer taking 2022 F-150 Lightning orders, and it'll be 2023 at the earliest before its current backlog is dealt with. By that point, too, the automaker will probably have burned through its current EV tax incentive eligibility, with some customers facing the reality that they'll be unable to apply for the $7,500 credit from the U.S. government. That could pinch on the consumer spec trucks, which start at $52,974 (plus destination) for the F-1509 Lightning XLT.
Electric trucks aren't new, but they are niche
Ford isn't, of course, the first to launch an all-electric truck. Rivian, for example — of which Ford is a backer — already has its R1T pickup EV on the market. Deliveries of the GMC Hummer EV have recently started, and several startups have announced their own take on the truck segment.
None, though, have the same breadth of audience as the F-150 Lightning does, however. Rivian has delivered a few thousand R1T, and recently risked infuriating preorder customers with an ill-timed price increase. Although it backtracked on that decision, leaving only new customers to face the prospect of a considerably more expensive pickup, Rivian's offering still costs a whole lot more than Ford's truck.
As for the Hummer EV, GMC's first Ultium-powered truck is similarly narrow in its scope. Bearing a six-figure price tag to go with its vast scale and equally-huge power, it's as much a demonstration of General Motors' platform as anything else. As is the case with the R1T, that doesn't make the Hummer EV any less entertaining to drive, but it won't move the electric needle in the same way as the F-150 Lightning might.
Beyond that, several of the ambitious startups have discovered that building an electric truck is more difficult than they might've first expected. Lordstown Motors hoped to build its pickup EV at a former GM facility; now, the Endurance launch has been pushed back. Bollinger Motors was an early arrival to the category, with a classic Land Rover-inspired pickup and SUV; they've been cancelled, however, as the company shifts its focus to commercial vehicles.
Competition in the mainstream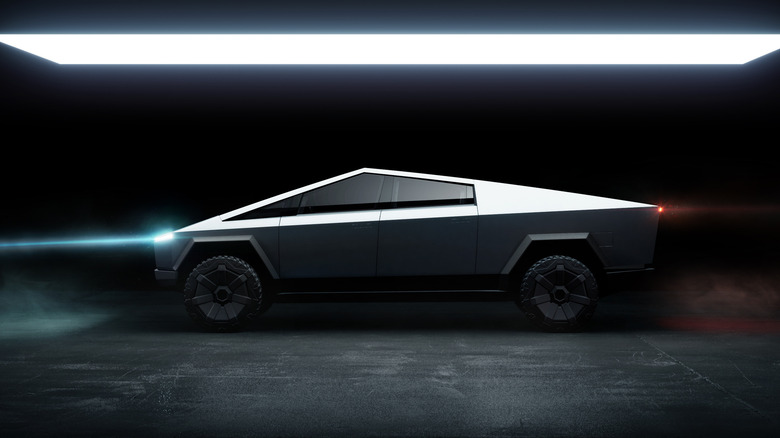 Tesla
While startups may be struggling, Ford's heavyweight competition have plans of their own. Automakers love to try to steal the thunder of a high-profile launch or announcement, particularly the Big Detroit Three, and sure enough the F-150 Lightning news this week finds headlines made by Chevrolet and Ram waiting for it.
Chevrolet's 2024 Silverado EV has already been unveiled, an Ultium-based pickup expected to have far broader appeal than its Hummer EV cousin. A new video, released by Chevy today, details some of the main selling points, not least an estimated 400 miles of driving that comfortably exceeds the F-150 Lightning's 320 mile EPA estimate for its extended-range battery. It'll also offer all-wheel steering, a highly flexible bed which can extend into the cabin, and up to 1,300 pounds of payload capacity.
Ram, too, is hoping to offer a distraction. Its promo video for the Ram 1500 EV has a lot less detail, effectively just showing the distinctive lighting signature of its upcoming electric pickup.
Of course, there's also Tesla, a relative upstart in the auto industry and yet already a behemoth to contend with — particularly in EVs. Elon Musk has been busy focusing on his Twitter acquisition this week, but his legion of fans are quick to remind us that the Cybertruck is coming. That is, coming eventually; Tesla has struggled to hit its original production roadmap. Now, manufacturing of the Cybertruck isn't expected to begin until sometime in 2023.
Altogether, it leaves Ford with a considerable opportunity on the calendar. The Silverado EV won't arrive until 2023 either, and Chevrolet's first consumer configurations will have a six-figure price tag attached until more affordable trims follow on. Ram's 1500 EV will land even later, with the expectation of an early 2024 launch.
Early adopters face challenges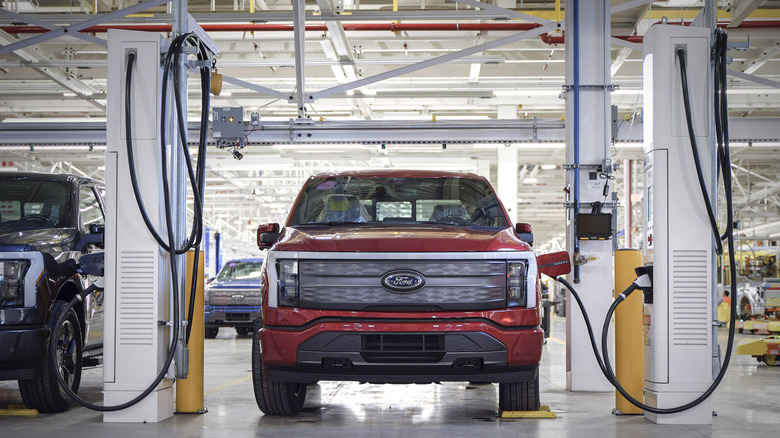 Ford
Building enough F-150 Lightning trucks isn't the extent of Ford's challenge. Like the rest of the industry, it's facing considerable supply chain bottlenecks, afftecting batteries, chips, and more obscure components. This will have an impact on the new electric pickup, and in some unexpected ways. The first of the F-150 Lightning production will have Ford's existing SYNC 4 infotainment, for instance, CEO Jim Farley conceded to The Verge; it'll only be from the 2023 F-150 Lightning that the promised switch to an Android Automotive OS version of SYNC takes place.
Day to day, though, one of the big questions potential EV drivers raise remains the accessibility of charging. Ford promises a charging network, though the reality is that its FordPass Charging Network isn't really what the name would imply. At least, not if your expectations are set by Tesla's Superchargers.
Instead, it's an umbrella spanning multiple third-party networks, including Electrify America and others. As we've seen from the Mustang Mach-E launch, however, the experience there can be a mixed bag. Drivers arriving at charging stations flagged in their Ford infotainment only to discover slow, occupied, or even non-functional plugs is nowhere near as rare an occurrence as it really should be.
A new charging map with greater support for things like reporting broken or underwhelming facilities is on the way to help address that. Nonetheless, Ford faces an uphill battle here, and with its goal of persuading mainstream truck drivers behind the wheel of the Lightning, it can't count on concessions from electric early-adopters to take the sting out of disappointment.
The electric pickup pitch is about more than just driving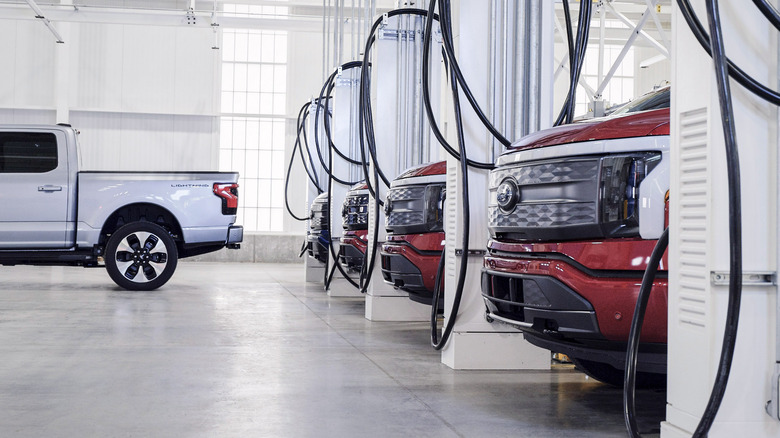 Ford
Part of Ford's strategy to temper those annoyances is by playing up the ways an electric truck can deliver where its internal combustion counterparts cannot. Arguably the F-150 Lightning's "killer feature" is its ability not only to act as a power supply on wheels — with the usual bevy of outlets for tailgating, job sites, and similar that we've seen on other pickups already — but its potential as a whole-home backup power source. Ford Intelligent Backup Power effectively turns the truck into a Tesla Powerwall alternative. When plugged into the right home charger — something Ford has partnered with installers to make sure is correctly fitted — the F-150 Lightning can automatically switch into power-supply mode should the electricity grid go down.
The result, Ford says, is the ability to charge a whole house (on a typical 30 kWh of use per day) for up to three days. Trim your power needs down, meanwhile, and you could get more than a week's use. Down the line, there's the potential for smart switching where the Lightning's sizable battery is used as a store for power when grid rates are low, only to use that for the home when rates are more expensive.
With the mainstream still getting to grips with just what EV ownership is actually like day to day, it may take some time before the full benefits of features like Intelligent Backup Power are fully understood and appreciated. Expect to hear plenty more about it over the coming months, however, as Ford takes full advantage of this window of opportunity before its big name rivals finally have their electric competition ready to roll.