Everything We Know About The 2024 Electric Ram 1500 Pickup
Ram is on a roll with its 1500 half-ton pickup truck. Ram sold 434,772 units of its 1500 truck by the third quarter of 2021, enough to become America's second bestselling half-ton truck behind the iconic Ford F-150. Ram also unveiled the Hemi-powered TRX in 2021, a high-performance 1500 equipped with a new, high-strength steel frame, a 702-horsepower Hellcat supercharged V8 engine, and a whole lot of attitude to give the F-150 Raptor quite a scare.
But as the entire automotive world gravitates toward zero-emissions powertrains and sustainability, Ram engineers are currently burning the midnight oil in developing the next generation of electric Ram pickup trucks. During the Stellantis EV Day press conference back in July 2021, Ram's parent company Stellantis unveiled four scalable electric platforms to spearhead the company's assault in the EC genre.
As it turns out, one of those platforms – STLA (Stella) Frame – is for the electric Ram 1500 pickup truck, a proper ladder frame architecture with a modest battery pack between the front and rear axles. Ram has yet to reveal the juicy bits about its incoming Ram 1500 BEV, but here's everything we know about the newest electric truck to face the Ford F-150 Lightning and Chevy Silverado EV. 
Above you'll see a presentation from Carlos Tavares, Chief Executive Officer for Stellantis speaking about the company's current strategy for the near-future, revealing the closest look we've had yet of the new Ram 1500 BEV.
Dual Electric Motors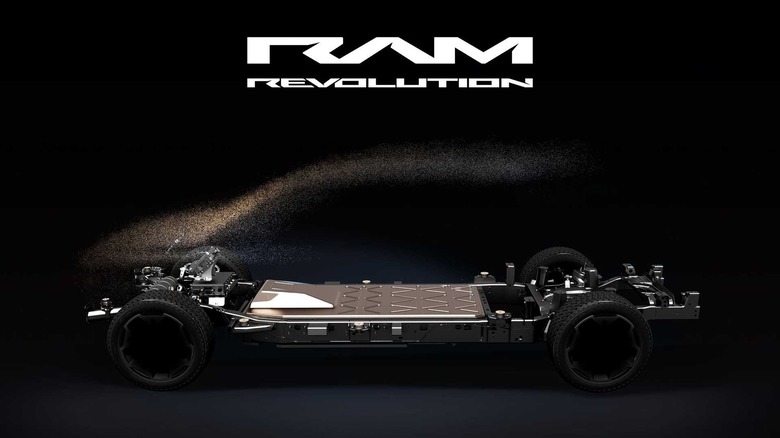 Stellantis
The Ram 1500 BEV will have dual electric motors, but a base model truck with a single rear-mounted electric motor is not off the equation. Each motor will have an integrated Electric Drive Module (EDM) that packages the motor, gearbox, and inverter in a single component to save weight. Naturally, two electric motors equate to a standard all-wheel drivetrain, and Ram can up the ante by offering torque vectoring capabilities for better stability and off-road handling.
Independent Suspension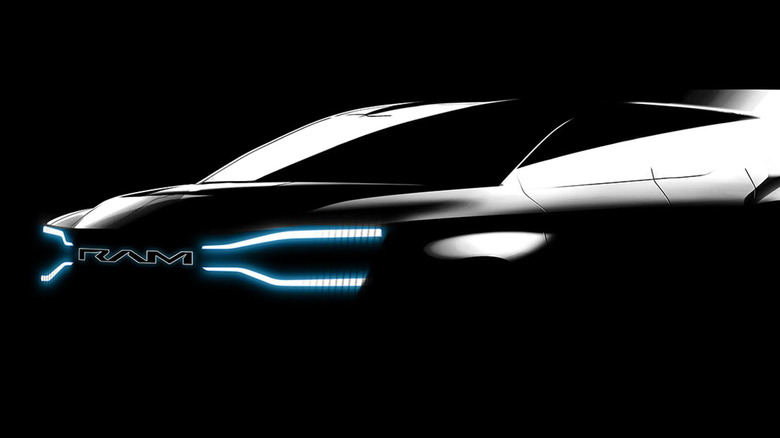 Stellantis
The STLA Frame architecture has independent suspension for the front and rear, and we reckon the Ram 1500 BEV will have a 5-foot short bed in either a crew cab or quad cab body. Take note, however, that the incoming Chevy Silverado EV and Ford F-150 Lightning will arrive exclusively in a crew cab body style, so maybe Ram can take advantage of this fact by offering a quad cab with a longer bed given the platform's scalable nature.
Solid-State Batteries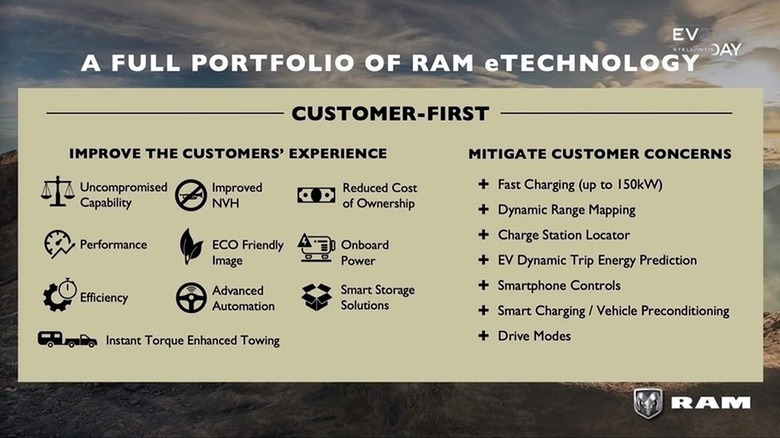 Stellantis
Stellantis and Ram are working on a proprietary cobalt-free, high-density 159 kWh lithium-ion battery pack for the 1500 BEV. However, there's also a solid-state battery pack on the horizon, which Stellantis aims to debut as early as 2026. If all goes to plan, you can expect the Ram 1500 BEV to achieve 500 to 800 miles of driving range.
Charging-wise, Ram promises compatibility with up to 150 kW DC fast chargers with other hi-tech features like smart charging, vehicle preconditioning, dynamic range mapping, smartphone charging controls, and more.
Modern Styling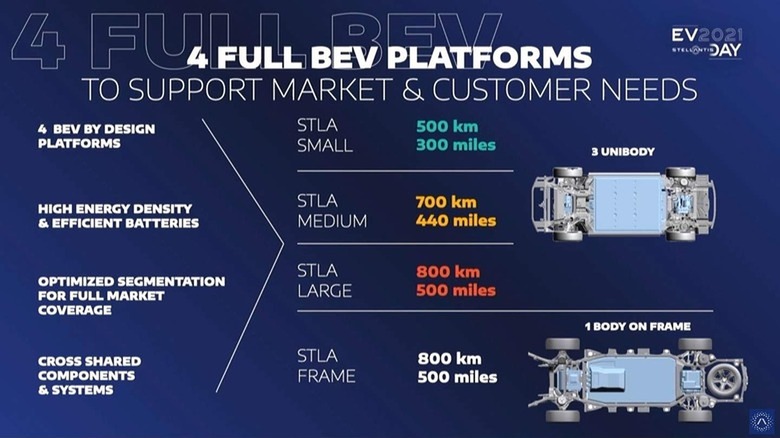 Stellantis
Don't let the teaser images fool you. It's merely an early concept rendering to capture your imagination. If the Ford F-150 Lightning and Chevy Silverado EV are any indications, we're expecting the all-new Ram 1500 BEV to share similar design traits from its gasoline-only brethren. Still, it's hard not to mention the concept's one-piece LED front lightbar and chunky proportions.
Stellantis will spend more than $36-billion through 2025 to spearhead its electrification campaign, while Ram expects to have fully-electrified models across its portfolio by 2025, with the Ram 1500 BEV debuting in early 2024. Ram may be a tad late to the party, but let's see what the company has in store for its first-ever, all-electric pickup truck.