Apple iPad Air 5 Review (2022): Tablet Sweet Spot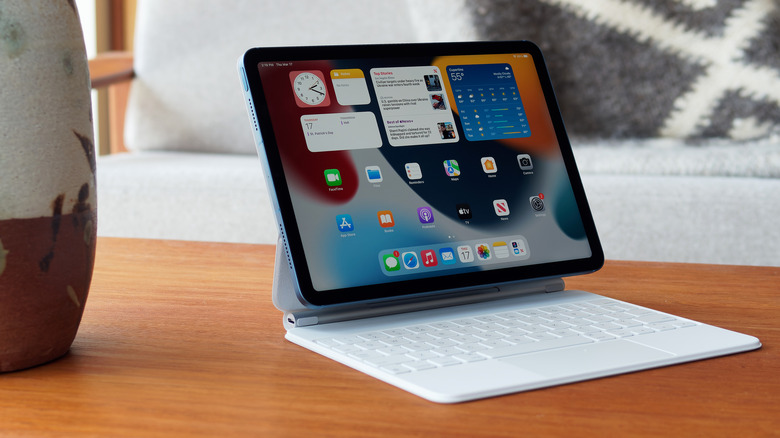 Chris Davies/SlashGear
Apple promises a lot from the iPad. In recent years, the iPadOS tablets have not only attempted to carve out a space between iPhone and Mac, but have been positioned as outright replacements for your MacBook. With the arrival of the new iPad Air 5, with a desktop-spec chipset and a sub-$600 starting price, that prospect suddenly seems even more feasible — and appealing.
Mac observers have long suspected that Apple wanted to make its macOS machines work more like those which run iPadOS. Ironically, while the adoption of Apple Silicon has made that even more possible, the side-effect has been bringing iPads closer to what modern MacBook buyers can expect in terms of performance. Little exhibits that narrowing gap like the new iPad Air, and the chipset newly at its heart.
Tablet body, laptop heart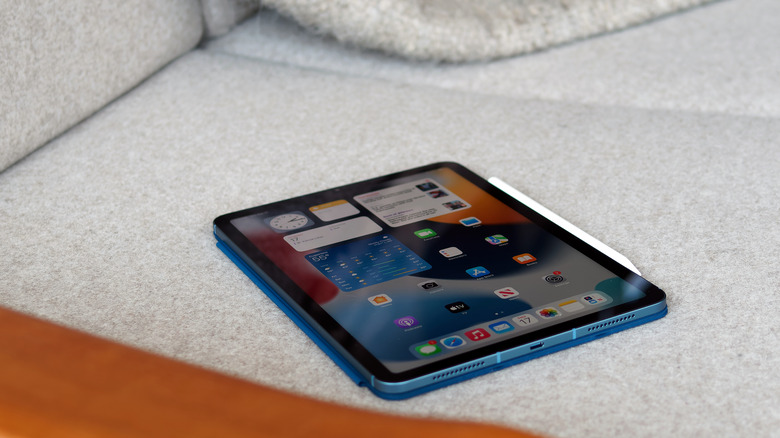 Chris Davies/SlashGear
It's the same version of the Apple M1 that's used inside the MacBook Air and Mac mini, in fact. As the first of the company's homegrown chipset launches, it has been out-grunted by newer versions like the M1 Pro, M1 Max, and M1 Ultra, though that's not to say it's underwhelming in any way. In Apple's ultraportable, for example, the M1 delivers unexpectedly potent performance while still delivering astonishing degrees of battery life for a notebook of its size.
To have that inside a tablet is a little mind-boggling, frankly. The general upgrade delta between this 2022 iPad Air and its 2020 predecessor may not be vast, but the fact that you're getting desktop-level performance in something that kicks off at $599 is wild.
Sorry, no ProMotion here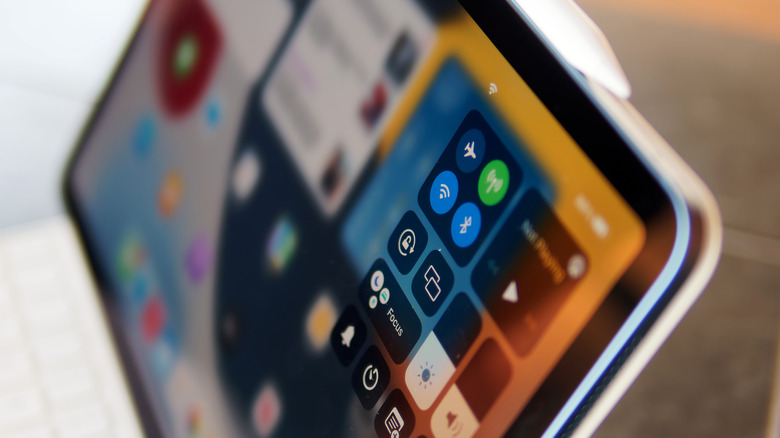 Chris Davies/SlashGear
I'm glad Apple kept the aesthetic pretty much the same. The aluminum casing is sleek and crisp (and I've not really noticed any of the flex that some have complained about) and the bezels around the 10.9-inch screen strike a workable balance between aesthetically minimal while still allowing for enough space to grip the iPad Air in tablet mode without covering up too much of the display.
If you've used a recent iPad Pro, you might be sad not to see a ProMotion screen. The absence of 120Hz refresh rate is pretty much inevitable at this price point, and I don't think it should be a deal-breaker for the iPad Air's typical audience. Yes, iPadOS scrolls with honeyed smoothness with it, but the regular Liquid Retina display is no laggard, and you still get True Tone and P3 wide color support. The same goes for the absence of Mini LED, but even then you'd need to step up to the larger, 12.9-inch iPad Pro for that, at almost twice the price.
Center Stage gives video calls a tracking upgrade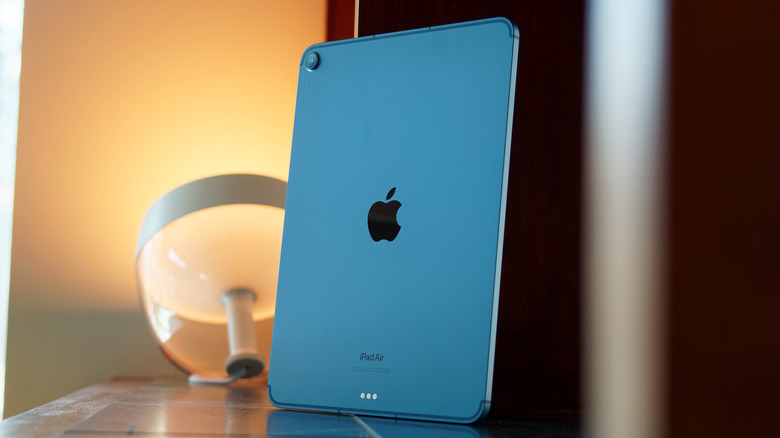 Chris Davies/SlashGear
On the rear there's still a 12-megapixel camera, and you still look like an idiot if you try to use it for regular photography. It makes for a great impromptu scanner, however. The front camera is now 12-megapixels too, but Apple uses that surfeit of pixels for its auto-tracking Center Stage feature in video calls. Turned on, and you're kept in the middle of the frame as though the webcam is on a gimbal. It feels topical, given many people are still spending a lot of their time on video calls for work or school, even if the positioning of the camera still leaves it feeling off-center when you're using the iPad Air in landscape orientation.
Without the Face ID camera array, however, you're left with a Touch ID sensor built into the power button. I actually really like it, particularly since Apple's setup process prompts you to set it up with fingers suited for both portrait and landscape unlocking.
M1 means a tablet with longevity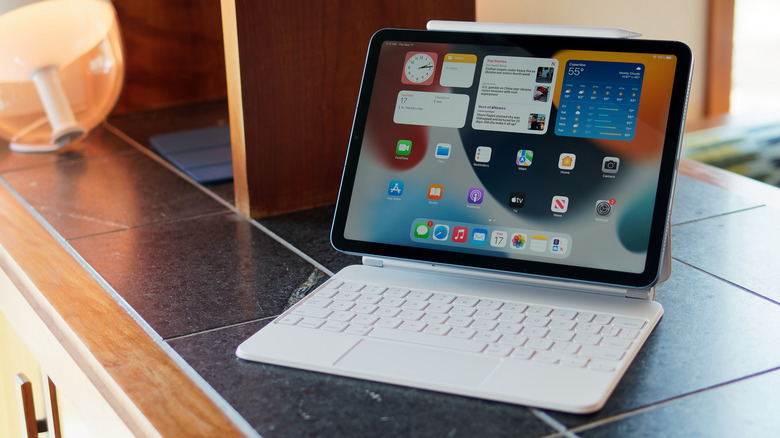 Chris Davies/SlashGear
iPadOS on the M1 chipset feels faster than it has any right to. Apple pairs it with 8GB of memory and either 64GB or 256GB of storage, and it turns the midrange tablet into an unexpected star for things like 4K video editing or gaming. If you're doing a lot of the former and want to export rather than upload directly, mind, it's worth noting that unlike the iPad Pro's Thunderbolt 4 port, the iPad Air 5 has a 10Gbps USB-C. That's twice as fast as its predecessor, but not the fastest you can imagine, but you do still get 6K external display support.
What I'm actually more excited about is the longevity it brings: Apple has a great track record for keeping its older hardware running the latest software version, and the M1 leaves the iPad Air in good stead for years of updates.
5G and great battery life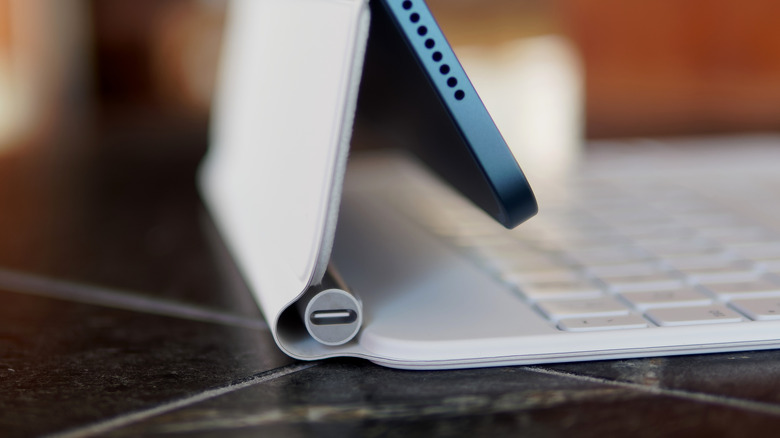 Chris Davies/SlashGear
The other notable upgrade over the old iPad Air is the 2022 model's embrace of 5G. It's the same sort of implementation as we saw on the new iPhone SE: that is to say, you get Sub-6 support but not mmWave capabilities. Like with the most affordable iPhone, I don't think that's a particular drawback to most iPad Air buyers. Sure, mmWave can be much faster than Sub-6, but it's also available in far fewer locations.
Battery life is a quoted 10 hours of browsing on WiFi, or up to 9 hours over cellular. With casual use, the iPad Air lasted a few days before I felt the need to plug it in, much as its predecessor did. Used in earnest, I got through a workday of writing on a full charge. Considering the battery is only a little more than half the size of what you get in an M1-based MacBook Air, that feels impressive.
Compromises are inevitable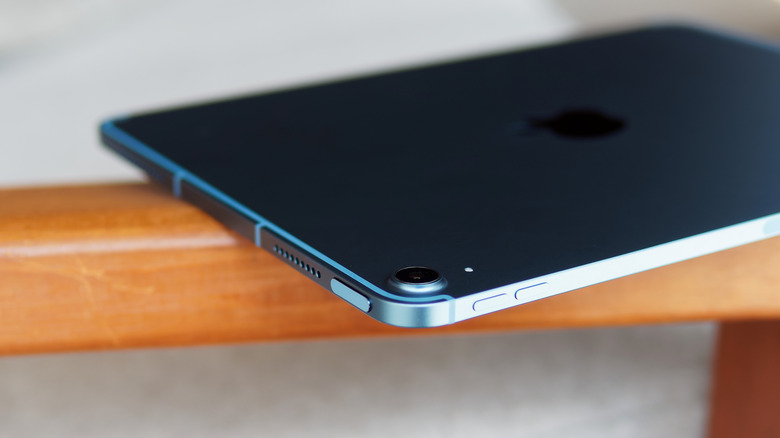 Chris Davies/SlashGear
The takeaway is that, while compromise is inevitable at this price point, Apple's decisions on where and when to make it do — for the most part — hold up. 5G but without mmWave doesn't seem like too great a hardship; the M1 chipset without a Liquid Retina XDR screen tips toward the sort of iPad longevity that I suspect most buyers will be primarily concerned by. Touch ID rather than Face ID doesn't feel so arduous here as it might on an iPhone, and I'd much rather Apple include the Center Stage functionality of the webcam.
In fact, the only real area where I wish the iPad Air 5 had skewed differently is in the options. Storage is the biggest headache: the entry-level 64GB feels miserly, when even a base iPhone 13 mini comes with 128GB, but $150 to quadruple that to 256GB is a big leap. I suspect a 128GB iPad Air 5 would be a real hit, were it priced somewhere in-between.
5G connectivity is another $150 upgrade, and that's near-equally frustrating. There's something undoubtedly transformative about never having to worry about whether there's a WiFi network or tethered iPhone nearby — enough that I really can't wait for Apple to offer embedded 5G in its MacBook line-up too — and yet I'd wager this pricing nudges it out of consideration for a lot of iPad Air buyers.
Accessories add up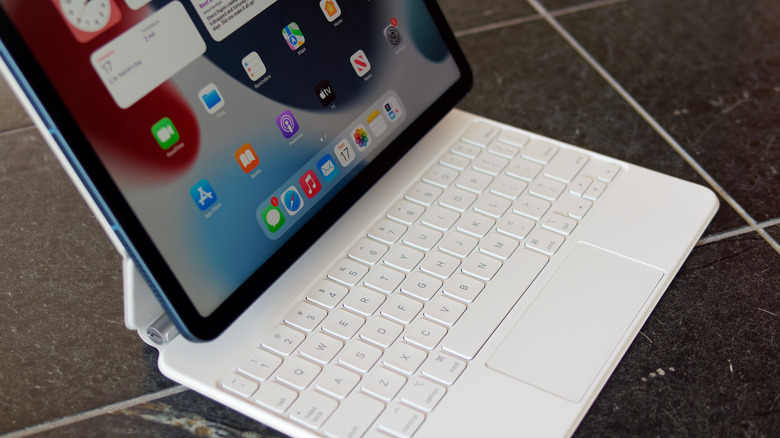 Chris Davies/SlashGear
Finally, there are the accessories. A second-generation Apple Pencil is $129; honestly, I'm no digital artist and I have dire handwriting at this point, so I can do without that. A keyboard, though — whether the $299 Magic Keyboard or $179 Smart Keyboard Folio — feels far more instrumental in Apple's positioning of the iPad Air 5 as a laptop replacement. Spending half the amount of the tablet again on an (admittedly great) keyboard is galling.
Pricing out a barebones MacBook Air alternative based on the iPad Air 5, then, gets you to $778. That's with just 64GB storage and the trackpad-less Smart Keyboard Folio, and no 5G. Opt for the better keyboard, the cellular connectivity (which the MacBook Air doesn't offer), and matching 256GB of storage, and you're at $1,198 versus the laptop's $999 starting point.
What's fascinating is that, even by that point, there's no clear "winner" out of the two options. Personally, as someone who spends the bulk of their time writing and multitasking between different apps, a more traditional laptop makes the most sense for me. Digital artists and creatives, people who like to navigate with their fingers and a touchscreen, and those for whom the keyboard isn't always a necessity and who often find themselves away from their desk (and WiFi network) might be swayed by the iPad Air with its 5G. Unlike with the latest iPad mini, I don't see many people choosing to carry both with them.
The best new iPad for most people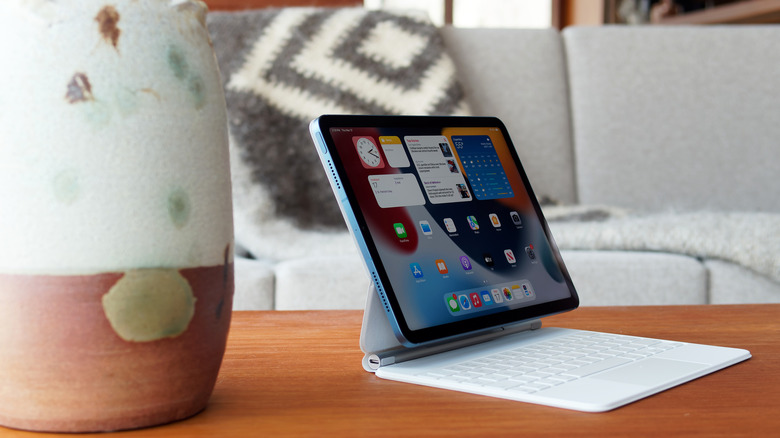 Chris Davies/SlashGear
Personally, I would love iPadOS to work more like macOS. Indeed, I can't help but wish that Apple would just offer its desktop OS on its tablets. I can understand why that's not the case, but it's made even clearer with the iPad Air 5 that hardware isn't what's holding things back here. You can certainly do a lot with iPadOS 15, but macOS handles a multi-app, multi-tasking world more effectively.
If you're new to iPad, it's not hard to see that the iPad Air 5 should be your first port of call. Much faster and more capable than the regular iPad, but without the expense of the iPad Pro, it fits a sweet spot not only for the price but, with the addition of this new chipset, performance too. As with anything, being selective when it comes to choosing options and accessories is the best way of making sure you don't blow your overall budget.
Anyone with a last-gen iPad Air, though, can probably sit pretty for a while yet. The upgrades here are nice, but it's testament to how capable the 2020 tablet was that they don't swing the needle into "must update" territory.
The reality is that the iPad Air only needed refinement, not reinvention, and that's a covetable place to be. Potential buyers looking to replace a notebook will want to look hard at the price of the accessories needed to enable that, but those who simply want Apple's most balanced tablet need shop no further.