The iPad Air 5 Is Peak Apple - Impressive And Frustrating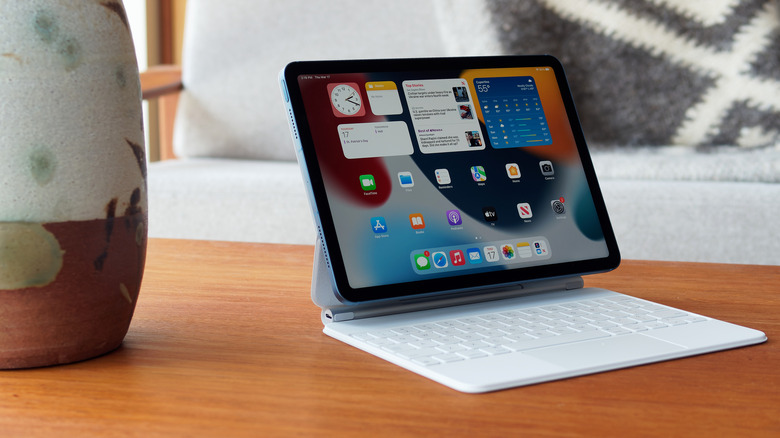 Chris Davies/SlashGear
The iPad Air 5 feels like a treat. Clearly, star of the Apple Silicon show at the company's first event of 2022 last week was the M1 Ultra, doubling up its homegrown chipset for even more impressive speeds, but its the decision to spread the M1 chipset around which will undoubtedly make more of an impact on more consumers. After all, at the heart of the new iPad Air 5th generation, it's now at its most attainable point yet: The upgraded tablet will set you back just $599.
In return, you get something both familiar and new. Outwardly, not much has shifted from the old — and appealing — iPad Air. It keeps the 2020 tablet's crisp edges, its neat integration of Touch ID, and its support for a variety of accessories including the Magic Keyboard case and the Apple Pencil 2. However, it now packs the sort of grunt previously enjoyed by MacBook and iPad Pro owners.
Longevity is worth a lot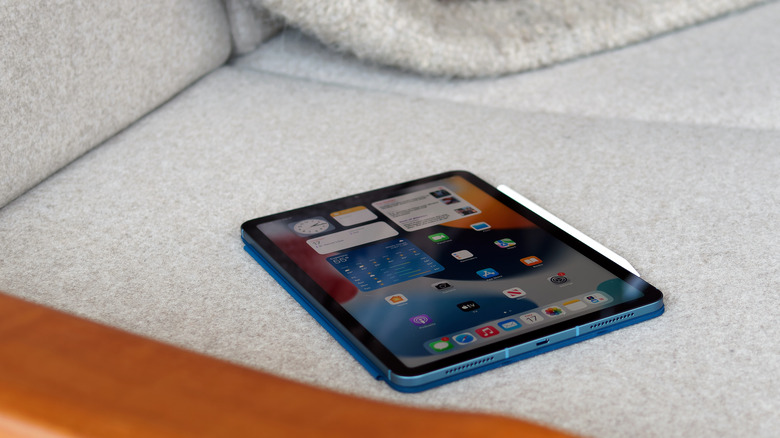 Chris Davies/SlashGear
Apple does have a track record of bringing high-end performance down to more affordable devices, of course. The iPhone SE is good evidence of that: For 2022, a familiar design encloses a cutting-edge Apple A15 Bionic chipset, and thus comes with the reassurance of a long life of iOS upgrades ahead of it.
Longevity is worth a lot, even if you're not spending four-figures on an iPad Pro. A desktop-level chipset in a $600 tablet is a lot to offer, and while you may not need that degree of grunt right now — unless you're doing things like editing 4K video, which is now a legitimate possibility on the iPad Air — the knowledge that there's space for iPadOS to grow without the whole thing slowing to a halt is no bad thing.
Step to the $749 iPad Air 5, meanwhile, and you can now have 5G baked in. The 2020 version of the tablet offered WiFi + Cellular as an option, yes, but only at up to 4G LTE speeds. Again, as with the new iPhone SE, it supports Sub-6 though not mmWave 5G, but the lackluster spread of the latter network type means I suspect few owners will really miss that.
Why am I buying an iPad Pro again?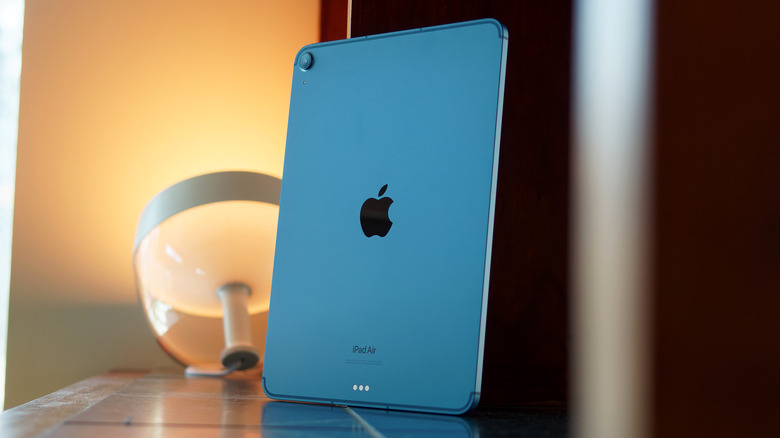 Chris Davies/SlashGear
Apple is very, very good at positioning products so that it's not inadvertently cannibalizing its own sales, and with that in mind I can only begin to imagine the hellacious upgrade that the next iPad Pro is in for. After all, this new iPad Air comes so close to the current iPad Pro 11-inch in performance and user-experience, it's tough to make the argument that you should opt for what Apple describes as the "Pro" model.
Tough, but not impossible, of course. The smaller of the two iPad Pro models supports ProMotion for 120Hz refresh rates, you can have up to 2TB of storage rather than the iPad Air's 256GB maximum, and it adds an ultra-wide camera alongside the regular camera. You get TrueDepth for Face ID instead of a Touch ID power button, Thunderbolt/USB 4 support instead of 10Gbps USB-C, and the fastest mmWave flavor of 5G, and can have up to 16GB of memory where the iPad Air is limited to 8GB.
Storage is the sticking point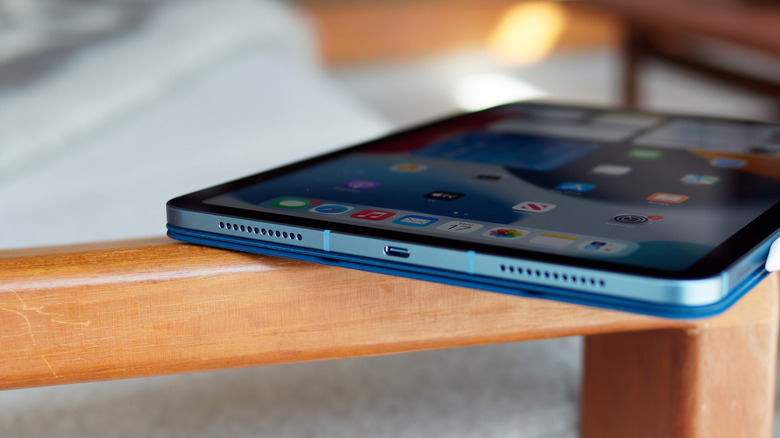 Chris Davies/SlashGear
So yes, there are differences, but there's also a $200 price delta to consider. For most people, I suspect, the entry-level iPad Air 5 will offer everything they need, just as long as they're content with 64GB of storage. While I like Face ID and ProMotion, I'm not sure they're worth two Benjamins.
Storage is, though, the tricky part. While the base-spec iPad Air 5 makes a lot of sense, upgrading to the 256GB configuration lifts the price to $749. That puts you just $50 away from the 128GB iPad Pro 11-inch — so you get less storage, but all the other hardware enhancements I already listed — or $150 away from the 256GB version of the Pro tablet. It's a much tougher decision.
Honestly, it feels a lot like a situation we've seen before, with the regular Apple iPad. On the one hand, Apple's cheapest new tablet — at $329 — is a bonafide bargain, just as long as you stick to the entry configuration. Because there's no 128GB version, however, if you want more onboard storage you jump to the 256GB iPad at $479. Then, suddenly, you're getting close to iPad Air 5 territory. In short, when it comes to Apple's most affordable iPads, it's best to keep your mousing-finger away from the options.
Look, Apple, just give me macOS on the iPad Air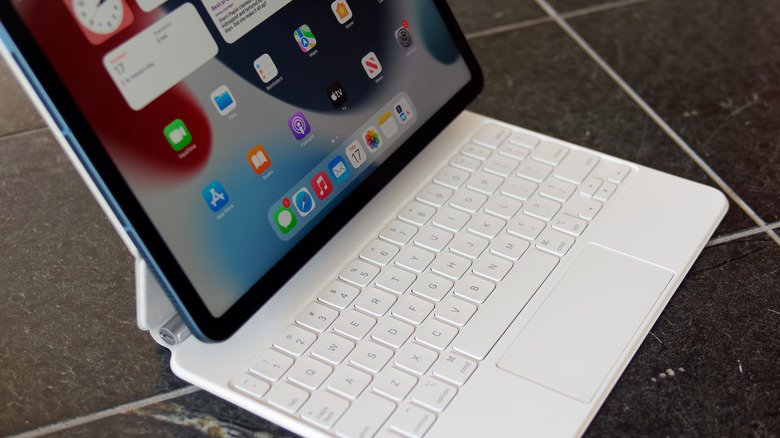 Chris Davies/SlashGear
I don't dislike iPadOS. We're a long way from the earliest days of Apple's tablets, where iOS was basically the same experience you got on an iPhone... just spread out a lot more. That never really made sense, and so the decision to split iPadOS out from iOS and treat the two as — roughly — separate seemed like a great decision back in 2019.
Since then, we've seen it make far better use of the iPad line-ups' larger touchscreens. This 2022 iPad Air may not have quite as vast a display as the biggest iPad Pro offers, but its 10.9-inch panel is still sizable, and the ability to have plentiful widgets, split-screen layouts, and generally make far more use of the pixels on offer is welcome. Maybe I'm getting greedy, though, but it still doesn't seem enough.
It's hard not to think about what ifs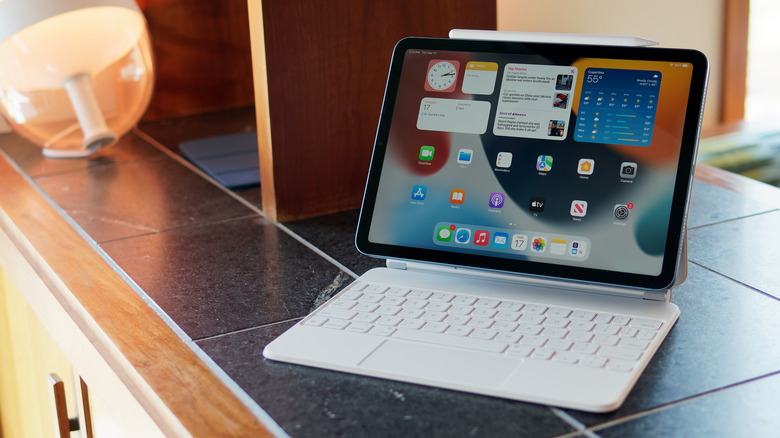 Chris Davies/SlashGear
The fact that there's an Apple M1 inside this thing, the same chipset that's in the excellent MacBook Air and Mac mini, makes the limitations of iPadOS all the more frustrating. I can't help but think about how macOS runs so smoothly on Apple Silicon, and how it doesn't demand the same workflow adjustments I always have to go through when I try to switch wholesale from a Mac laptop to an iPad.
I'm not saying macOS on the iPad Air would be completely smooth sailing. It's definitely designed with a keyboard and a mouse or trackpad in mind, after all. Thing is, though, I see an increasing number of people using their iPad with a keyboard too, especially since Apple's official Magic Keyboard for its tablets has gotten so good. The size means that yes, it's more cramped to type on than a MacBook keyboard, sure, but not by that much, and already I'm hitting a decent accuracy rate.
I can't see it happening, of course. Apple benefits from there being separation between iPad and Mac, and has already shown its vision of cross-compatibility by virtue of being able to run iOS and iPadOS apps on macOS machines. All the same, it's hard not to think about "what ifs" when the hardware is this capable.