Apple Unveils Power Of New M1 Ultra Chip With UltraFusion Architecture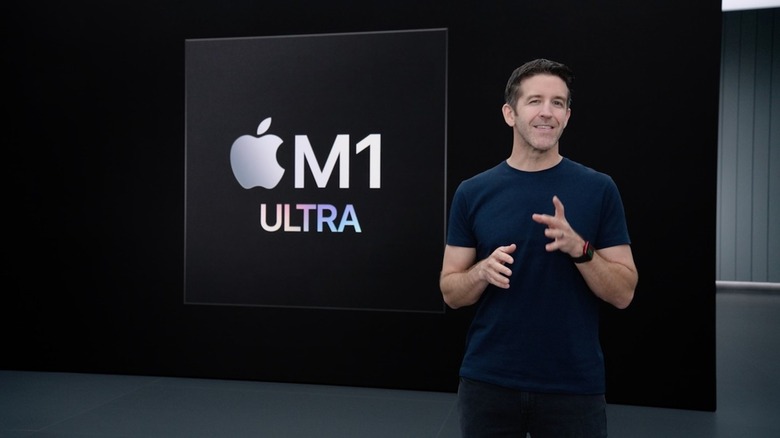 Apple
Apple has revealed the M1 Ultra, the company's most powerful chip to date, at its March "Peek Performance" event. It's the latest addition to Apple's M1 family.
Consumers were expecting the M2 processor chip under the presumption that the M1 Max would be the last chip in the current line. They stood corrected, however, because Apple took two M1 Max chips and combined them to create a system on a chip (SoC) that delivers an entirely new level of performance to Mac desktops thanks to the UltraFusion architecture. 
The M1 Ultra supports up to 128GB of high-bandwidth, low-latency unified memory, powering up a 20-core CPU, 64-core GPU, and 32-core Neural Engine to deliver max performance for artists, developers, and video professionals who would benefit from enhanced 3D-rendering tools, advanced coding software, and video rendering software.
"M1 Ultra is another game-changer for Apple silicon that once again will shock the PC industry. By connecting two M1 Max die with our UltraFusion packaging architecture, we're able to scale Apple silicon to unprecedented new heights," Apple's SVP of Hardware Technologies Johny Srouji said. "With its powerful CPU, massive GPU, incredible Neural Engine, ProRes hardware acceleration, and huge amount of unified memory, M1 Ultra completes the M1 family as the world's most powerful and capable chip for a personal computer."
How powerful is the M1 Ultra chip?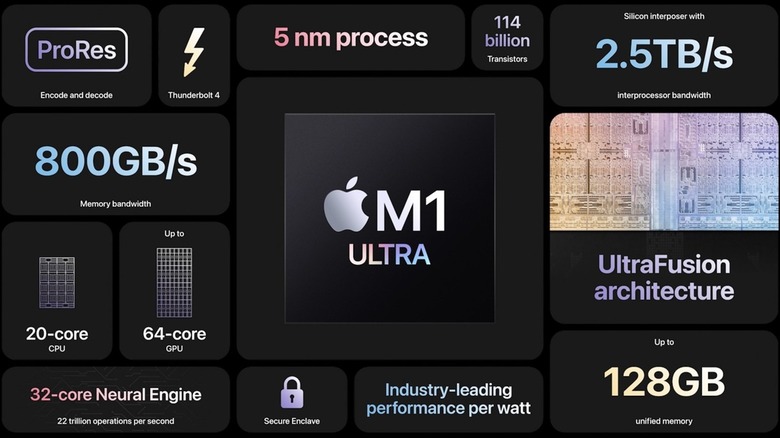 Apple
Apple said the M1 Ultra chip was made possible thanks to the UltraFusion architecture, which was previously an unknown feature of the M1 Max chip. Hardware developers normally scale a computer's performance by connecting two regular chips through a motherboard, which results in increased latency, reduced bandwidth, and higher power consumption, overloading them to the point where the quality of performance declines. 
UltraFusion removes that burden by using a silicon interloper to connect the die of two M1 Max chips across more than 10,000 signals, delivering 2.5TB/s of low-latency, interprocessor bandwidth while maintaining power efficiency — more than four times the bandwidth of the leading multi-chip interconnect technology.  This enables the M1 Ultra to behave like a single chip in the eyes of software and retains the full benefits of unified memory, which is an enormous breakthrough.
The M1 Ultra also has 114 billion transistors, which is seven times more than the original M1. And thanks to the multi-die architecture of the M1 Ultra, the memory bandwidth is increased up to 800GB/s, allowing for the 128GB of unified memory support to take on intense workloads. The chip also has 32 Neural Engine cores that can run up to 22 trillion operations per second to expedite most machine-learning tasks, delivering eight times more GPU performance than the M1 itself. Not to mention that it delivers 90% more GPU performance than the latest 16-core PC desktop.
The ultimate end of the M1 lineup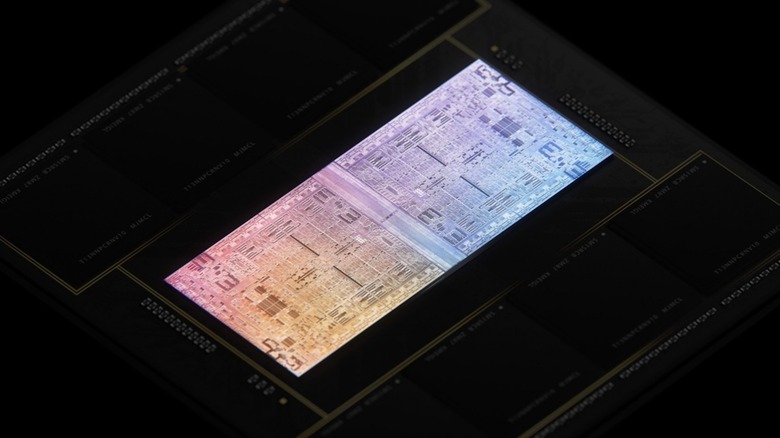 Apple
The M1 Ultra seeks to satisfy every user with its incredible high-speed performance and massive unified memory support. It completes the current M1 line in its transition to Apple silicon, so it seems appropriate to incorporate the big chip into the new Mac Studio desktop, which was previously called the Apple Studio Display. 
Apple claims the Mac Studio with the M1 Ultra powering it would amp up CPU performance up to 3.8 times faster than the 27-inch iMac with a 10-core processor. With that much power, Apple isn't playing around in delivering the best performance to its users, especially creators who use apps that may benefit from the chip's enhanced capabilities without the need for any additional work. Some creative professionals testified that they were already blown away by M1 Ultra speeding up their workflow, rendering their 3D environments seamlessly, magnifying fabrics for effortless simulation, and basically getting every single task done by their deadline.
The Mac Studio and other products containing M1 Ultra will be available on March 18; the model will have a starting price of $3999, which gets buyers 64GB of unified memory and a 1TB SSD.