iPhone SE 3 And iPad Air Preorders Start Today: Here's What You Need To Know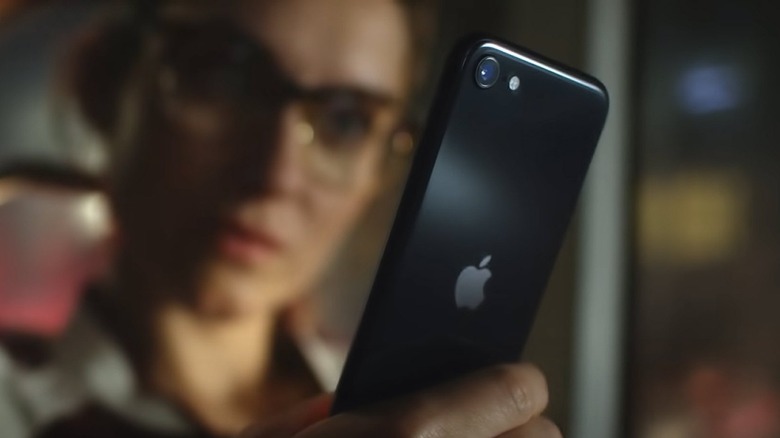 Apple
Earlier this week, Apple unveiled a slate of new devices, including a new iPad Air with some impressive specifications and another anticipated entry in the iPhone SE series. Add to that a new Mac that's powered by new, souped-up versions of Apple's in-house silicon, a display to go with it, and even some fresh colors for the iPhone 13, and we had quite the reveal event on our hands.
While the new Mac Studio and its accompanying display went up for pre-order at the same time they were announced, we had to wait a bit for iPad Air and iPhone SE 3 orders to open up. Today is finally the big day, but before you dive in and reserve one of these devices for yourself, there are a few things you should know — not only pricing and specification details, but also when you might be able to expect your new order to arrive.
iPhone SE 3 is the iPhone for people who hate big phones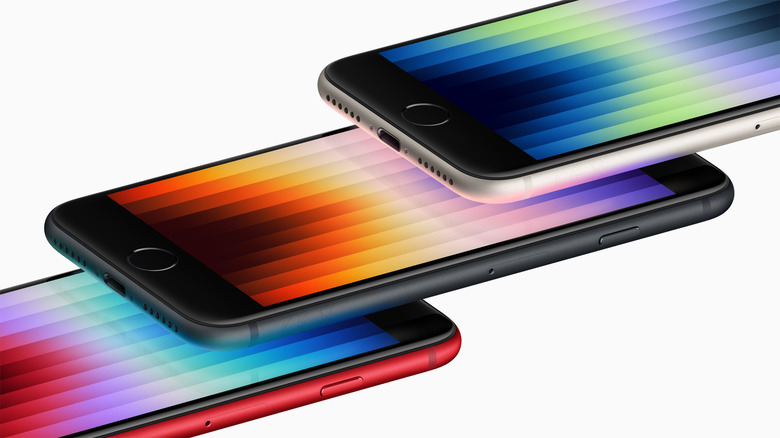 Apple
For many, the main draw of the show was likely the iPhone SE 3. Like its predecessors, the iPhone SE is a smaller, more traditional iPhone alternative to modern full-screen iPhones that can often come with large, unwieldy displays. If you miss the days when iPhones had 4.8-inch displays and physical home buttons, then the iPhone SE 3 is for you because it comes packing both.
It's also outfitted with an A15 Bionic chip, so at least from the processing side, it can hold its own against its larger counterparts. Perhaps the biggest draw, however, is its price — in this age of flagships approaching and often exceeding $1,000, it's nice to see the iPhone SE start at $429. That's for the 64GB model, with the price obviously going up if you opt for more storage ($479 for 128GB and $579 for 256GB).
Of course, price may not be the only determining factor in which smartphone to buy, and those who are considering the iPhone SE might like to know how it stacks up to the already available iPhone 13. Our comparison of the two phones shows that the iPhone 13 has the iPhone SE beat on the spec sheet, but you'll certainly be paying for the privilege of better specifications. Speaking of the iPhone 13, it's available to pre-order in green and alpine green colors today as well (depending on which model you buy), so that could be worth looking into. Those pre-ordering today should expect orders to begin shipping out next Friday, March 18, 2022.
Fifth-gen iPad Air is a serious tablet contender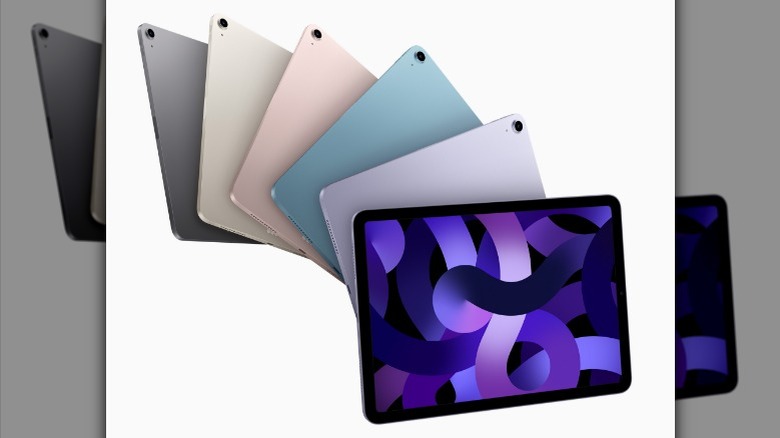 Apple
The iPad Air has always been Apple's entry-level tablet line, with those wanting more power and a larger display pointed toward the iPad Pro. With this new iPad Air, however, the lines between both product families are beginning to blur. That's because the fifth-gen iPad Air comes outfitted with Apple's M1 chip, which previously was limited to just the iPad Pro lineup. Apple says this new iPad is significantly faster and more powerful than the Airs that came before it, and we have that M1 chip to thank.
If you opt for a cellular model, you'll also get 5G capabilities in the new iPad Air, but regardless of whether you want cellular functionality, you'll be getting support for WiFi 6. The tablet also features a 10.9-inch Liquid Retina display and a 12MP front facing camera that supports Center Stage, which keeps users in frame and even automatically zooms out to accommodate others who may enter the frame during a video chat. On paper, at least, it sounds like an impressive tablet, and it starts at $599 for the WiFi-only model and $749 for the cellular model. Like the iPhone SE, it's up for pre-order today and will begin shipping out buyers on Friday, March 18, 2022.