Nabi Big Tab HD Review: The World's Biggest Android Tablet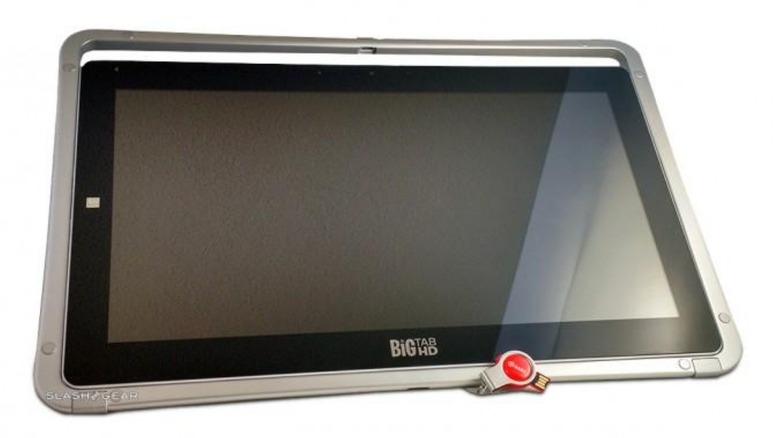 Supposing you've seen our previous massive tablet reviews, you know SlashGear isn't about to dismiss a device just because it seems absurd from the outset. Take a look at our Lenovo IdeaCentre Horizon 27 Table PC Review, for example – it runs Windows, so Nabi keeps the crown in Android. Here in 2014 we're seeing not just one, but two massive tablets from the folks at Fuhu, two tablets with the same title: Nabi Big Tab HD.
Hardware
When you purchase this massive 20-inch Nabi tablet from Fuhu, you'll find it imposing. It's heavy, and it's certainly not meant to be very mobile. It does not require a power cord – it charges up just like any other tablet you might have – but you're going to want to bring that charger with you if you're going on a long trip.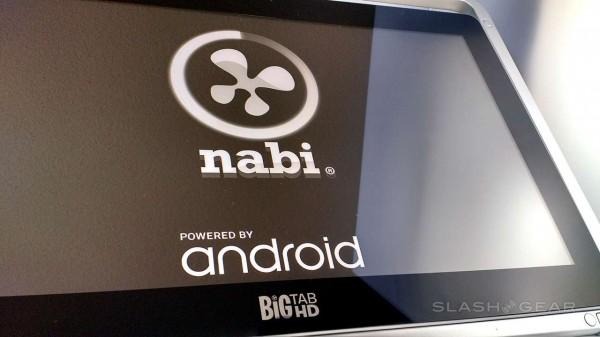 We've got the 20-inch tablet with 1600 x 900 pixels across its display. There's also a 24-inch Big Tab from Fuhu with 1920 x 1080. This 20-inch tablet is not extraordinarily sharp, but it's certainly sharp enough for what your child will be using it for.
Viewing angles are surprisingly good – down flat or up at an angle with its display frame, doesn't matter. Inside you've got 16GB of storage (there's no microSD card slot for expansion) so you'll not be loading your whole music library onboard, but you will be able to install the apps you're used to playing – Angry Birds and the like.
Inside is an NVIDIA Tegra 4 processor, made for high-powered processing, normally for devices like the NVIDIA SHIELD gaming portable. Because of this, you'll be able to play some fairly powerful games like Sprinkle (pre-loaded on the device, incidentally.)
Software
Much like the device we reviewed back in 2012, the Nabi 2 kids tablet, this Big Tab comes pre-loaded with a large collection of apps and games. As you'll see in our hands-on video here, you'll have no shortage of things to do with this tablet right out of the box.
This tablet has puzzles, games for one player or multiple players, a couple of board games – off-brand versions of Candyland and Chutes and Ladders – and art apps. You can create videos, edit videos, and share. You can record videos with the front-facing camera.
You can do a whole lot, and without much of any downloading or pre-loading like you'd have to with any other sort of tablet like a Samsung Galaxy Tab or an iPad. This tablet is not your average consumer-aimed slate.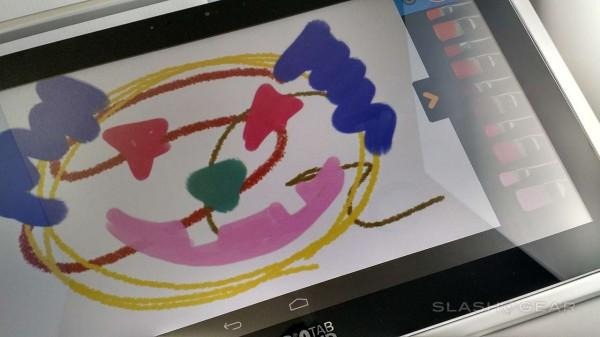 The Nabi Big Tab is made to be opened up and played with immediately. Like a perfect holiday gift for a child, that is to say. You might have to plug it in to the wall with its included cord right out of the box, but you CAN use it right away.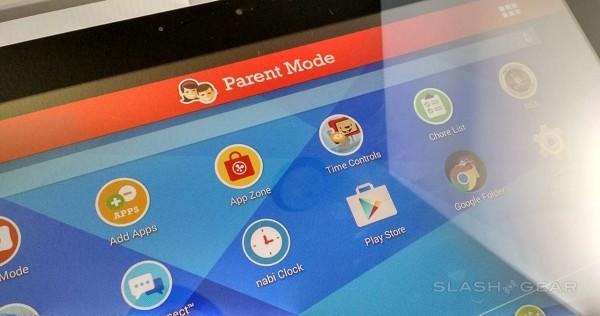 Don't expect this to run as smoothly as your adult-oriented tablet. It can be buggy. Running apps outside the pre-loaded app collection doesn't always result in an optimal experience – though you can do it with Parent Mode as you see above. With Parent Mode you've got basically a standard Android tablet experience, with a few friendly additions like kid control of the standard Nabi Mode.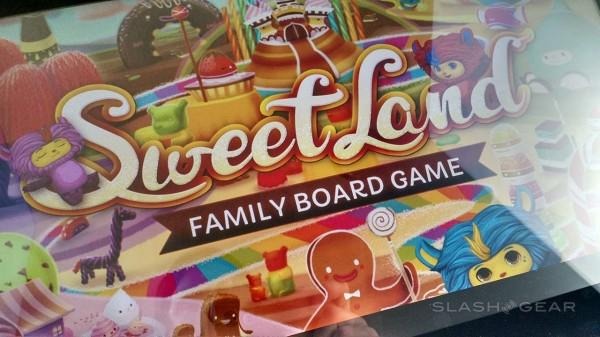 Some of the apps included with this tablet run in portrait mode instead of landscape mode. Don't expect this tablet to present every app to you in landscape mode as the frame holds the tablet – some apps require the tablet to move.
Nabi has been in the kids tablet game for several years now, and we don't expect them to stop any time soon, so expect some dedicated support from their staff. We'll expect updates on games and an expanded portfolio in the future as well.
Wrap-up
Is this tablet worth the price you pay? That depends on what kind of a person you plan on using it. If it's for a child that's going to get angry they're no longer allowed to use your iPad or Android tablet, then no, it's not really worth it.
If your child wants their own unique, gigantic device all to themselves, then yes, the Big Tab is entirely unparalleled in its field of play. There's really nothing like this out there today – nothing this size, anyway. This device is a true rarity.