Lenovo IdeaCentre Horizon 27 "Table PC" Review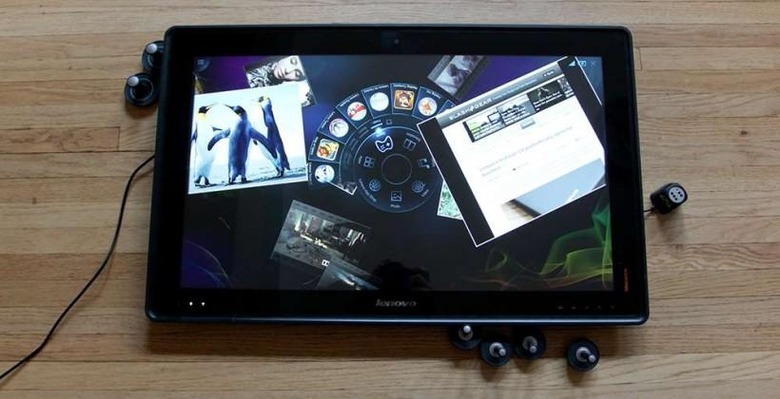 The Lenovo IdeaCentre Horizon 27, "Table PC" as they call it, is easily one of the most unique PCs we've seen in the past several years. This machine works with a massive display that sits on a hinge holding it up – or allowing it to lie flat – for tablet gaming with touch. It's as if someone decided they weren't having as much fun as the potential for a tablet would allow them, and blew the whole thing up with Lenovo behind the wheel.
Hardware
The machine you're looking at here isn't made for the everyday average desktop computer user. Lenovo's efforts here go toward making a unique beast, ready for the Windows 8-generation of touchscreen computers, taking on a massive form and unique usability proposition that made it a stand-out oddity when it was first introduced earlier this year at CES.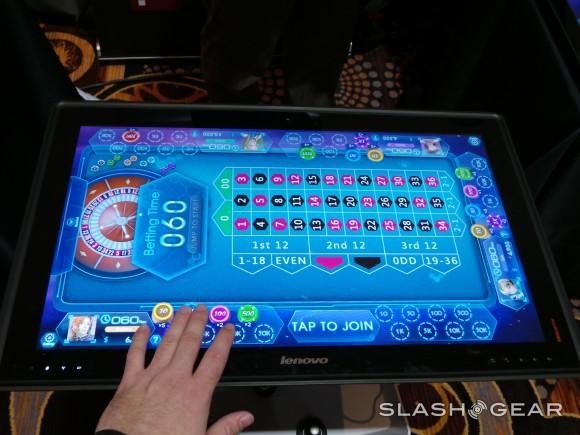 Here you're getting a 7-inch 1920 x 1080 full HD 10-finger touchscreen display surrounded by a rubbery plastic up-turned lip that allows for the capture of physical game pieces. Around the back is a tough metal bar that allows the user to hold the computer up at any angle between flat and a bit less than 90 degrees upward, and the whole setup is heavy – but not so heavy that you'll need to worry about it falling over on your pet kitten.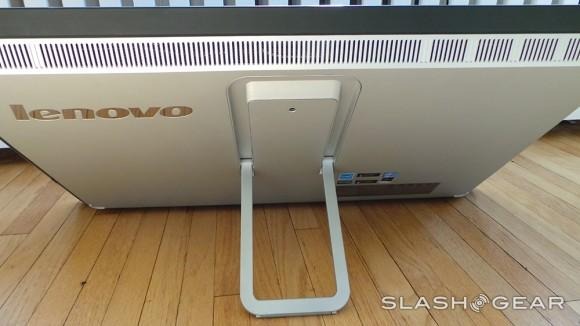 Along with the main piece of equipment, Lenovo includes a set of four paddles for air hockey, four joysticks that stick to the display with suctions cups, and a digital die. The computer comes stocked with a set of games that make use of these included accessories right out of the box: Fishing Joy, Lenovo Tycoon, and an officially licensed full-sized Monopoly – just to name a few.
Also in the box is a relatively high quality wireless keyboard and wireless mouse, these ready to be connected without any additional setup right out of the box as well. The machine we're working with has an Intel Core i7 (3rd Gen Ivy Bridge) processor with NVIDIA GeForce GT620M graphics and 8GB of RAM.
[sgbenchmark id=211 show=system]
Inside is also a 1TB hard drive so you'll not be wanting for more space, and the whole device is optimized for a variety of games and activities. Media playback is also high-quality, especially with this machine's unique Aura user interface – more on that in the software exploration.
[sgbenchmark id=211 show=score]
Our standard benchmark results show this device to not be topping the towers, but such is the result of having a massive display and anything less than the most high processing power under the hood. The speed and responsiveness of this computer is ramped up enough for every game we've yet tested out on it, that's for certain.
Software
Alongside Windows 8, Lenovo has included Aura, a user interface created specifically for the touchscreen and optimized for a flat horizontal surface. Here you've got the real table-top, complete with realistic physics and resizing with pinches and pulls. This is the sort of user interface you've likely envisioned when you first saw the likes of Minority Report and the digital tables of futuristic schools and war planners.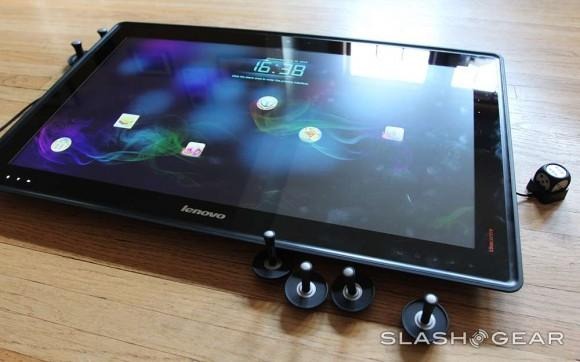 Aura is used here to allow you to present and organize media – most of this setup is in place for fun, that is to say, but you do have access to your apps and media from Aura's center ring, as well. Lenovo has included a set of built-in games that are optimized for this computer, but you're welcome to download games from sources other than Lenovo as well – it's open to whatever you'd like to do with it as a standard Windows machine, after all.
You'll see our demonstrations showing the various accessories that come with the Lenovo IdeaCentre Horizon 27 with one game each – most games don't need these accessories, but the way they're implemented makes them valuable even to games not included by Lenovo.
The joysticks allow you a ring of touch sensitivity encircling a suction cup center, while the game paddles have four points of touch and smoothness to slide over the screen like a good air hockey paddle should. The most interesting accessory is, of course, the digital die.
With this die you're able to interact with games like Lenovo Tycoon and – hopefully – games like Monopoly in the near future. At the moment you're limited to games that have taken the time to integrate the accessory into their software, and there's only one die at a time. As an experiment, this sort of device is ripe for future crossover games, digital and physical realms colliding.
Real-world use
Because no machine like this has existed – at least not on this scale – ever before, Lenovo isn't going to have an easy path to big sales, at least not at first. In the short time we've gotten to use the Lenovo IdeaCentre Horizon 27, it's been a surprisingly easy device to get used to. The biggest learning curve for users isn't going to be working with Aura or the hardware here, it's going to be working with Windows 8.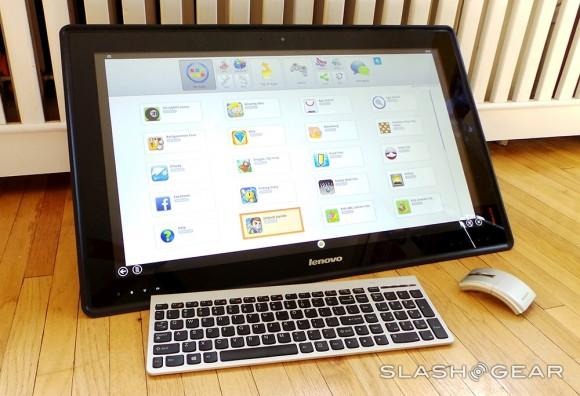 If on the other hand you're already used to working with the touchscreen version of Microsoft's newest desktop operating system, this machine should seem rather intuitive. Especially if you're planning on using it to work with BlueStacks for Android. Have a peek at our Lenovo IdeaCentre Horizon 27 hands-on with BlueStacks to see the full experience – and keep your eyes tuned to the following for a completely different use-case than Lenovo is marketing:
Underneath the gaming and odd use-case scenarios is also a rather robust piece of hardware, ready to take on the regular smash-and-tangle world of toddlers and young adults with bumpers and kick-ready plastic all around. While we wouldn't recommend it, dropping this device from shoulder length onto your hardwood floor would definitely do more damage to the floor than it would to the Lenovo architecture.
Wrap-up
In the Lenovo IdeaCentre Horizon 27 you've got what'll almost certainly continue to be one of the most solid "odd" computers on the market. Microsoft's push for uniqueness in Windows 8 hardware has definitely made it's mark on the hardware landscape – many different configurations for touchscreen and a keyboard combos have been appearing, but with this offering, Lenovo has created something solid.
While, again, it's not going to be easy for Lenovo to sell this machine on a large scale, its very existence stands as proof that the company is not amongst those that would make hardware builds just to be first to the concept. This computer is unique as well as robust: ready for the living room, the class room, ready for any odd game-friendly room in-between.